Article
8 Historic Downtown Shops with Unique Items
Historic Downtown Branson has many locally owned unique shopping options. Take the time to shop like a local in Branson and make a special memory.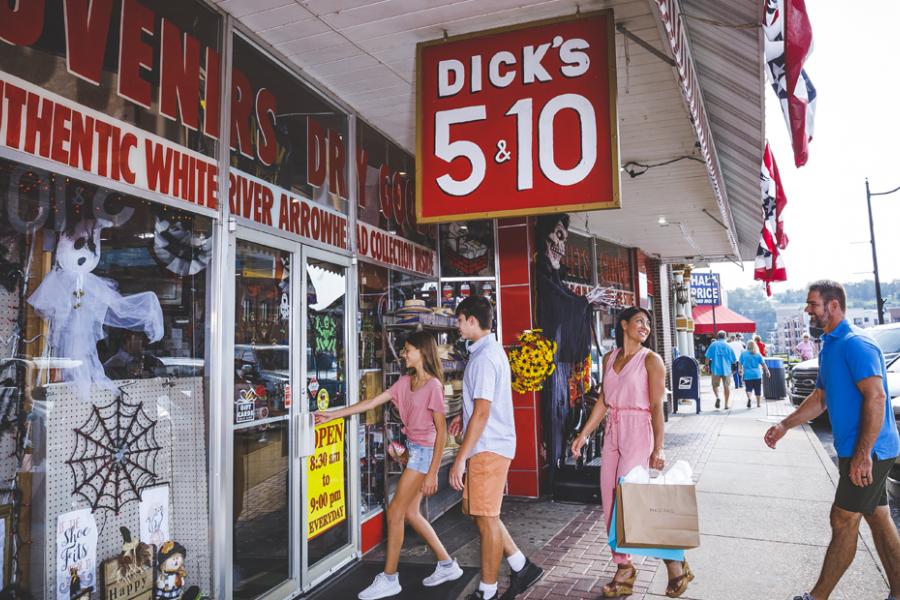 While Historic Downtown Branson has more than 40 great shops, here are eight shops that offer some of the most unique items to vacationers.
1. Dick's 5 & 10
103 W Main Street
Dick's 5 & 10 has been a downtown landmark for more than five decades. The store is one of the last remaining examples of the American mercantile tradition of downtown "five and dimes." Like so many of its long-lost contemporaries, Dick's has a little bit of everything. The store is open 7 days a week and features more than 50,000 different items, including old-time candies and toys, unique Branson souvenirs, collectibles, housewares, inspirational gifts and more.
2. Fashion House
109 Veterans Boulevard
Fashion House is an upscale ladies boutique. Shoppers can find elegant looks from designers like Joseph Ribkoff and Cartise to stand out in the crowd. Also available are everyday elegance and business attire options from fashion-forward designers like Lynn Ritchie, Sharon Young, Tribal, Renuar, Multiples and others.
3. Peter Engler Designs
201 S Commercial Street
Peter Engler Designs features the works of more than 150 artists and artisans. You'll see many examples of wood carving, pottery, wood-burning and custom jewelry. The store unveiled the first in a series of Branson historical ornaments. Paying tribute to its namesake, artist Peter Engler with "Pete's Place," there's an area just for woodcarving supplies and classroom instruction.
4. 417 Vintage Market & Supply Co. 
114 N Commercial Street, Suite 100
Locals and visitors alike flock to 417 Vintage Market & Supply Co. for vintage home decoration inspiration. Unlike many antique stores, 417 Vintage Market does not limit vendors' to a designated booth space, instead they merge all vintage items together to create a beautiful atmosphere. You'll feel like you're walking through a real-life Pinterest store. They just opened their third floor October, 2021 - don't miss this multilevel gem!
5. Plum Bazaar Bead & Jewelry Shop 
123 E Main Street
This unique store in Downtown Branson is also home to a thriving online Etsy store. You will be blown away by the sheer volume of loose and strung beads, jewelry making supplies and handcrafted accessories packed inside the iconic purple shop on the corner of E Main Street and North Sycamore Street. 
6. Alex & Alaina's Treasure Chest
102 W Main Street
Alex & Alaina's Treasure Chest is a small shop with many one-of-a-kind, handmade and old-world items. Handmade moccasins, Native American jewelry, silver and gemstone jewelry, handcrafted Navajo pottery, frontier artwork and more can be found here.
7. Branson Quilts
121 W Main Street
This popular quilt shop features more than 300 styles of quilts, many available in twin-, queen- and king-size variations. Bedding shoppers will find many traditional American quilting styles represented, including "wedding ring" designs, Amish star designs and, of course, patchwork. Matching shams and accessories are available as well. The store is also an authorized seller of Donna Sharp quilts and handbags, a U.S.-based company known for its unique patterns and fashionable designs.
8. The Flagstore
212 S Commercial Street
As it's name implies, this store has flags, more flags, and even more flags! In fact, the Flagstore has the largest flag selection in the region and has a significant flag selling presence on the internet as well. American flags and every United States' state flags are available in a variety of sizes. This store offers historically significant versions of U.S. flags, decorative flags and more.
With the Downtown Branson Streetscape renovations, the district is more shopper-friendly than ever. New, wider sidewalks, well-marked parking, benches, brick-paver common areas and crosswalks make Historic Downtown Branson a great place to visit.
Click here to check out things to do in Historic Downtown Branson!