Article
Biking Safely in Branson
Whether you're exploring a new hobby or pursuing a current passion, Branson is the best destination for your family's safe and fun biking adventures.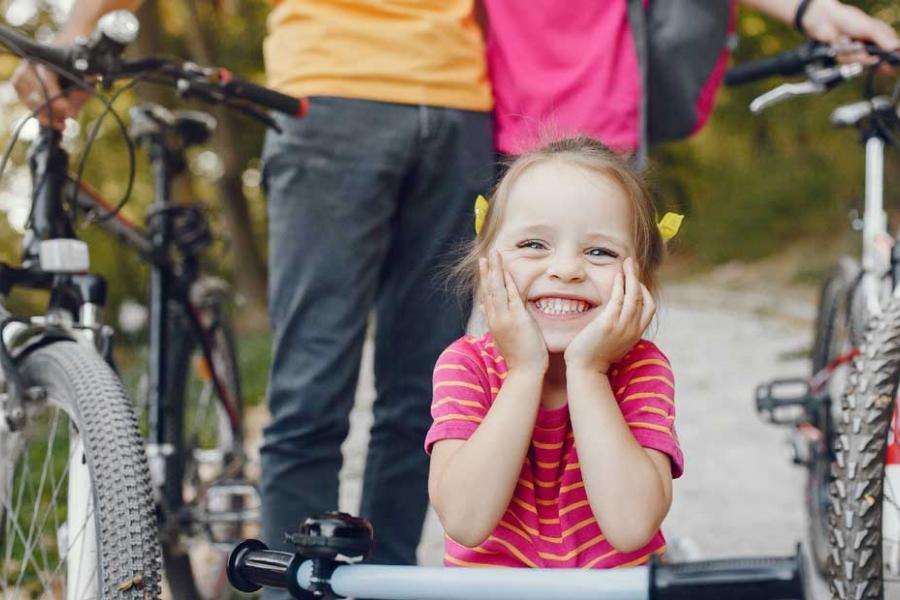 Biking safely in Branson is a breeze when you and your family follow our equipment advice, safety guidelines and top Branson area trail recommendations. 
Where To Rent Or Buy A Bike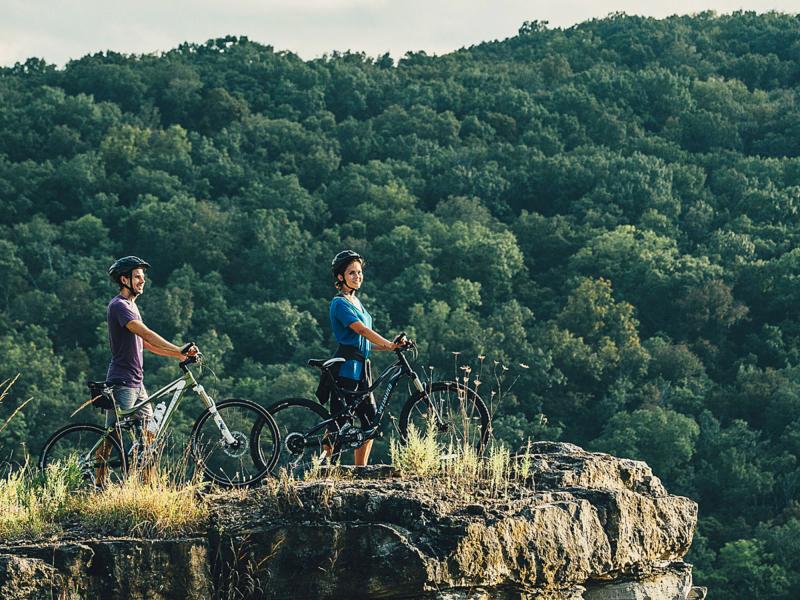 Even if you are unable to bring your own bike to Branson, it's easy to enjoy our thriving bike scene!
Make a quick stop at Downhill Bikes and Accessories (116 Flynn Road, Branson) to purchase quality bicycles, parts and gear. While there, the experts at Downhill Bikes will provide the most in-depth view of various Ozark Mountain trails. Additionally, Walmart Supercenter (1101 Branson Hills Parkway, Branson) and Target (1200 Branson Hills Parkway, Branson) offer great bike deals for the whole family. 
For rentals, check out our extensive list of bike rental offerings from places like Dogwood Canyon Nature Park, White River Kayaking & Outdoors and State Park Marina. You will find rental bikes in various sizes and styles.    
What To Bring On The Ride
It's important to properly prepare for your biking adventures. First, make sure you have a bike and helmet that properly fits your size and weight, and is made for the specific terrain ahead (road, gravel, dirt path, etc.). Dress in layers for the current season, knowing that weather in the Ozarks can quickly change. Securely pack plenty of water, energy boosting snacks, sun protection, sun glasses, a small first aid kit, insurance card, cell phone, portable phone charger and a pump or mini inflator inside a backpack. We also recommend utilizing bluetooth speakers over headphones to stay more aware of things happening around you. 
A Variety Of Branson Area Trails
Now that you are well-prepared, review the following safety guidelines before your ride begins.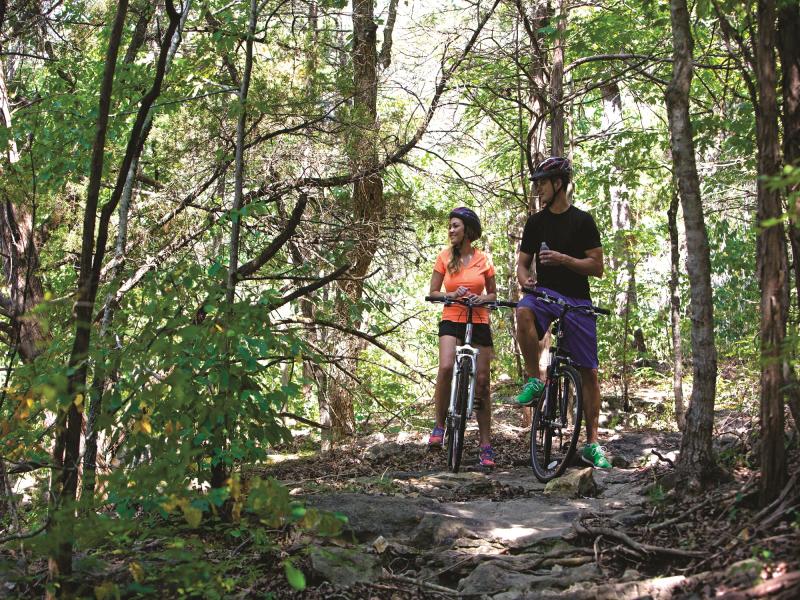 Downtown Branson
This 0.75 mile paved track runs leisurely through significant points of interest in Downtown Branson like Lake Taneycomo, restaurants, attractions and shops at Branson Landing and the Branson Landing Fountain Show. 
Table Rock State Park
The White River Trail System at Table Rock State Park offers 12 miles of natural surfaces to the Branson area. Here you will find great views of Table Rock Lake and Lake Taneycomo, small waterfalls, abundant plant life and an abandoned farmstead. This stretch of rugged terrain reaches varying levels of elevation from 710 feet to nearly 1,200 feet above sea level. Find a detailed trail map here. 
Ozark, MO.
Busiek State Forest is located just 30 minutes away from Branson in Ozark, Mo. This gorgeous state forest provides bikers, hikers and horseback riders alike with 18 miles of scenic trails. One these nature-lined trails you will experience greenery, wildflowers, streams and more. 
Springfield, MO.
Affectionately known as the Ozarks' Premier Scenic Rail Trail, Frisco Highline Trail is a 35-mile scenic trail that winds from Springfield, Mo. to Bolivar, Mo. What was once a railroad corridor has been transformed into a hidden treasure amongst bicyclists. Along the trail, you will find various rest stops like restaurants, art displays, museums, campgrounds, parks, prairies and bike shops.  
Northwest Arkansas
For an extreme mountain bike trek found less than 2 hours away from Branson, head to NW Arkansas Upper Buffalo Headwaters. There's over 40 miles of rugged single-track terrain to explore, with varying degrees of elevation and difficulty. Due to the remote nature of this trail, riders may have to carry their bikes through multiple water crossings. 
Rider's Safety Guidelines
- Have fun and stay safe on your bike ride by utilizing the following riding protocols: 
- Keep chains clean and lubricated
- Periodically inspect brake pads
- Always wear a helmet 
- Keep your eyes forward to easily maneuver around obstacles when needed 
- If riding with a group, stay single file with significant following distance between riders 
-  Always stay to the right of the road/path (go with the flow of traffic) 
- Use recognized biking hand signals 
- Make sure the whole group knows your route/destination 
- Keep both hands on handlebars and both feet on pedals, except when signaling
- Use reflectors if riding at night
The adventure doesn't end here, Branson has even more bike trails to discover!