From patriotic tributes at live shows to a weeklong celebration of those who served, Branson is an ideal destination for veterans and their families. No matter when you visit Branson or what's going on around town, the Veterans Memorial Museum should be a part of your itinerary. It's a moving tribute to those who have served in the U.S. Armed Forces.
Situated on Highway 76, the museum covers all branches of service and focuses on the wars of the 20th century: World War I, World War II, The Korean War, Vietnam and the Persian Gulf War. With the P-51 Mustang fighter that sits outside the museum, this is one place you can easily find. It's hard to miss when you're cruising the Entertainment District. Exhibits and displays inside the museum include sculptures, murals and thousands of pieces of military memorabilia. Throughout the museum, you find displays that include the names of the soldiers killed in action since World War II.
The museum is open 9 a.m.-5 p.m. daily.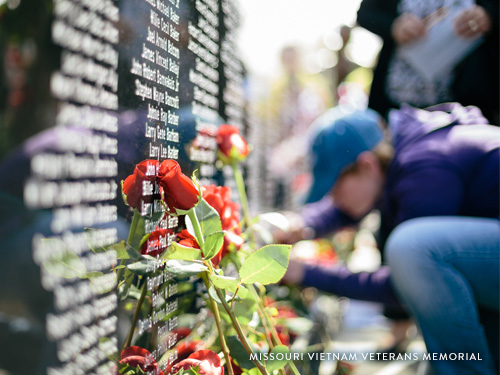 A different but still moving experience awaits at Branson's College of the Ozarks, home to the Missouri Vietnam Veterans Memorial. The memorial pays tribute to the more than 1,400 Missouri men and women who fought in and died during the Vietnam War. Visitors are welcome at the memorial from sunrise through 10 p.m. daily.
Veterans and their families find activities abound – and that grateful supporters are ready to thank them for their service – during the annual Branson Veterans Homecoming Week celebration. Slated for Nov. 5-11, 2019, the week includes special concerts, reunions, meals and activities, along with the annual Veterans Day parade in downtown Branson.
In 2019, the Vendor Village will be located at the Ballparks of America complex, 4562 N. Gretna Road. Keep watching ExploreBranson.com and its social media pages for updates on this exciting commemoration event in Branson. 
No visit to Branson is complete without seeing a live show, and while they may never hold a microphone or play an instrument, veterans are always in the spotlight. Branson performers have a long tradition of paying homage to those who've served, so be prepared for a rousing ovation when veterans are recognized and patriotic songs echo through performance venues.
There are countless reasons to visit Branson, and for veterans and their families, the rewards are plentiful. Perhaps none are more important than the many thank-yous they're sure to receive from one of the most patriotic cities in the country.