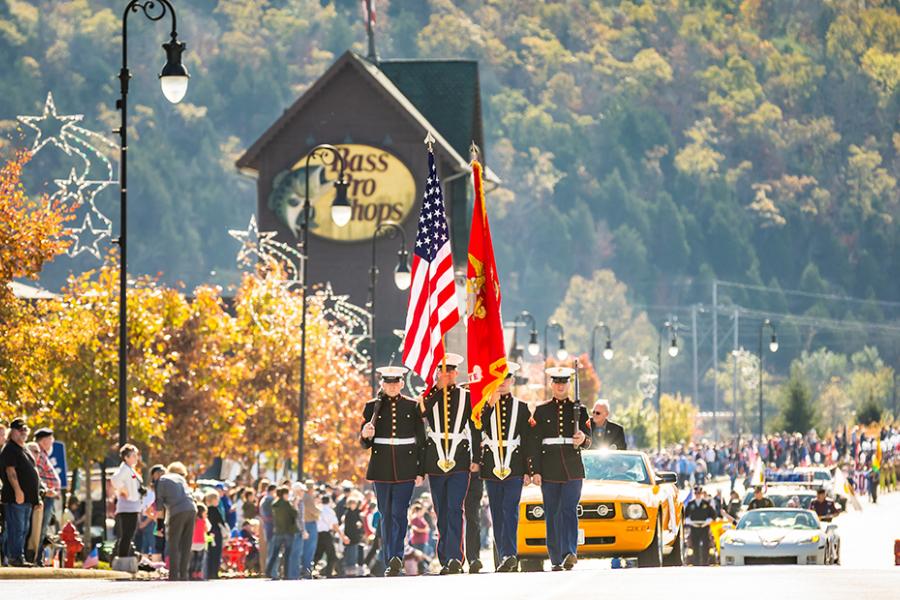 Branson is known as one of the most veteran-friendly, patriotic cities in America. Although Branson honors Veterans every day of the year, Veterans Homecoming Week is a special annual event for servicemembers and their families.
Veterans Homecoming Week will host many different occasions for veterans and their families to be part of including mini reunions, memorials, a military ball and the Veteran's Day Parade.
2020 veterans Homecoming Week Events:
Nov 5-10
Veterans Village at Ballparks of America, building two and three

Mess Hall Lunch, 11:30 a.m. to 1:30 p.m. daily, free for Veterans, $6 for guests
Day Room, 9 a.m. to 4 p.m. daily
Vendors Village, 9 a.m. to 4 p.m. daily
Nov. 5
Nov. 6
Nov. 7
Nov. 8
Nov. 9
Nov. 10
Nov. 11
View All 2020 veterans Homecoming Week Events Here
Remember to Vote, then Veterans Homecoming Week
By US Army veteran Brenda Meadows, BVTF Board Member
Veterans are pouring into Branson for Homecoming Week, and we would not have it any other way!

While veterans from around the country are attending Branson's Homecoming week (Veterans Day Parade sponsored by VVA Chapter 913, Vets for Vets Celebration, Women Vets Rose Petal Ceremony, Veterans Village's Mess Hall, Vendor Village and Day Room hosted by the Branson Veterans Task Force (BVTF) as well tributes, honors, reunions, shows and discounts offered by other Branson veterans organizations and businesses), there is a unique state of affairs that we have had to plan around

This is an election year, and right before Veterans Week we will elect a president.

Although this election campaign has not been typical, it just serves to remind us that voting is a privilege, not a right. We veterans have been (and still are) keepers of the flame of democracy, freedom, and the Constitution.

Regardless of what we think of the presidential candidates whose names will be on our ballots, we will vote. We will look at the issues and how the candidates feel about them or what bills they have supported. Once we have it settled in our hearts, you and I will vote according to our conscience. It is our privilege, and I believe it is a veteran's duty.

Many will not let the election keep them from coming to Branson. Since we are physically limited and cannot be in two places at one time, many veterans outside of the Branson area filed absentee ballots. And prayed, of course. Regardless of the outcome, regardless of who wins the election, you will still feel like smiling. Your candidate may or may not get elected, but you will be here among 'family,' friends and a strong support system.

You will still be where you are welcomed.

You are HOME!

(If you still need any information about Veterans Homecoming call 417-337-8387 or go to bransonveterans.com or GOOGLE Branson Veterans Homecoming Week where you will find a number of websites full of information).