Article
Dolly Parton's Stampede: Branson's Must-See Dinner Attraction
From a delicious four-course meal to amazing stunts performed in a 35,000-square-foot arena, Dolly Parton's Stampede is a true Branson experience to remember.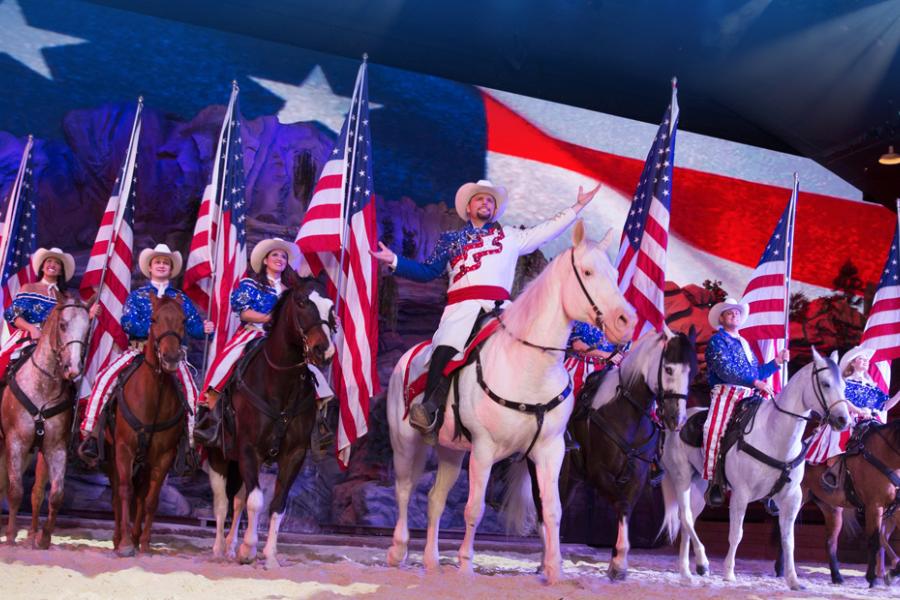 Dust off your boots, and get ready to saddle up for one epic performance at Dolly Parton's Stampede Dinner Attraction in Branson! Filled with family traditions, friendly competitions, comedy and beautiful storytelling, this incredible production leaves guests with fun memories for years to come. 
New This Year!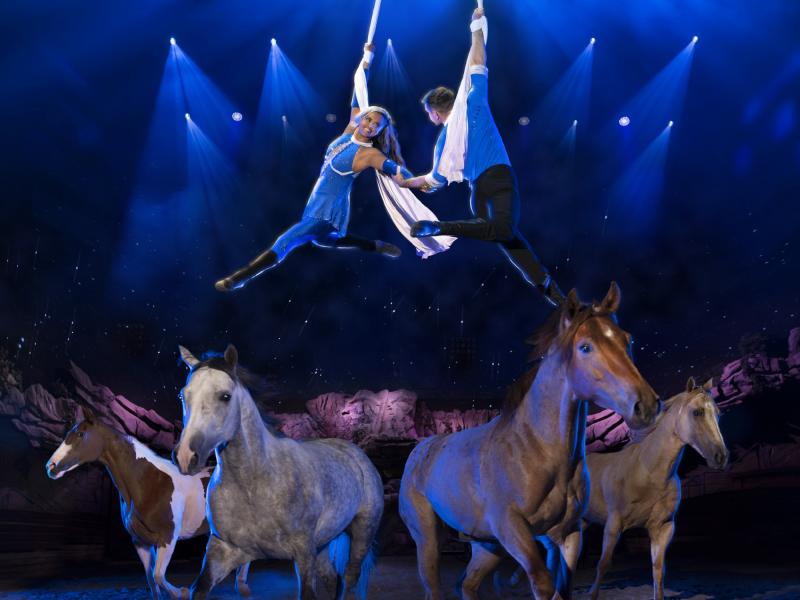 For guests taking in Dolly Parton's Stampede in Branson for the 2023 season beginning March 3, an all-new thrilling and moving performance segment has been added to the dinner show -- combining the show's majestic equestrian stars, breathtaking aerial acrobatics and original music. This addition multiplies the excitement at the Stampede as the performers' aerial talents take them to new heights high above the arena floor for a breathtaking display guests won't want to miss.
About the Show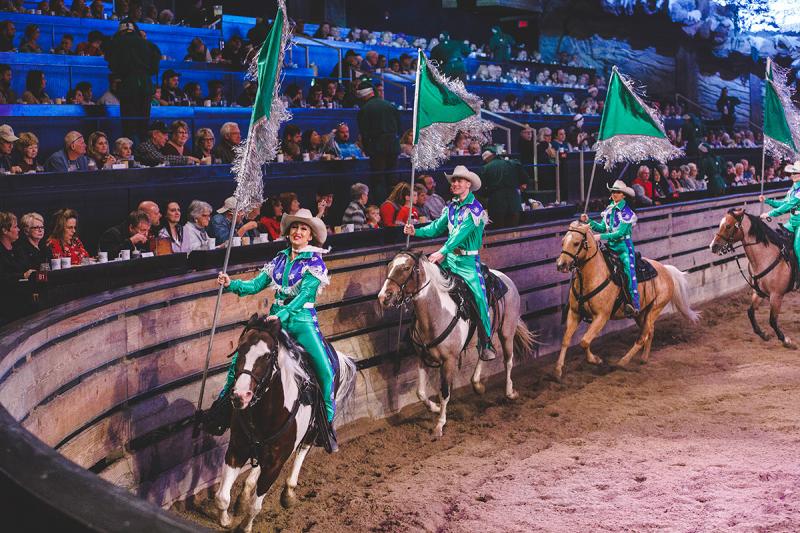 Featuring a cast of 32 majestic horses and expert riders, Dolly Parton's Stampede weaves a variety of stunts, musical numbers, special lighting and effects from a 12.5 million LED light wall, plus audience participation to create an inspiring show. Watch horse riding tricks and jumps at top speeds, cheer on the team of "Canine Capers" (a relay race and agility course featuring rescue dogs), and root for your side of the theater with comedic antics. The show also features a menagerie of other animals, including pigs, doves, buffalo, longhorns and even a dancing chicken. We won't give any spoilers, but you'll be amazed at the show's grand patriotic finale set to Dolly's original song, "Color Me America." 
Carriage Room Entertainment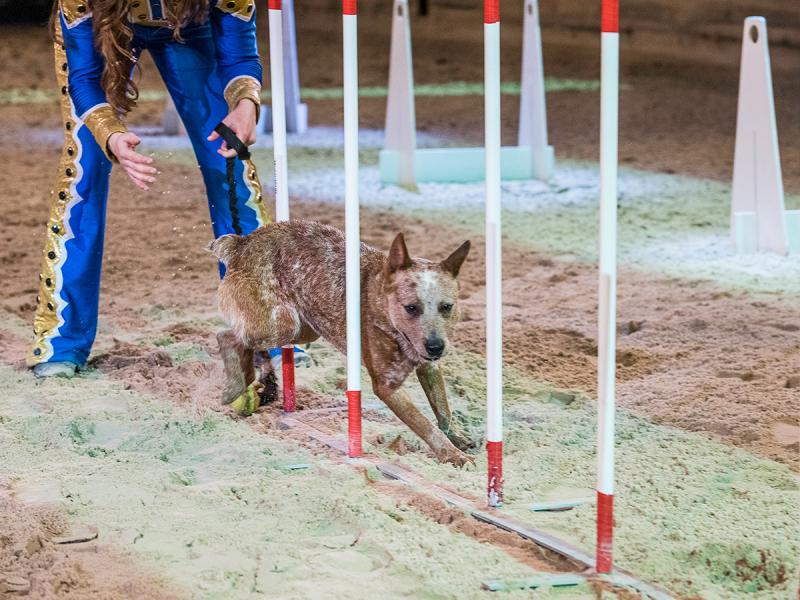 Before each performance, stroll the famous Horse Walk, meet the four-legged stars of the show, and stop for plenty of photo opportunities along the way! Then head to the Carriage Room, where a pre-show with music and comedy is performed by the White River Wranglers. This trio's take on bluegrass, country harmony and plenty of jokes is the perfect way to get warmed up for a stampede. You can also browse the indoor gift shop and grab a souvenir mug resembling a boot while you wait for the show to begin.
Four-course Dinner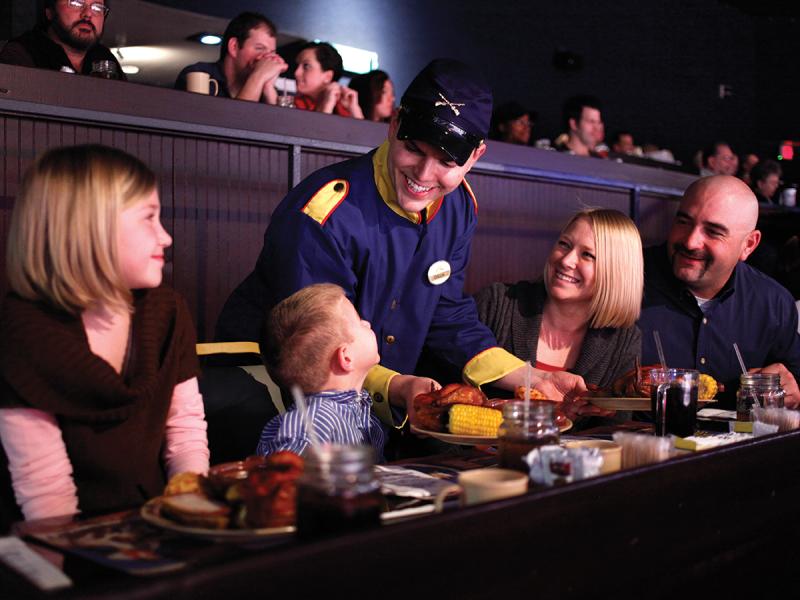 A mouthwatering four-course dinner is included with every Stampede ticket! Your true country-themed meal includes a whole rotisserie chicken, hickory smoked barbequed pork loin, creamy vegetable soup, a herb-basted potato, homemade biscuit, hot buttered corn on the cob and an apple turnover for dessert. You won't have to worry about being thirsty: unlimited Coca-Cola, tea and coffee is available through the show. Vegetarian and gluten-free meals are available upon request when you purchase your ticket. Fitting with the show's authentic and rustic theme, eating with your hands is encouraged! 
Christmas Show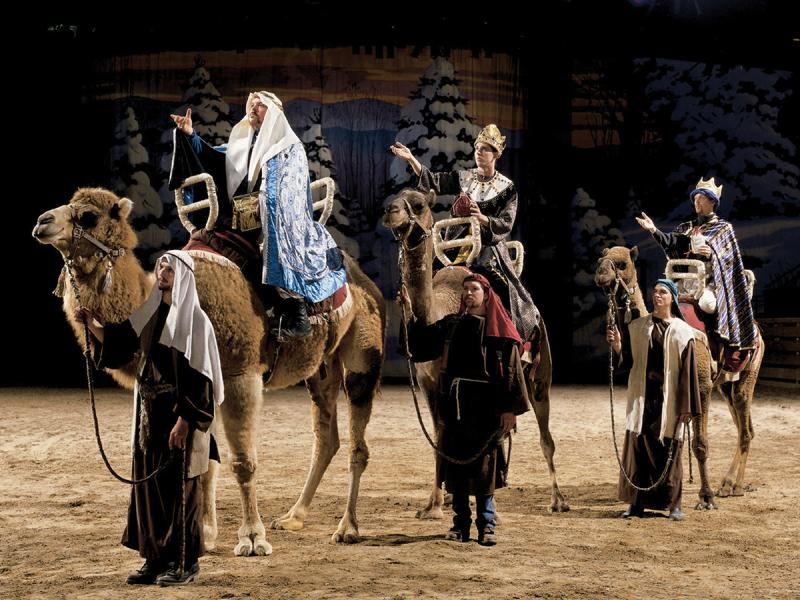 Outside of the show's regular season (late February through mid-October), Dolly Parton's Stampede turns into a winter wonderland for its annual Christmas show in late October through December. In addition to some of the show's traditional elements, the holiday show includes a live nativity scene, a real snowfall, dancing toys, glistening Christmas lights and costumes, elves from the North Pole, evergreens and plenty of familiar Christmas carols. Christmas at Dolly Parton's Stampede will leave you feeling merry and bright for the rest of the year! 
Visitors' Tips
To make the most of your Stampede experience, check out a few of these tips: 
All shows tend to sell out quickly, so consider purchasing tickets in advance.
Arrive at least an hour early to spend time with the show's horses in the free Horse Walk and enjoy the full pre-show. You may have to wait in line beforehand to pick up your tickets.
Children ages 2 and under are free if they sit in a parent or guardian's lap and eat from their plate.  
Parking is in the back of the building, with limited parking in front. If you are attending with a large party, consider dropping your group off at the theater entrance before looking for a parking spot.
The Dolly Parton's Stampede Dinner Attraction theater is fully accessible for individuals with special needs. Let theater staff members know if members of your party have a wheelchair, need hearing assistance or require other accommodations.
Ticket Information 
Book your tickets directly on the Dolly Parton's Stampede website, and pick them up at the box office before the show. A variety of package deals with lodging and other attractions such as Silver Dollar City, the Titanic Museum Attraction and Ripley's Believe It or Not! are available. You can also purchase tickets over the phone by calling 417-336-3000. 
Group Events and Rentals
For a fun, unique event space, the attraction's 35,000 square foot arena can accompany groups as large as 1,000 people. Groups of 20 or more receive special prices. Banquet space, themed meeting rooms, dedicated dinner shows and entertainment catered towards military and family reunions, field trips, choirs, bands, sports teams, church groups and others are available. Contact the theater's group sales department by completing an online form for more information. 
Dolly Parton's Stampede Dinner Attraction is a must-experience Branson tradition. Looking for more ideas to fill your next trip itinerary? Check out our collection of Branson bucket list activities here! 
Places Mentioned
Find Your Next Branson Adventure