Article
Free & Budget-Friendly Things to Do in Branson
Whether you're on a tight budget or traveling with a large group, Branson has a wide variety of activities that won't break the bank.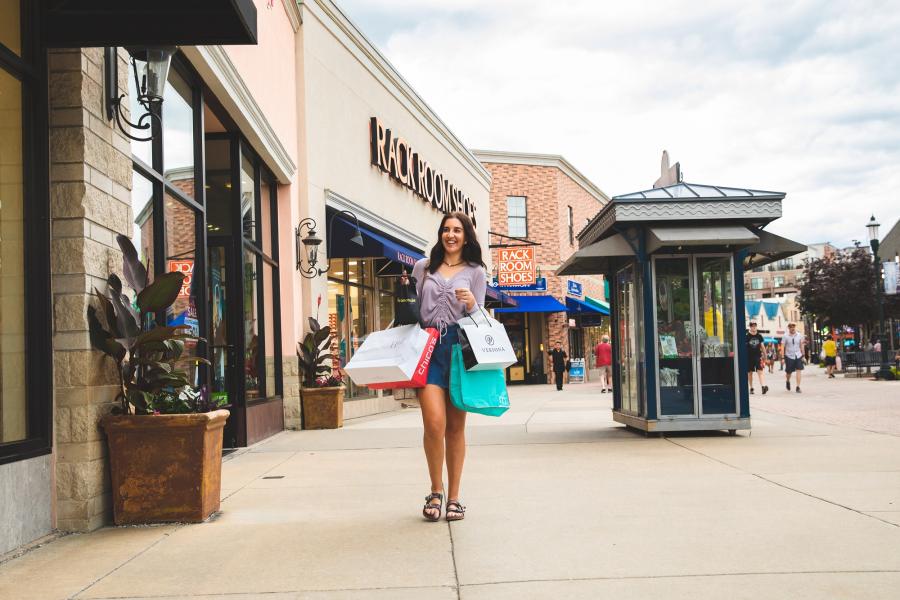 It's easy to experience the freedom of fun without going over budget in Branson. From outdoor excursions and enriching museums to tastings at local wineries and vintage shopping downtown, there are plenty of budget-friendly activities for all ages to enjoy. Here are some of the top free and budget-friendly things to do in Branson.
Attractions & Entertainment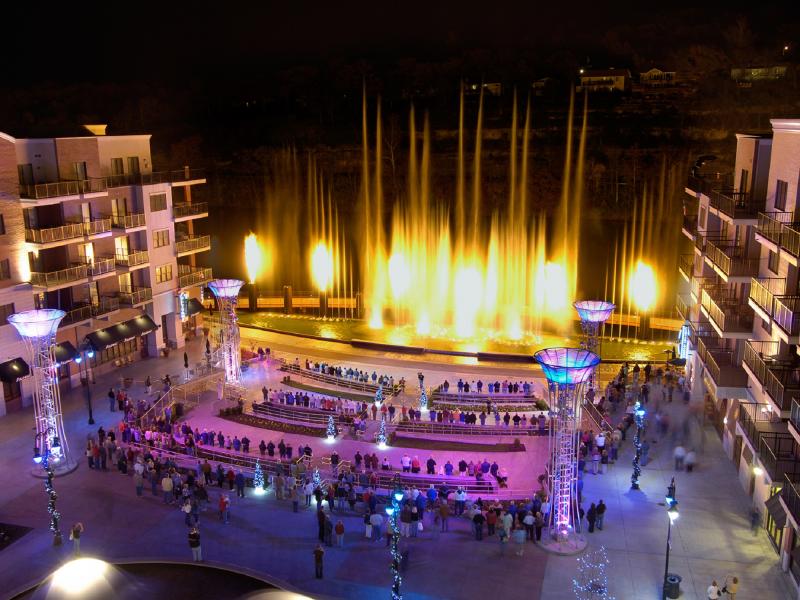 Branson Landing Fountain Shows
This $7.5 million water spectacular features 120-foot geysers and blasting fire cannons, choreographed harmoniously to a variety of tunes. Be sure to catch one of these awe-inspiring shows of water, fire, light and music every hour beginning at noon daily.
Horse Walk At Dolly Parton's Stampede
If you're looking for something fun, free and interesting for the whole family, stop by Dolly Parton's Stampede's famous Horse Walk. Meet the 32 four-legged stars of the show! You may even meet some of the riders as they care for their horses in preparation for the night's shows. 
Dewey Short Visitor Center
Called "the crown jewel of Table Rock Lake," this $7.9 million, 15,000 square-foot center features a state-of-the-art interactive map, beautiful wall murals, a Native American artifact exhibit, and a 20-minute movie on how the Table Rock Dam was built. They also have a great observation deck for taking in the beauty of Table Rock Lake in comfy chairs. 
Ballparks Of America
Grab some peanuts or crackerjacks and head to the stands for a baseball game at the Ballparks of America facility. Ballparks of America offers the ultimate youth baseball tournament experience, and games are free to attend and watch. The facility's unique interior is designed to replicate five American major league baseball stadiums, including the St. Louis Stadium, Chicago Field, Detroit Stadium, Boston Park and Brooklyn Field. 
Free Downtown Trolley
Hop on the free discovery trolley, Sparky, for an overview of some of Branson's landmarks, as well as convenient transportation between the historic downtown area, the Branson Convention Center and Branson Landing. The trolley operates March-December, 10 a.m. – 6 p.m. daily (except on Thanksgiving and Christmas). In February the schedule is Friday-Sunday, 11 a.m. - 5 p.m.
Outdoor Adventures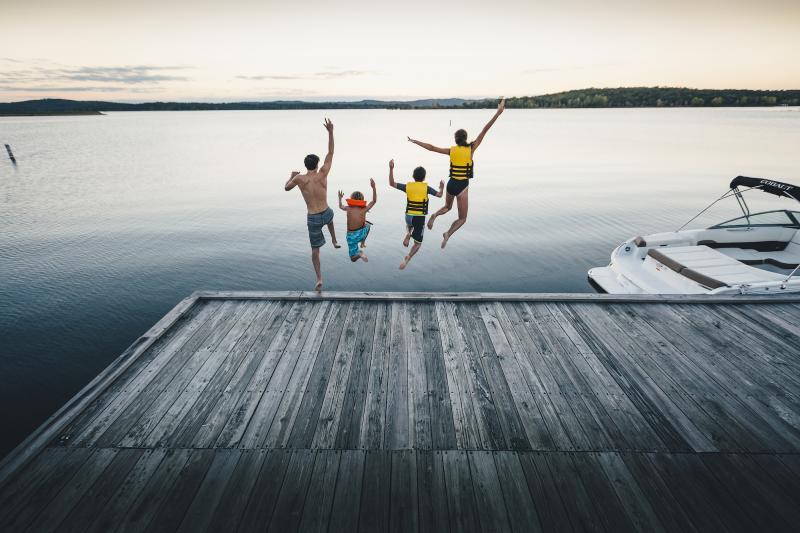 Scenic Overlooks
Experience breathtaking views of the Ozark Mountains just a few miles from W. 76 Country Blvd., Branson's Entertainment District. Cruise along Highway 160 and 165 and enjoy ample opportunities to take in beautiful lakes, ridge tops and river valleys — all making for the perfect landscape photos. Or head to Point Lookout at College of the Ozarks for a panoramic view of Lake Taneycomo and the city of Branson.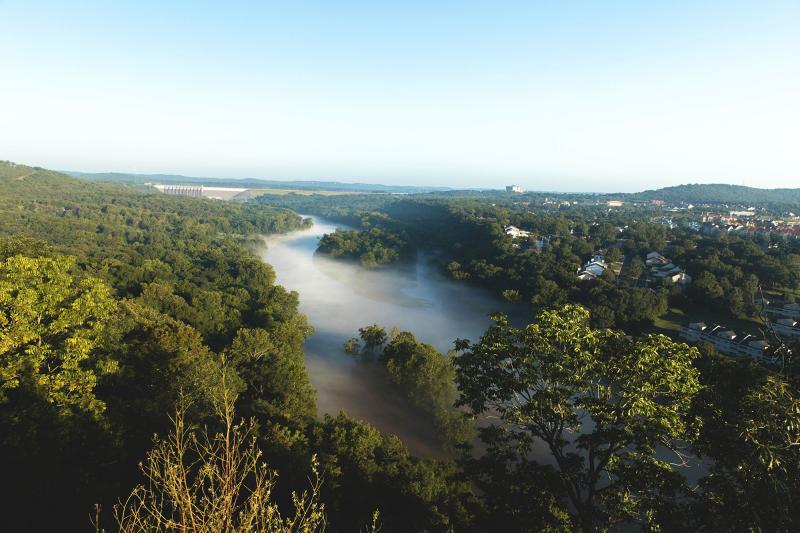 Ruth and Paul Henning Conservation Area
Explore more than 1,500 acres of forest, woodland and glade habitat just northeast of Branson. The Ruth and Paul Henning Conservation Area offers hiking trails, the White River Balds natural area and a permanent stream (Roark Creek). It's also home to many of the locations featured in the classic Harold Bell Wright book, Shepherd of the Hills. 
Lakeside Forest Wilderness Area
Discover an oasis of forest and woodlands in the heart of Branson. The Lakeside Forest Wilderness Area features over four miles of hiking trails, a waterfall, a cave, the historic 1911 Lyle Owen homestead, picnic areas and ample parking. 
Table Rock Lake State Park
Nestled in the trees surrounding Table Rock Lake, this state park has no admission fee and offers a wide range of activities including campsites, hiking and mountain bike trails, SCUBA diving excursions and a marina that rents ski boats, bass boats, WaveRunners and more. 
Museums & Historical Sites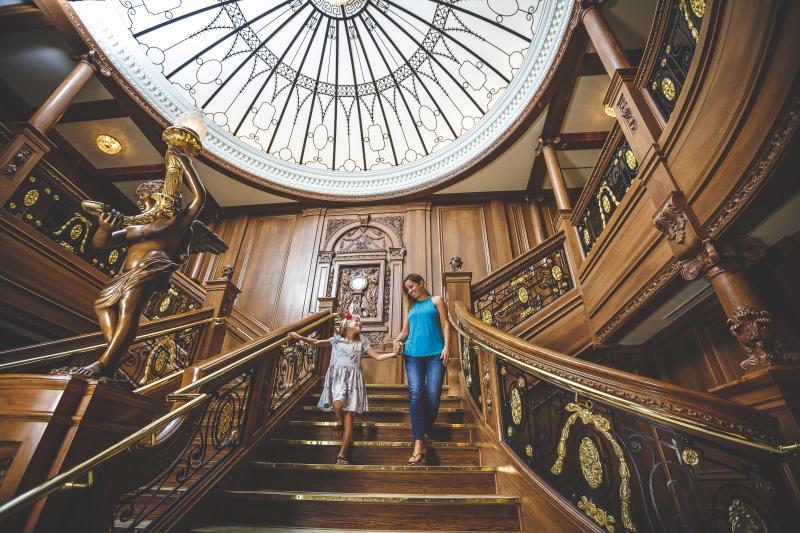 Branson Centennial Museum
Learn the rich history of Branson and the surrounding Taney County at the Branson Centennial Museum, which features rotating exhibits highlighting some of the area's most significant events including the 1907 publication of Shepherd of the Hills, the 1930s airport, live shows in the later 1950s and more. Admission to the museum is free for all ages.
Ancient Ozarks Natural History Museum
Located at Top of the Rock, the Ancient Ozarks Natural History Museum features more than 35,000 square feet of Native American artifacts and art, Civil War relics and an assortment of other historical Ozark relics. Tickets to the museum are $8 for children ages 4-11 and $12 for adults.
Titanic Museum Attraction in Branson
Travel back in time to 1912 at the Titanic Museum Attraction. The museum has curated one of the largest collections of authentic Titanic artifacts as well as stories from the 2,208 passengers and crew members. Visitors can also touch a growing iceberg, walk the Grand Staircase and explore the world's largest Titanic model. Tickets are $15 for children ages 5-12 and $32 for adults.
Hollywood Wax Museum
"Hang out" with world-renowned musicians, pop sensations, A-list actors and influencers at the Hollywood Wax Museum. Whether you want to snap a "selfie" with your favorite celebrity or learn more about their accomplishments and pet peeves, the Wax Museum is a fantastic choice for the pop culture fanatics in your group. Tickets are $34 for adults and $20 for children ages 4-11.
Butterfly Palace & Rainforest Adventure
Surround yourself with more than 1,000 live exotic butterflies, view more than 25 live reptiles and amphibians, explore a "tropical rainforest" and experience the Flight of the Butterflies film in 3D, all at the Butterfly Palace and Rainforest Adventure. Tickets are $24 for adults and $16 for children ages 4-12.
Shipwrecked Treasure Museum
The Shipwrecked Treasure Museum features a wide variety of whimsical nautical novelties, collectibles, pirate-themed toys and more. With more than 500 artifacts from the world's most historic shipwrecks, you'll learn the stories behind the shipwrecks as well as experience a number of various of simulators and other interactive activities. Tickets are $25 for adults and $10 for children ages 4-15.
Veterans Memorial Museum
A powerful and emotional experience, a visit to the Veterans Memorial Museum is a national tribute to the men and women who have lost their lives defending the U.S. throughout the 20th century. The museum is filled with an incredible collection of exhibits, sculptures, murals and more. Tickets are $20 for adults and $6 for children ages 6-12. 
Wineries & Distilleries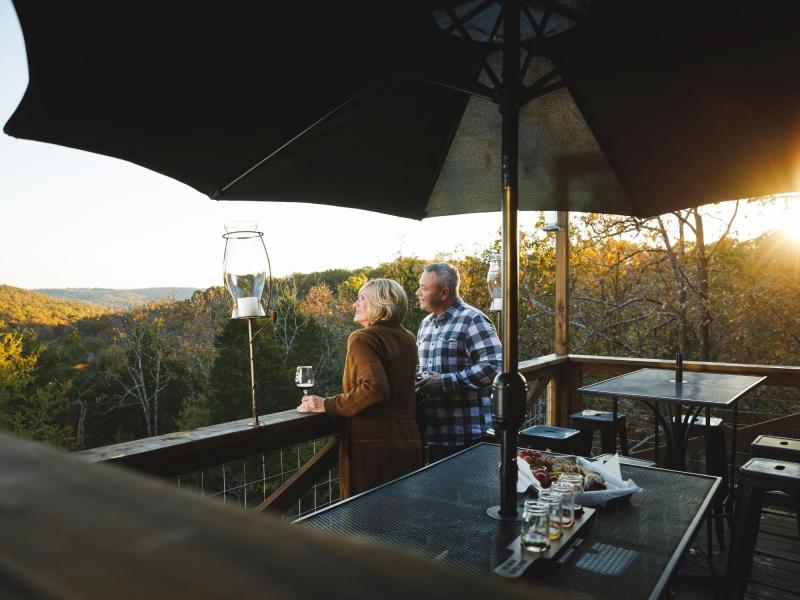 Copper Run Distillery
A must-see for all whiskey fans, this award-winning distillery specializes in smooth corn whiskey (a.k.a. moonshine), molasses rum and vodka. Enjoy their free tour and learn the secrets of handcrafted, small-batch spirits. Tasty samples included. 
Curling Vine and Lindwedel Wineries
Witness winemaking step-by-step at the large winery at Curling Vine Winery and enjoy samples from their broad spectrum of reds, whites, rosés and dessert wines. Or savor the beautiful views at the Lindwedel Wine Garden where you can taste their handcrafted varietals in a relaxing, outdoor atmosphere.
Bear Creek Wine Company & Small Batch Brewery
Take a short drive to the nearby town of Walnut Stage to tour the Bear Creek Wine Company. The winery has 11 wines ranging from dry whites and savory reds to their legendary "Winarita." For those who prefer beer over vino, Bear Creek also has six beers on tap that they rotate seasonally.
Other Free & Budget-Friendly Things to Do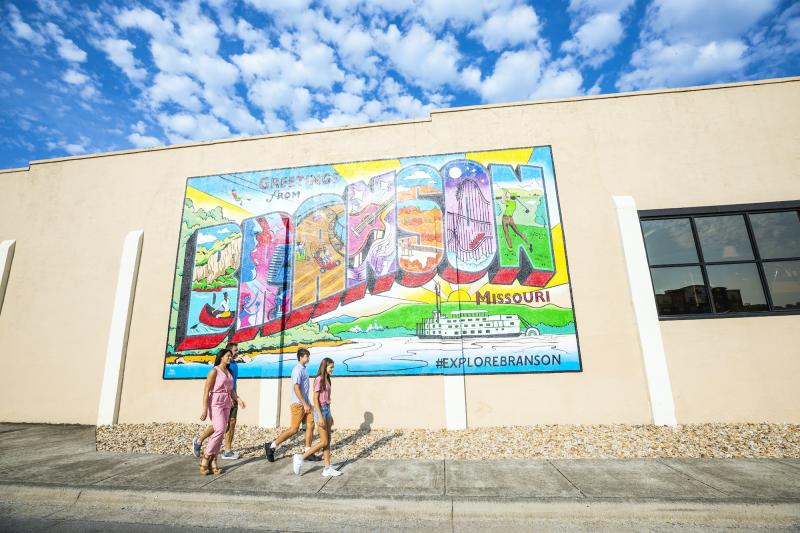 Must-See Murals
You might be surprised to learn that you'll find stunning, unique artwork around nearly every corner in Branson. From the Explore Branson Postcard at Main and Sycamore streets to the illusion of "Aquarius" at Branson's Aquarium at the Boardwalk to the Missouri Map Mural at Branson Landing, there are many must-see murals worth seeking out during your vacation.
Flea Markets & Resale Shops in Historic Downtown Branson
While the word "shopping" isn't typically followed by the words "free" or "cheap," you'll be pleased to find that Historic Downtown Branson is teeming with many budget-friendly flea markets and resale shops that sell everything from vintage clothing to home decor and more.
Looking for even more fun activities in Branson? Order a FREE Vacation Guide here.
Places Mentioned
Find Your Next Branson Adventure