Article
Experience Branson's Promised Land Zoo
This wildlife park offers a unique array of animals, plus live shows, bottle feedings and a foot safari!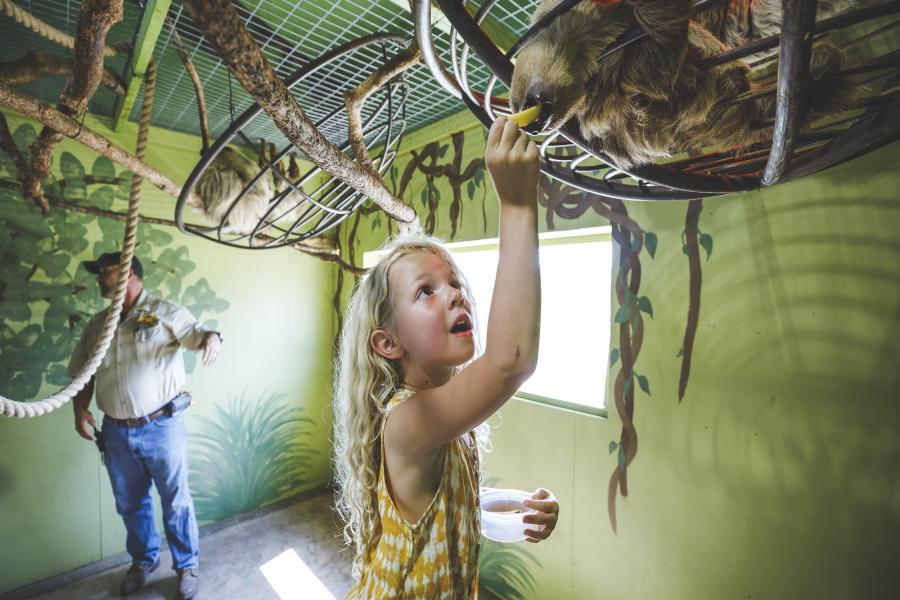 Anyone can visit a zoo, but Branson visitors get a personalized animal experience offered at the Promised Land Zoo. Branson's top-rated animal attraction – and only zoo – is dedicated to providing each and every visitor an unparalleled experience with live animal shows, a guided foot safari, interactions with flying birds and a once-in-a-lifetime chance to bottle-feed baby exotic animals such as kangaroos, zebras and camels.
Drive Thru Park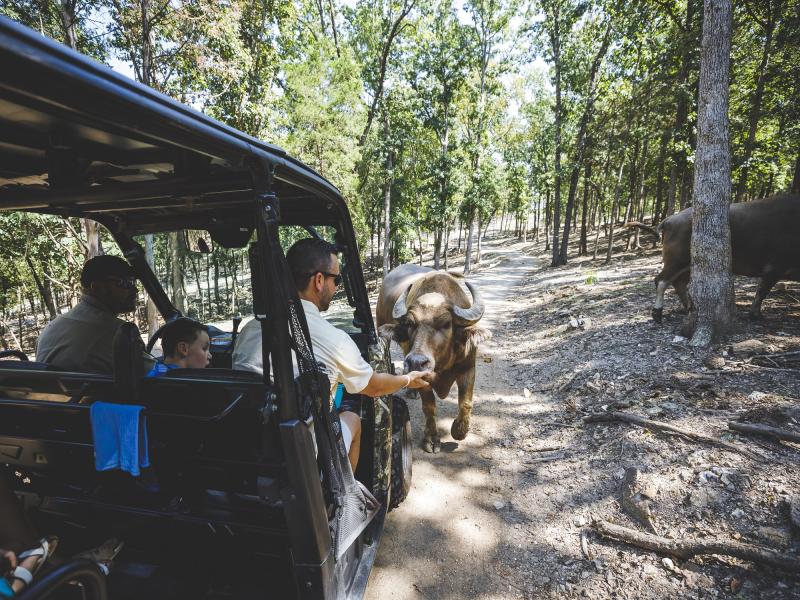 Want to interact with animals of the wild in their natural habitat? Eagle Rock, Branson's Promised Land Zoo's sister location, features a 120-acre park and drive-thru trail where visitors can see exotic animals right from their vehicles. You can expect bison, fallow deer, roaming elk, llamas, antelope and more to come up to your window to say hello!
Exotic Animals
Branson's Promised Land Zoo is home to more than 50 species from around the world, many of which are critically endangered. Visitors are able to get up-close views of antelope, zebra, kangaroo, wild cats, baboons, monkeys and more through a simple foot safari around the park. With 75 acres of driving and walking trails, Promised Land Zoo allows visitors to get so up-close-and-personal with the animals, they can practically reach out and touch them – and in some cases they actually can! Curious and adventuresome adults and children can touch armadillos, prairie dogs, hedgehogs and moniters, before feeding goats, alpaca, donkeys and camels.
VIP Experiences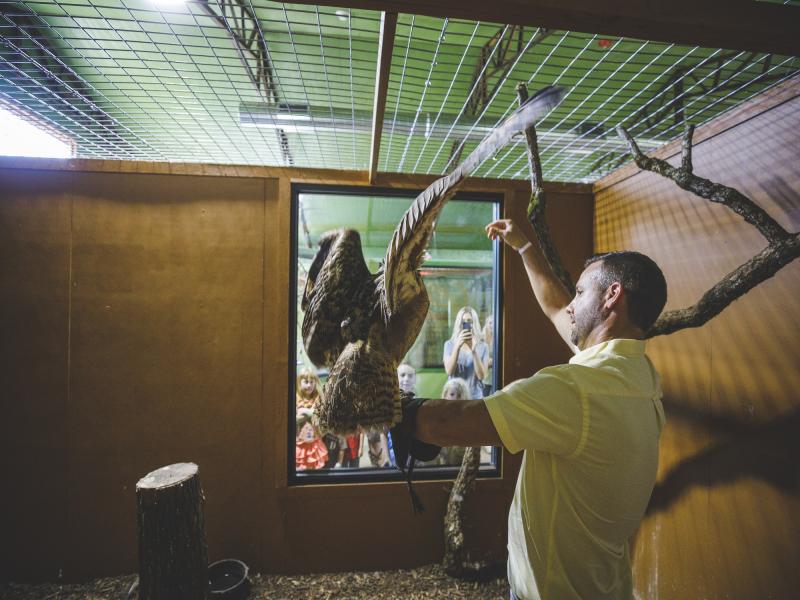 Are you looking for a one-of-a-kind, behind-the-scenes animal experience? Branson's Promised Land Zoo offers VIP guests unique animal experiences they're sure to never forget. Guests seated in the VIP Lounge area are able to take up-close photos and get special one-on-one time with some of their favorite animals, including baby kangaroos, ring-tailed lemurs, zebras, tortoises and even the world's largest albino python, Banana.
Guests who really want to experience all that Branson's Promised Land Zoo has to offer can even opt for exclusive animal encounters, in which they are able to hold and feed animals not on public display. Exclusive encounters can include experiences such as a personal meeting with two-toed sloths, feeding baby ring-tailed lemurs and practicing falconry skills with a full-grown owl.
Animal Shows
The foot safari is only the beginning of all the fun to be had at the Promised Land Zoo. Live animal shows, four times each day, let visitors interact and play with animals not generally on public display. Trained animal professionals such as Buckaroo Brice present the animals and educate visitors as they are able to touch and examine the creatures up close. Some of the most popular show animals include Padme the black-tailed prairie dog, Esmerelda the armadillo and Dill Prickle the hedgehog, as well as an opossum, a black-throated moniter and a ball python. Live animal shows are a particular favorite of young children fascinated at touching what they could generally only see in pictures.
Parakeet Paradise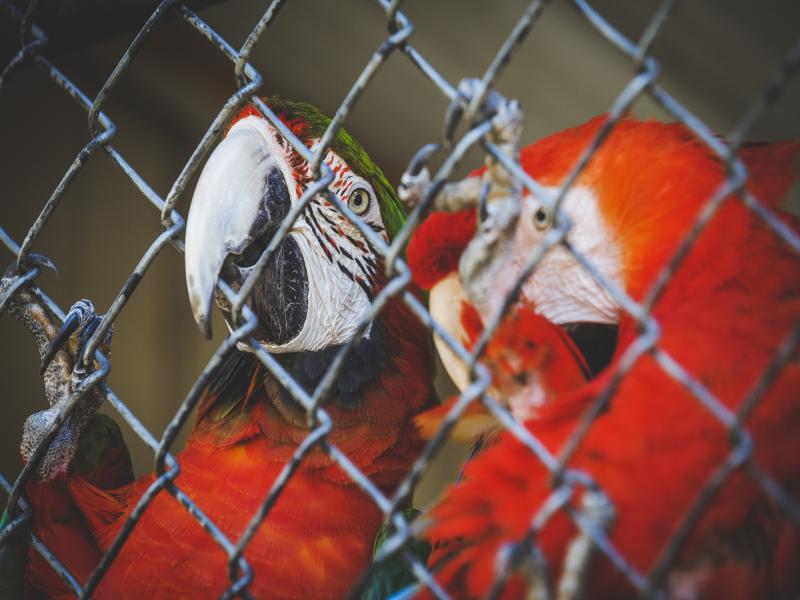 As if Branson's Promised Land Zoo didn't offer enough memorable experiences, its Parakeet Paradise allows visitors to feed hundreds of birds inside a free flight area. Just take your complimentary parakeet stick and step inside. Before you know it, the birds will be fluttering all around and even landing on your stick to take a bite.
Endangered Species
Not only does Branson's Promised Land Zoo offer an unforgettable family experience, but it serves an important purpose in the preservation of endangered species. The privately-owned zoo provides endangered animals healthy living spaces, nutritious diets and medical care in the hopes that the species can multiply and continue. For example, the zoo houses the only breeding pair of hyenas in a four-state area, the world's only pied (half white) African crested porcupine and the world's largest albino Burmese python, a rescued female named Banana who is almost 18 feet long and weighs more than 160 pounds. Branson's Promised Land Zoo is also home to seven species of primates, the world's rarest goat – the Nubian ibex – and Clive, the third-largest antelope on Earth. The zoo even offers enrichment programs to benefit its primates, felines and hyenas, and it is one of the few US facilities that is accredited by the Feline Conservation Federation.
Feeding Baby Animals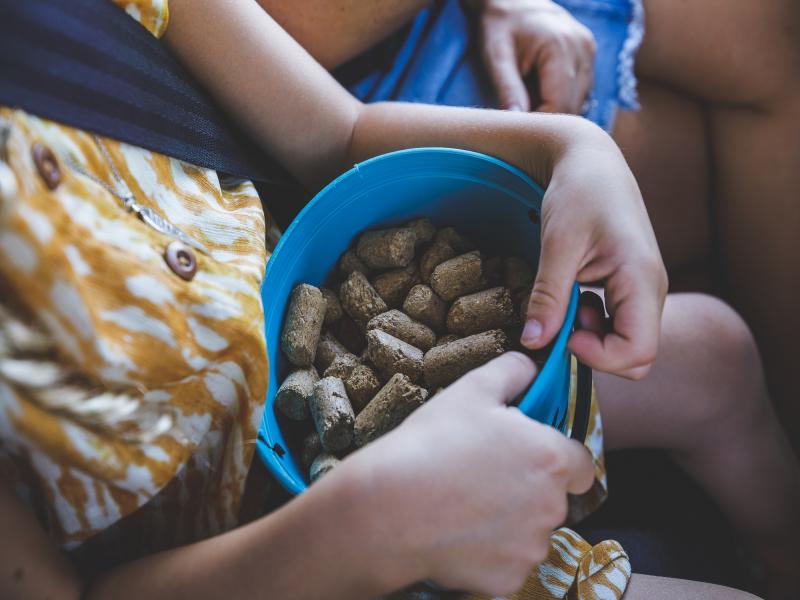 Have you always wanted to feed baby animals, just like the zoologists you've seen on TV? One of the Promised Land Zoo's most popular activities, feeding baby animals is included with every zoo admission and is available at select times of day. Guests are mesmerized as they bottle-feed baby zebra, camels, watusi, goats, deer and kangaroos.
Visitor Information
Want to visit Branson's Promised Land Zoo? The venue offers various admission options. With a basic admission, guests are able to tour the park, watch the live animal shows, bottle-feed baby animals and visit Parakeet Paradise. Those wanting to experience extra adventure can choose to upgrade to the park's VIP package, which includes everything that general admission offers, plus an educational tour of the zoo, when guests can get up-close with even more animals, including lemurs, tortoises and zebras. The VIP admission also includes a visit to the VIP lounge, when guests can take photos and get one-on-one time with some of their favorite animals.
The fun doesn't end there. With a VIP Plus admission, zoo guests are able to experience everything offered in the general admission and VIP packages, plus experience an exclusive animals encounters, such as those with the sloths or the owl. VIP Plus guests also receive a complimentary keepsake cup of feed.
Ticket Discounts
Not only does Branson's Promised Land Zoo offer admission options to fit every interest and budget, but the park even offers discounted tickets to various guests. Visitors who present either an ID card or a check stub with an address in either Stone or Taney counties receive ½-price admission Monday-Thursday. Plus, animal enthusiasts who want to tour Branson's Promised Land Zoo and neighboring Eagle Rock get ½-price admission on the second park.
Are you ready to see exotic animals in a way you never thought possible? Branson's Promised Land Zoo is open daily. Jump into the wild with us at Branson!