Whether you're looking for something special to do during the next holiday weekend or you're tacking an extra day onto your weekend, Branson is a great three-day getaway destination.
Accessible by car, coach or plane, getting here has never been easier. With Branson's s wide variety of shows, world-class golf courses, three beautiful lakes and fun attractions, it can be hard to narrow down what to do. Here's a sample itinerary to help you make the most of your long weekend in Branson.
FRIDAY
Sunset on Table Rock Lake
Book your stay at one of the many scenic resorts along Table Rock Lake such as Big Cedar Lodge or Chateau on the Lake. After you check in, be sure to catch the sunset at Top of the Rock. Its popular Paradise Point lives up to its name! Or unwind over dinner with a view at Devil's Pool Restaurant or the Chateau Grille. It's the perfect way to kick off your vacation.
SATURDAY
Breakfast at Billy Gail's
Start your day with a stack of humungous pancakes at Billy Gail's. This popular breakfast spot serves them in a variety of flavors — from pecan and buttermilk to chocolate and blueberry — all rich, fluffy and overlapping the plate. They also offer large delicious country breakfasts. Cash only.
Putting Around
Recently dubbed "golf's best-kept secret" by Forbes magazine, Branson is fast becoming a top golf destination. Whether you're a beginner or a pro, just getting out on the scenic greens can be a morning well spent. Top of the Rock has unprecedented views of the Ozarks on a beautifully landscaped par-3 course. Other local favorites include Buffalo Ridge and the Branson Hills Golf Club.
Lunch at the Bradford Inn
The Bradford Inn & Eatery offers beautiful views from an enclosed sunroom paired with delicious lunches. Enjoy savory specialties made with Grandma's rich, flakey crust including chicken pot pie and quiche, but be sure to save room for dessert. (Popular favorites include their coconut cream pie and strawberry rhubarb pie.) For an extra sweet treat, try their fresh strawberry lemonade or sweet tea. Open limited hours Wednesday through Saturday. Hours change seasonally. Call to make sure they're open.
Spas, Scenic Walks and Wine Tasting
There are lots of ways to enjoy a relaxing afternoon in Branson. Treat yourself to a candlelit massage at the Cedar Creek Spa, stroll the breathtaking grounds at Big Cedar Lodge or enjoy complimentary wine tasting and an informative tour at Mount Pleasant Winery.
Dinner at Black Oak Grill
Located at the north end of the Branson Landing, the Black Oak Grill features relaxing views of Lake Taneycomo and upscale American fare at reasonable prices. Popular favorites include the Grilled Meatloaf, Crispy Buttermilk Battered Chicken Salad and Iron Skillet Trout.
Catch a Show
With nearly 100 shows in town, it's hard to choose which ones to see. The Sight & Sound Theater is always a crowd pleaser and offers epic musical productions of popular Bible stories including most recently Moses and Samson. Or head to Grand Shanghai Theatre for the mesmerizing Amazing Acrobats of Shanghai.  If you're looking for comedy, tribute shows, illusionists or talented musical acts, there are also plenty of entertaining options. Choose from shows like Buckets N Boards, Comedy Jamboree, Billy Dean, New Jersey Nights, and The Petersens; the possibilites are endless! For a look at all of our great shows in Branson, click here! 
Branson Nightlife
For some late night fun, Ernie Biggs Dueling Piano Bar is open until 1:30 am and is a great stop for drinks and amusing entertainment. Enjoy a spirited sing-a-long or try to stump the talented pianists with a request. Don't be surprised if you see a number of local performers here after their shows —this is where Branson's entertainers go to be entertained.
SUNDAY
Breakfast in Historic Downtown Branson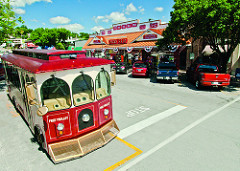 Kick off your day in Historic Downtown Branson — a charming mix of Victorian lampposts, brick shops and a free trolley to get you around. You'll also find plenty of great places for breakfast. Try the Farmhouse Restaurant or the Branson Café for a hearty Midwestern meal of biscuits, hash browns, eggs, bacon and pancakes—all done to perfection. The Branson Café has been dishing up delicious homestyle breakfasts to hungry locals since 1910!
Retail Therapy
From Historic Downtown, head to the nearby Branson Landing for top retail shopping including the Belk department store and Bass Pro Shops. If you're looking for locally made goodies, check out Crystal Fish - Gifts of Distinction  or the Grande Village Shops located a couple miles down Highway 76 and features everything from luxury soap to handmade jewelry to Kringle's, a year-round Christmas store. To find great deals on top brands, Tanger Outlets is the to go.
Lunch at the Keeter Center
Many visitors will tell you the dining room at the Keeter Center serves not only one of the best meals in Branson but one of the best meals they've ever eaten. Part of College of the Ozarks "Hard Work U," the food is meticulously prepared by students in the culinary program. Overlooking a scenic vista, the restaurant also offers stunning views from the dining room windows. Afterwards, be sure to swing by Nettie Marie's in the lobby for some delicious ice cream made straight from the cows at the campus dairy.
Afternoon on the Water
With so many scenic lakes, it's important to book some time on the water during your Branson getaway. Hop aboard the Spirit of America at State Park Marina for a two-hour cruise on Table Rock Lake or take a relaxing tour of Lake Taneycomo through Main Street Lake Cruises. If you have a boating permit, the State Park Marina rents boats for anywhere from 2 to 6 hours and offers a variety of ski boats and pontoons.
Dinner and a Show at Dolly Parton's Stampede
Conclude your day with some lively fun at the Dolly Parton's Stampede — a 35,000 square-foot fun-filled arena with horse stunts, pig races and more. During this spirited show, enjoy a delicious four-course Southern meal you get to eat entirely with your hands. (Silverware is available upon request.)
MONDAY
A Day at Silver Dollar City
No trip to Branson would be complete without a visit to Silver Dollar City, the world-class amusement park tucked scenically in the Ozarks.
Breakfast in the Park
To fuel up for your day of thrills, head over to Eva & Delilah's Bakery for their highly popular, freshly made cinnamon rolls in a variety of delicious flavors including original, red velvet and caramel apple.
Unique Shopping and Fun Rides
Explore Silver Dollar City's variety of artisanal shops making everything from apple butter to dulcimers to jewelry to leather goods. You can also catch a number of interesting demonstrations on glassblowing, wood lathing and other crafts. With over 40 rides, there's lots of thrills to be had. Take a ride on their Outlaw Run wood rollercoaster and their high speed indoor coaster Fire in the Hole.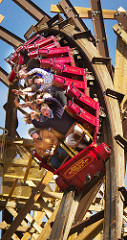 Sensational Skillet Lunch
Silver Dollar City is renowned for their skillet dishes. Try Buckshot's Skillet Cookery which cooks up a delicious combination of chicken, corn, fried okra and even more in a dish they call the "Family Feud."
Shows and Festivals
At any time of year, Silver Dollar City features a variety of entertaining shows and festivals. See the park decked out in millions of lights during an Old Time Christmas (Nov.-Dec.), see amazings acts of curiousity at the new Festival of Wonder (April), get down with Bluegrass & BBQ (May), see over 125 demonstrating craftspeople at the National Crafts & Cowboy Festival (Sept-Oct.), and more! 
Marvelous Marvel Cave
The attraction that put Branson on the map, this natural wonder is included in the price of admission. Silver Dollar City was built around Marvel Cave to give visitors something to do while they waited for a cave tour. See amazing limestone formations and travel more than 200 feet below surface. If you're there after sundown, be sure to go on the Lantern Light tour.
Looking for more suggestions? Request a free visitors guide.