Your week-long family vacation in Branson is a go, now it's up to you to fill the days with fun and memorable activities for everyone – from grandma down to your toddler.

No pressure, right?

Actually, in Branson, there are so many things for families to enjoy, it will be more difficult to narrow down your "things to do" list than it is to fill it.

Here's a little help to get you started.

Arrival day: A mid- to late-day check-in at your chosen lodging site means you'll have just a few evening hours to spend exploring. Start things off at Hollywood Wax Museum and picture yourself next to celebrities ranging from Brad Pitt to Lucille Ball. Don't be afraid of King Kong, he won't carry you up any skyscrapers. From there, check out Branson Landing and take a ride on Parakeet Pete's Waterfront Zipline and the Steampunk Balloon. The Landing's assorted shopping and dining options round out your evening.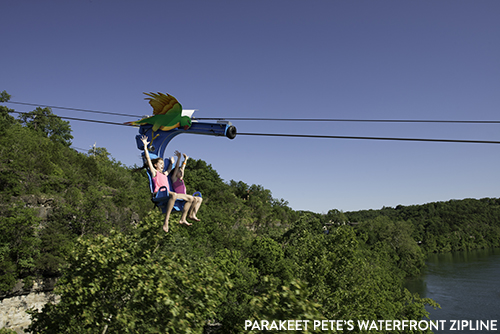 Day two: It's Silver Dollar City day and your family is pumped, as well they should be. With thrill rides such as Outlaw Run, themed festivals, crafts demonstrations, excellent food and live shows, Silver Dollar City knows how to entertain visitors of all ages. Remember to take your sunscreen and comfy shoes during the warmer months and to dress for the weather during the holiday season's An Old Time Christmas celebration.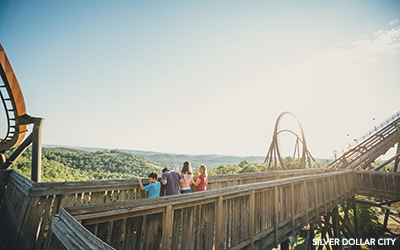 Day three: You're devoting this day to live shows, which works nicely, since Branson's shows start early in the morning and run up until well past your bedtime. After breakfast, kick off the day with the 10 a.m. Oh Happy Day: Goin' Back to Gospel at Hughes Brothers Theatre. At 2 p.m., enjoy family entertainment with The Duttons at Dutton Family Theatre and then spend the evening with the Million Dollar Quartet and their 8 p.m. show at Welk Resort Theatre. If you're still energetic, pop in on the Branson Country Late Show USA, which starts at 10:30 p.m. at Grand Country Music Hall.
Day four: See the sights of Branson from a variety of vantage points. The fun begins amid the rolling hills around Branson and Table Rock Lake when you Ride the Ducks. From there, change your point of view on the Branson Ferris Wheel, which stands 150 feet tall. Finally, get a bird's-eye view of the area when you experience Branson with the folks at Chopper Charter helicopter rides.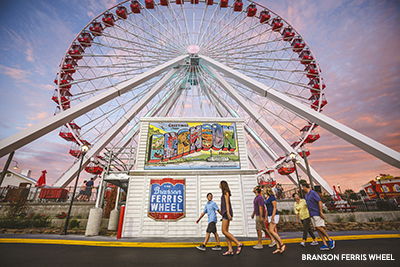 Day five: Now that you've seen some of Branson's outdoor beauty, delve deeper when you visit outdoor attractions such as the Top of the Rock Ozarks Heritage Preserve, Ruth & Paul Henning Conservation Area, and Table Rock State Park. You might fish or go for a boat ride on Table Rock or Bull Shoals lakes, or try your luck at landing a trout on Lake Taneycomo. Playing Branson's golf courses is another excellent way to see the area's outdoor beauty. Another regional attraction includes a section of Mark Twain National Forest near Kimberling City.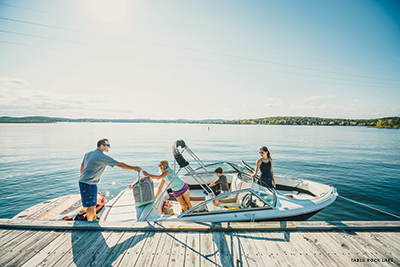 Day six: It's all about the water today. During the summer months, water-based fun is the name of the game at White Water Waterpark, home to huge slides, wave pools and exciting activity areas. Moonshine Beach on Table Rock Lake is another popular area for those seeking a little fun in the sun. Indoor parks in Branson include Splash Country Indoors (it has an outdoor area, too), Castle Rock Resort and Waterpark, and the Splash-a-Torium at Welk Resort. If you want to be on the water but don't necessarily want to get wet, rent a kayak from Kayak Branson.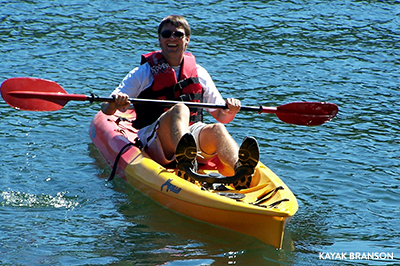 Day seven: It's your last day in Branson and there's still so much to see. You can't leave without stopping at the Ripley's Believe It or Not! Odditorium; the Ralph Foster Museum at College of the Ozarks; and the World's Largest Toy Museum. Oh, and you've got to shop at Dick's Old Time 5 & 10, take the kids to Fritz's Adventure and watch a movie on the big screen - the really, really big screen - at the Branson IMAX.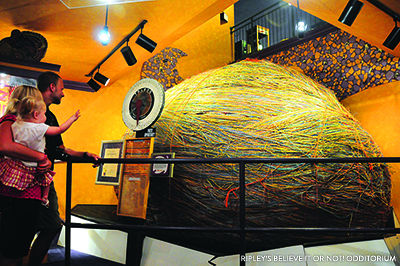 You're asking yourself, is there enough time to do it all? Probably not, but that's okay. Branson offers fun and excitement for your family year-round.

That means you can come back again next year to see some of the things you missed this time around. Oh, and don't forget to visit during spring break, Christmas break, three-day weekends ... You get the idea.