Article
2023 Fourth of July Firework Shows in Branson
Nothing compares to Independence Day celebrations in the Ozarks! Whether you call the area home or you're planning a visit, you won't want to miss any of our Fourth of July festivities.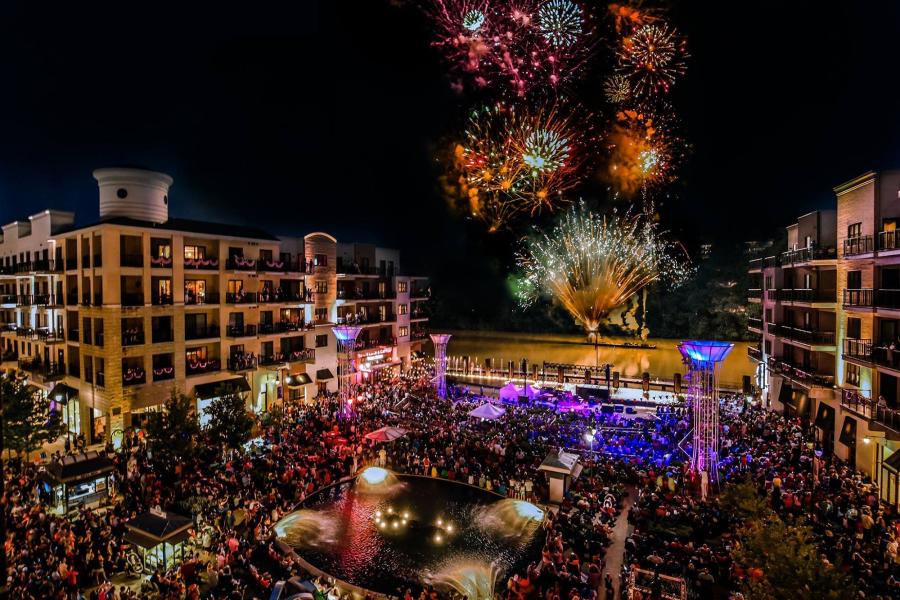 Celebrate the Fourth of July in Branson with these Independence Day events and activities.
Treasure Lake Firework Display
July 1, 2023
Treasure Lake honors America each year on July 1nd with a spectacular display! The fireworks start at 10:00 PM. Best views are in the mini golf parking lot - bring your lawn chairs or blankets! You can learn more about it here.
Fireburst in Kimberling City
July 2, 2023
A beautiful drive just half an hour out of Branson is Kimberling City's annual Fireburst fireworks show near the Kimberling City Bridge. Viewable by boat, car or lawn chair, this display attracts thousands to watch fireworks over the waters of Table Rock Lake on July 2nd!
Fourth of July Celebration at Chateau on the Lake
July 2, 2023
Chateau on the Lake, Resort, Spa & Convention Center is one of the most popular resorts in the Branson area. It's Fourth of July Celebration begins at dusk and features a spectacular fireworks display that lights up the evening sky. Contact the Chateau for hotel reservations so you don't miss out on a day full of fun and activities!
Branson Landing's Liberty Light Up Celebration
July 3, 2023
You won't want to miss the Branson Landing's 16th annual Liberty Light Up celebration on July 3! This year's event will include the Liberty Light Up concert, featuring Dirty Saints on the Branson Landing stage from 6:30 p.m. - 10:30 p.m. After the show, sparks will fill the night skies over Lake Taneycomo with an amazingly choreographed fireworks display that's sure to leave spectators in awe.
70th Annual July 4th Fireworks Celebration in Hollister
July 4, 2023
A favorite local July Fourth celebration includes the fireworks show in Hollister, Missouri. This celebration begins at 5pm on Independence Day, and features the oldest fireworks exhibit in Taney County! If watching the fireworks from Chad A. Fuqua Memorial Park next to city hall, bringing lawn chairs or blankets to sit on are suggested.
Firecracker 5000
July 4, 2023
Looking to start the holiday by burning some energy? Register for the Annual Firecracker 5000, featuring 5k and 10k races at the Branson Landing. A 1-mile race is also offered to walkers and children. To register, visit the Firecracker 5000 website.
Top of the Rock Firework Display
July 4, 2023
On Tuesday, July 4th at dusk (approx. 9:15pm.), Top of the Rock welcomes the public to enjoy the can't-miss fireworks show over Table Rock Lake. Sweeping views of the Ozark mountains and Table Rock Lake will provide the perfect backdrop for some of the area's best fireworks. You won't want to miss it! $25 parking fee.
Find out how else Big Cedar is celebrating the Fourth of July here.
See more firework displays found in Branson throughout the year here!
Places Mentioned
Find Your Next Branson Adventure