Article
Branson Hot Spots for the Best Pies
Dig into a slice at one of these local eateries for an unforgettably sweet experience during your Branson visit.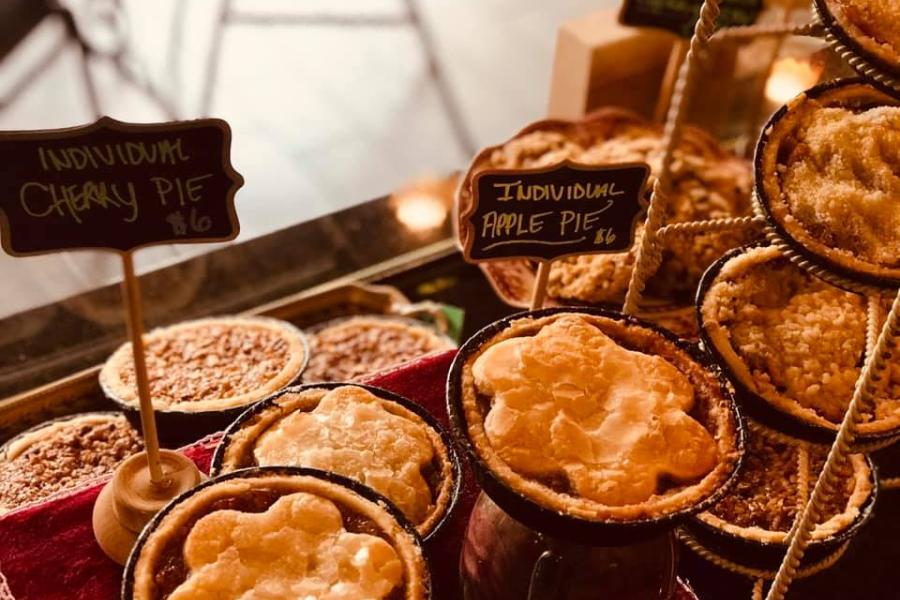 Whether you're looking for a warm, flakey apple pie à la mode, seasonal fruit cobbler or heaping helping of lemon meringue, there's no shortage of great pie in Branson. In fact, the Missouri entertainment mecca has even hosted the "Great American Pie Show," judged by Al Roker of NBC's Today Show, featuring some of the tastiest desserts in the country. 
The Pie Safe
Enjoy homemade pies, crafted desserts and sweets along with a warm cup of locally-roasted, specialty coffee right in the heart of historic Downtown Branson at The Pie Safe.  This quaint shop is adorned with unique, gilded and gem-filled aesthetics that create a relaxing spot to grab something sweet or even a light lunch! Located right next door to The Victorian Shop on Main Street, it's the perfect stop while doing your Downtown shopping.
McFarlain's
Located inside the Branson IMAX Entertainment Complex, McFarlain's Family Restaurant boasts Branson's largest selection of daily, made-from-scratch cobblers, fruit and creme pies. There's even a one-of-a-kind Branson Traffic Jam Pie made with cherries, strawberries, rhubarb and cranberries - it's just the right combination of sweet and tart and like nothing you've tasted anywhere else. A great treat after visiting the nearby Butterfly Palace or before a show at the Clay Cooper Theatre.
Farmhouse Restaurant
Located on Main Street next to Dicks's 5 & 10, this popular homestyle breakfast spot also serves delicious pie. Farmhouse Restaurant is a great place to take a break and rest your feet after a day of shopping at Branson Landing. Enjoy their signature blackberry cobbler a la mode (a meal in itself), cherry pie or apple maple pie. Pair it with a cup of their delicious coffee, which will probably never reach less than half full before being topped off by their friendly staff.
Sugar Leaf Bakery and Café
Another great spot for an afternoon sweet treat after a day of shopping is Sugar Leaf Bakery & Café, located inside the Grand Village Shops. Sugar Leaf Bakery and Café offers a warm, homey atmosphere to all guests. Cobbler is king in this café with a wide assortment including apple, blackberry, peach, raspberry, rhubarb, strawberry rhubarb, gooseberry, cherry and sugar-free blackberry. This local favorite also serves a hearty and savory, made-to-order cuisine like their popular Fig & Apple Harvest salad. (But who said you can't just go straight to dessert?) And whatever the occasion, Sugar Leaf can create any special pie that your heart desires.
Cakes-n-Creams
Branson's Cakes-n-Creams, located smack dab in the middle of the famous 76 strip, was created around its desserts. Not only are they delicious, but each offering is truly a culinary work of art. Although funnel cakes are the classic '50s-style diner's signature dessert, Cakes-n-Creams' cream pies are made with the finest ingredients and topped with a three-inch meringue that even draws appreciative comments from non-pie eaters.
Billy Bob's Dairy Land
Looking to change up your pie pace? How about digging into one of the 13 varieties of fried pies at Billy Bob's Dairyland? The eatery located on 76 Country Music Boulevard fries its sizeable selection of pies to order, so you'll always enjoy them fresh and hot. For an extra decadent dessert, order it a la mode. Cash only.
Branson Café
This Branson staple has been dishing up delicious homestyle meals to hungry locals since 1910 (just ask Joyce who has been serving there for over 55 years!). Located in Historic Downtown Branson (just up the hill from Branson Landing), the Branson Café offers a variety of delicious pies including lemon meringue, chocolate cream pie and Magnolia pie — a sweet and creamy buttermilk delight.
Find more of Branson's best restaurants and dessert spots, including the best places for cold treats.
Places Mentioned
Find Your Next Branson Adventure