After spending a hot summer day at Silver Dollar City or on the lake, there's no better way to cool down than by attending a lively and entertaining show at one of Branson's premiere theaters!

For more than 50 years, live shows have been a staple of Branson vacations, and a host of theaters feature a variety of entertainment options sure to please every member of the family. Why not spend a hot summer evening cooling down at one of Branson's live shows: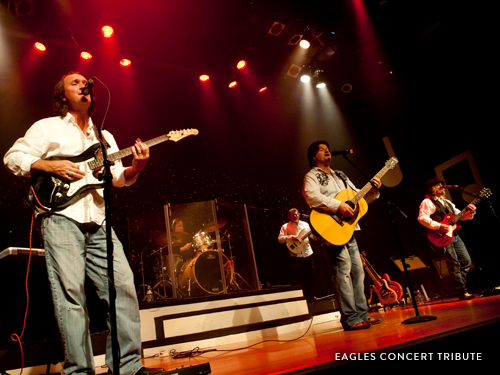 Eagles' fans are some of the most loyal in the industry, so it's no wonder Branson visitors can't get enough of the Tribute Theatre's own Eagles tribute band, Take It to the Limit. Thrilling audiences young and old since its inception, Take It to the Limit consists of seasoned professionals so similar to the Eagles you can hardly tell them apart.
SIX combines the musical precision, masterful showmanship and boundless energy of six remarkable brothers into a truly amazing entertainment experience. 
Brothers Barry, Kevin, Lynn, Jak, Owen and Curtis have been singing together for more than 40 years. Perfecting not only their breathtaking harmonies, but also mastering the sounds of countless instruments and special effects using nothing but their voices. After over a decade, SIX is still captivating audiences with their powerhouse vocals, brilliant comedy, and heart-warming family stories like only true brothers can.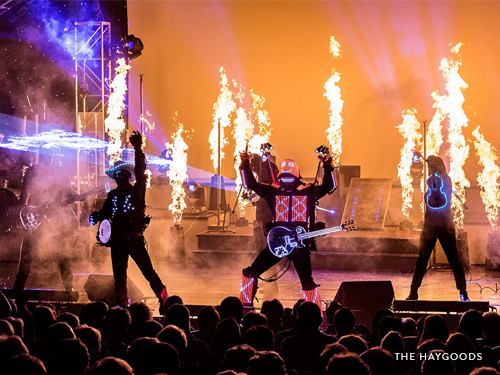 The Haygoods are Modern Family Entertainment at its BEST! This group of six siblings, 5 brothers and 1 sister, bring an all-new show to the Branson stage every year. Stunning visual effects and a state of the art stage presentation are the backdrop to an amazing array of musical styles, performed with more energy and excitement than ever before! The hits of today's Country, Rock, and Pop artists along with the music of the last 5 decades, are showcased in an electrifying ride of song, rhythm, and sound that won't soon be forgotten! Fans of all ages will LOVE The Haygoods and their music!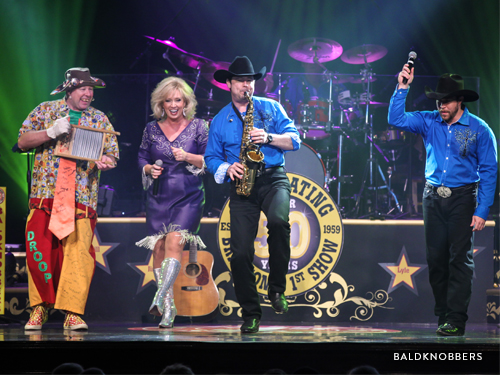 The Branson family entertainment phenomenon began more 50 years ago when the four Mabe brothers, known as the Baldknobbers, began entertaining visitors on the Branson lakefront. Today, the family legacy continues to wow audiences by delivering everything from traditional country to today's hits and dynamite comedy. Longtime Baldknobbers' fans and new fans alike appreciate the Baldknobbers' family traditions that have made this show popular from generation to generation. Cool off on a summer evening by visiting the Branson Famous Theatre to experience the show Life Magazine once described as the true essence of Branson.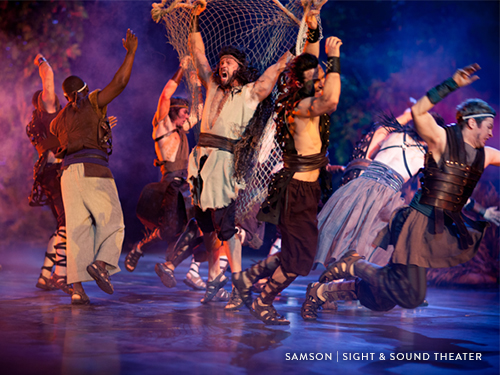 See the truly inspiring Biblical story of Samson at Sight & Sounds Theater. Chosen by God from birth, Samson has been given superhuman strength – as long as he follows the rules. That's where the trouble begins, as Samson soon falls prey to temptation, losing his strength and sight. And it's here where he will face his greatest challenge. Journey with this unlikely hero as he battles the Philistines – and his own personal calling. It's an unfortgettable, uplifting story that will literally bring the house down!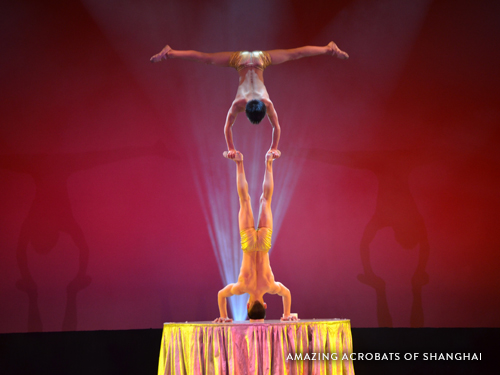 The Amazing Acrobats of Shanghai, located at the Grand Shanghai Theatre, memorizes the audience with beautiful costumes, captivating scenery, dazzling lights and their astonishing acrobatic skills! During a routine, each performer brings unique talents and training to the stage that keeps the audience engaged. Gravity defying balancing acts, foot juggling, entrancing Chinese YoYo (Diabolo) routines, astonishing feats of human strength, mystifying aerial acrobatics, unimaginable contortionist and Kungfu comedy are incorporated into this show. From young to mature, people of all ages will delight in the spectacular performances and lighthearted laughter that the Amazing Acrobats of Shanghai bring to stage.

Of course, these are only a few of the plethora of entertaining Branson shows. Click here to check out more Branson shows!