Article
Day Hikes in Branson
Grab your best hiking boots or your most comfy pair of tennis shoes — it's time to explore the Branson area's fantastic hiking trails. You'll find some of the most beautiful places to experience nature and go biking or hiking in Missouri.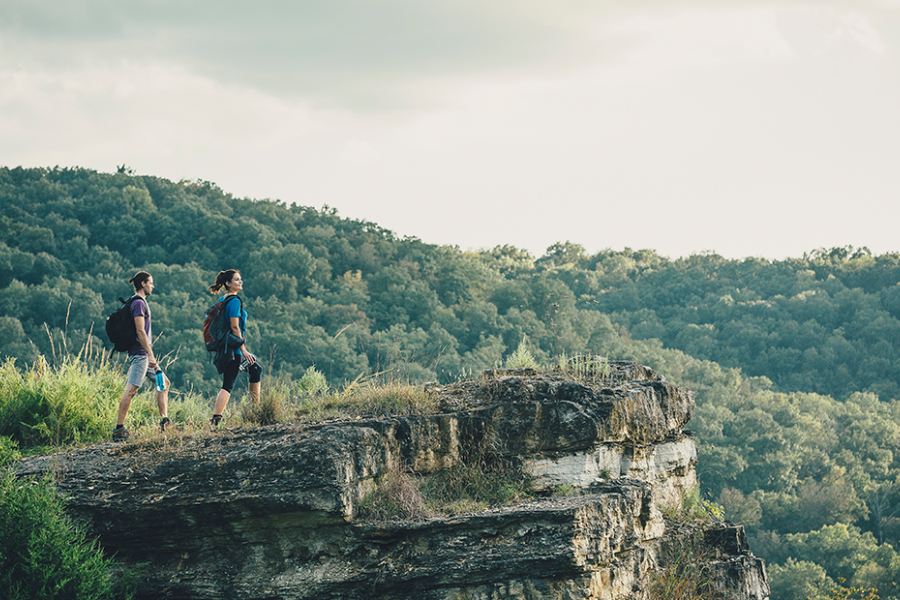 Home to more than 200 miles of publicly accessible trails, Branson has ample options for outdoor fun, whether you're seeking a simple day hike, clearing your head with a nice bike ride or enjoying a leisurely horseback-riding adventure.
Before you get started on any outdoor adventure, be sure you're dressed appropriately, have the proper gear (if any specialty items are necessary) and ensure you've got plenty of water — it's not a bad idea to take more than you think you'll need. And don't forget your sunscreen and bug repellant, sun burns and bug bites can wreck an otherwise enjoyable day outdoors. Find out more about how to prepare for a day hike in Branson here.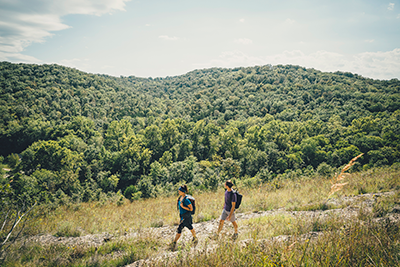 Ruth and Paul Henning Conservation Area
One popular outdoor venue in Branson is the Ruth and Paul Henning Conservation Area, located west of the city. This area is mostly forested, but houses some terrific trails, from the difficult, 3.4-mile Homesteader's Trail, to the Streamside Trail, which is less than a half-mile, though still rated as "moderate" by the Missouri Department of Conservation.
While hiking the Henning Conservation Area, you encounter Roark Creek,1,100 acres of forest and elaborate bird-watching possibilities; the area is designated as an Important Bird Area by Audubon Missouri.
Dogwood Canyon Nature Park
Dogwood Canyon Nature Park offers several different hiking options. Overlook waterfalls and rock bluffs along the park's 6.5 mile paved walking trail. Bring your own bike, or rent one from the park to ride at your own pace while taking in a beautiful piece of Ozarks scenery. For a modern take on hiking, check out the segway tour option. As you make your way through the park, you will learn about Dogwood Canyon's history from a guide and even make a stop or two to feed some of the rainbow trout inhabiting the park's Glory Hole, a unique water hole to the Ozarks.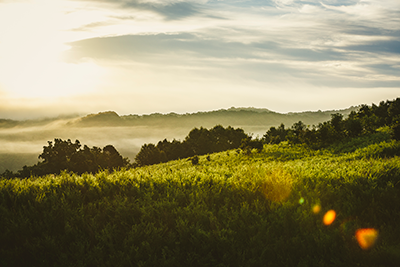 Table Rock State Park
Elsewhere around Branson, get your day hike fix at Table Rock State Park, which has 1.5-mile Chinquapin Trail (hiking), the 2.25- Lakeshore Trail (hiking and biking) and the White River Valley Trail system (hiking and biking), which totals 11.75 miles and has four distinct loops for you to traverse. Note that trailheads for the Lakeshore Trail are available at two Branson attractions: Showboat Branson Belle and the Dewey Short Visitors Center at Table Rock Dam.
Murder Rock Trail
This is just a sampling of all the hiking options available around Branson, but we've got to leave you with one more option. The Murder Rock Trail in the Branson Creek area makes for great exploration and it's got a place in regional history that's unrivaled. 
Branson's natural beauty offers many opportunities to enjoy the outdoors, and spending a day on the region's trails is a great way to spend part of your vacation. Remember to be safe and exercise sound conservation practices. Find even more exciting outdoor activities in Branson here!
Places Mentioned
Find Your Next Branson Adventure