Article
The Definitive Guide to Branson's Scenic Railway
From verdant foothills and abundant wildlife to hundred-year-old bridges and towns that once brimmed with early Ozark pioneers, embark on a trip through the present and into the past aboard the antique cars and nostalgic rails of the Branson Scenic Railway.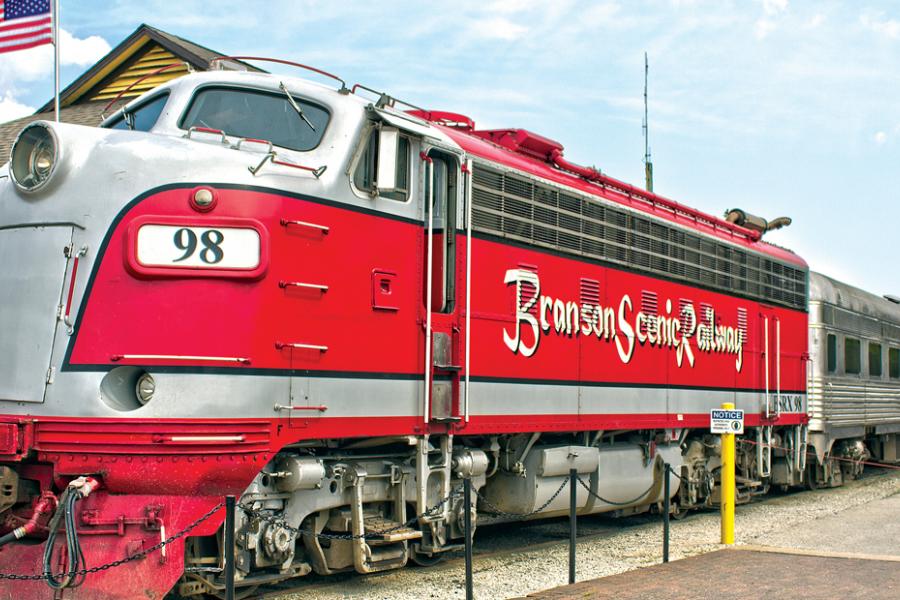 The Branson Scenic Railway is a staple attraction for all Branson visitors. No matter the season, there are always scenic sights to be seen and historic facts to be learned along the ride. Hop aboard the Branson Scenic Railway for a historic experience today!
About the Branson Scenic Railway
Your journey begins at the historic Branson Depot in Downtown Branson. Built in 1905, this turn-of-the-century gem functions as Branson Scenic Railway's headquarters, housing a ticket counter and a gift shop where you can find train memorabilia and souvenirs.
As part of the excursion, a guide comes along for the ride to point out wildlife, scenery and historic landmarks along the way. Hear fun facts about famed ghost towns and gorgeous outlooks.
While spring and summer bring blooming blossoms, autumn excursions (mid-September to November) are some of the best for foliage lovers. Shades of gold and red blanket the hills and boast outstanding photo opportunities.
The railway operates March through December with multiple excursions per day. Regular excursions are limited to morning and afternoon departures, with an early evening departure in the summer. Service is limited on Sundays, so be sure to check their online calendar.
History of the Branson Scenic Railway
Welcome aboard the Ozark Zephyr — a vintage, diesel-powered locomotive equipped with beautifully restored cars from the late 1930s through the early 1960s. Since there is no assigned seating, you'll be able to wander from car to car and enjoy a variety of vantage points along the way. Classic coach seating gives riders a glimpse of traditional train travel from way back when, while three popular dome cars boast outstanding panoramic views of the lush countryside, rolling hills and passing wildlife.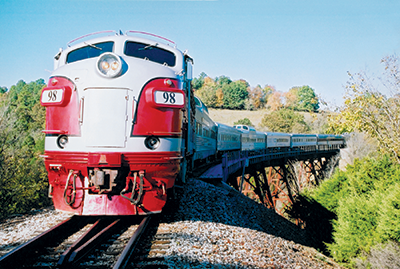 If all that scenery gives you an appetite, head to the Silver Lake concession car for snacks and refreshments available for purchase. No matter which car (or cars) you pick, each seat aboard the Ozark Zephyr offers sweeping views of our grand foothills. Since many of these sights are inaccessible by automobile, your best opportunity to see these vistas is by way of the Branson Scenic Railway.
Two Distinct Routes
The Branson Scenic Railway has two routes: the northern route and the southern route. Each route is 40 miles round-trip and takes one hour and 45 minutes to complete.
Northern Route
The northern route travels through the Missouri countryside, passing through Galena and the James River Valley.
Southern Route
The southern route stretches down into northwest Arkansas and over the remarkable Barren Fork Trestle.
Special Railway Excursions
Dinner Train
April through October, the Branson Scenic Railway offers a special Dinner Train on Saturdays at 5 p.m. Passengers are treated to a delicious four-course, candlelit meal. It's a hearty meal with a side of unrivalled scenery. Tickets are $69.00 to $79.00 per person, plus tax. Prices subject to change. 
Polar Express
Looking for a fun way to celebrate the holidays with the kiddos? Ride the rails with Santa aboard Branson's own Christmas-themed train, The Polar Express™. November through mid-December, the Branson Scenic Railway embarks on a magical journey to the North Pole. Enjoy hot cocoa, Christmas carols, sweet treats and a special holiday gift, all in the comfort of your PJs. Tickets range from $36.00 to $72.00 per person, plus tax. Prices subject to change.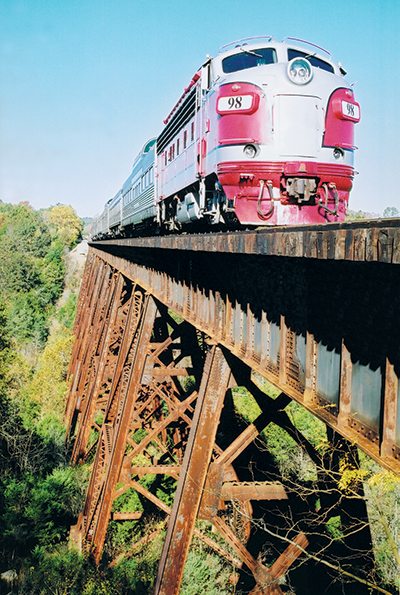 Ticket Prices & Discounts
Tickets can be purchased by calling (800) 287-2462. Excluding the Dinner Train and THE POLAR EXPRESS, regular excursion tickets range from $29.00 plus tax for adults (ages 13 and up), $18.50 plus tax for children (ages 3 to 12) and $2.00 for children ages two and under and do not require a seat. AAA members are eligible to receive a 10 percent discount towards their adult tickets — simply present your AAA membership card upon arrival. Veterans and active duty service members with military id can purchase tickets for $14.50. Ticket prices subject to change and seasonal rates may apply. 
Directions
All tours depart from the Branson Depot, located at 206 E. Main St. in Historic Downtown Branson. For those taking Highway 65, exit at MO-76/Main St. (76 Country Blvd.) and continue east for a little more than a half-mile.
Helpful Tips
Here are a few helpful tips to help you plan your exciting excursion.
Seating is unassigned; however, boarding numbers are issued in the order the reservation is made. Early reservations are recommended, especially if you're hoping to snag a seat on one of the three bubble-topped, dome cars.
For passengers who require handicap accommodations, arrive at least 40 minutes prior to departure. Accessibility is limited due to the historic nature of the cars. Wheelchairs must be 25" or less.
If you have a route preference, contact the railway prior to making reservations.
Once the train returns to the depot, take time to explore Historic Downtown Branson's novelty shops, tasty restaurants, fun sights, entertaining shows and thrilling attractions. 
Places Mentioned
Find Your Next Branson Adventure