Article
Enjoy Shopping in Historic Downtown Branson
Historic Downtown Branson is a shopper's dream. With over 40 shops each filled to the brim with unique treasures, you are sure to find the perfect way to commemorate your Branson vacation.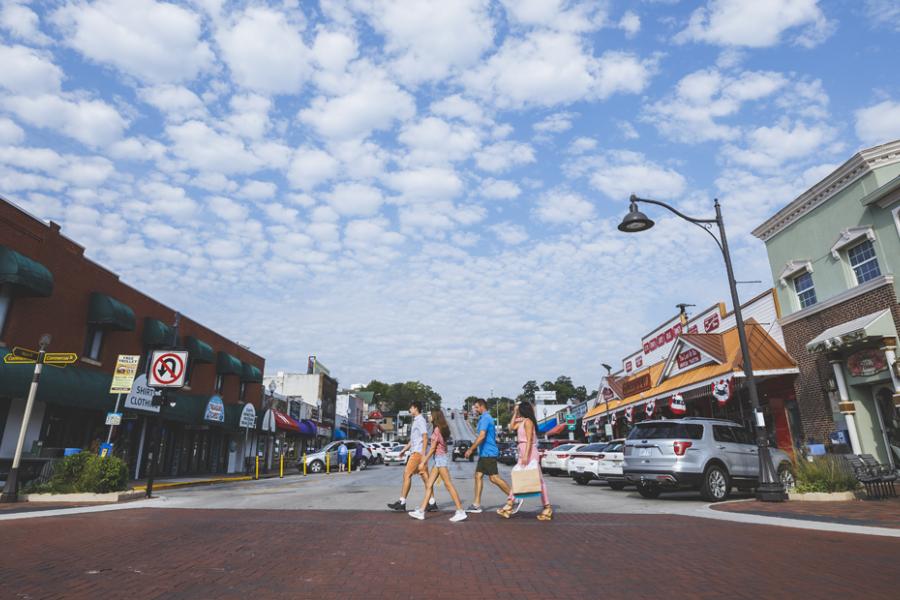 For wholesome fun in a nostalgic environment, head to Historic Downtown Branson! With deals and only-in-Branson novelties around every corner, shopping in Historic Downtown Branson cannot be beat!
Arts / Crafts
Historic Downtown Branson is home to several galleries that house unique, hand-crafted wares from local artisans. Peter Engler Designs preserves the legacy of the famous woodcarver, Peter Engler, by featuring woodcarving, pottery and silver items created by over 150 local artists. Crain Creations Gallery features the award-winning artwork of T. Morgan Crain, as well as other local artists.
If you're in the market for beautiful quilts, Historic Downtown Branson has two great shops to check out: Branson Quilts, which features a line of Branson Exclusive Quilts in addition to their large selection of both machine-made and Amish-made quilts, and Ozark Quilts & More, which carries over 200 styles of quilts, all handmade and hand quilted
Flea Markets / Resale Shops
You could spend a full day browsing all the flea markets and resale shops located in Historic Downtown Branson. Wander along Main Street into Cadwell's Downtown Flea Market, Old Town Flea Market, Main Street Flea Market and The Classy Flea for unique finds. Downtown's newest resale additon, 417 Vintage Market, is a go-to vintage gift and home decor store for natives. 
Head to Lightning Pawn & Music, family owned for over 25 years, for a unique selection of second-hand items, including a large selection of musical instruments and accessories.
Specialty Gifts
Historic Downtown Branson has several shops that sell a wide variety of unique food items. The Beef Jerky Outlet carries what you might expect—lots of beef jerky!—but they also have a selection of popcorns, cheeses, peanut butters and more. MissouriAmish.com is a storefront that has an Amish pantry stocked with honey, jams, pickled items and candy. You can also find handmade health and beauty products, baskets, wooden and leather items and more!
The Spice Agent specializes in quality spices, rubs and seasonings. The also carry a selection of teas, honey, chili mixes and dried peppers and mushrooms. For kids and kids at heart, check out Simply Irresistible Old Fashioned Candy for 120 flavors of taffy and seemingly endless options of goodies.
For other specialty gifts, visit Mac's Seen on TV, It's Magic – Jokes & Novelties or The Flagstore. And for the largest selection of specialty gifts, spend some time browsing the 75,000 different items on the shelves at Dick's 5 & 10, one of America's last operating dime stores.
Gifts / Décor
Historic Downtown Branson is full of shops specializing in home décor such as Patricia's Victorian House and 417 Vintage Market & Supply Co.
For other unique gifts for home, try H & H Goods for farmhouse gifts and décor, bath products and more or the Aromatique Outlet for candles, room sprays and reed diffusers.
If you're in the market for a personalized gift, visit Enchanted Memories, Custom Engraving & Unique Gifts to find that extra-special treasure for your loved ones. And you won't want to leave downtown before visiting Henry's Warehouse Outlet, a treasure trove of inspirational gifts, books, greeting cards and more.
Apparel / Jewelry / Shoes
Head to the Fashion House International, Simply Barbara, Freebird & Co., or Kelly Ann's Trading Co. for upscale ladies' clothing and accessories. For western attire and home décor, visit Cowboy Creed. 
If you're looking for unique jewelry, visit Plum Bazaar Bead & Jewelry Shop where you can purchase designs that are made in house or you can select your own beads to make your own! Or head to Alex & Alaina's Treasure Chest, which specializes in hand-crafted Native American jewelry.
To finish out your look, browse the selection of fine footwear at If the Shoe Fits, which specializes in ladies footwear in hard-to-fit sizes.
Don't think the shopping stops in Downtown Branson! Find more top shops here.