Wise men say only fools rush in, but you'd be a fool not to rush in to Branson's Legends in Concert Show.

Wise men say only fools rush in, but you'd be a fool not to rush in to Branson's Legends in Concert Show. Tribute artists and celebrity look-a-likes grace the stage of Dick Clark's American Bandstand Theater in an entertaining two-hour show. The roster of performers changes four times each year and each set offers a versatile set of artists that will please anyone from age 1 to 101. The  set of artists that I saw while I was in Branson is comprised of Faith Hill, Tim McGraw, The Blues Brothers, Michael Jackson, and of course, the king himself, Elvis Presley. Other performers that appear at different times throughout the year include Aretha Franklin, Whitney Houston, Barry White, Marilyn Monroe, George Strait, and many more.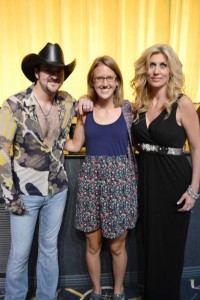 If I could grant you one wish, I'd wish you would enjoy the Legends show as much as I did. Walking into the theater, flashing marquees, a bright concessions sign, and a ticket booth greet you. Memorabilia from the likes of Elvis, Dolly Parton, and Michael Jackson are presented in glass display boxes and grace the walls of the entryway. Statues of the Blues Brothers are perfect opportunities for photographs, even though pictures are taken with the impersonators on your way to be seated, and plenty of time with the cast is available during intermission and after the show. To quell your excitement before the show, there is a gift shop offering a range of souvenirs to remind you of your legendary show experience. After perusing the gift shop, picking up tickets from the counter, and indulging in popcorn, cotton candy, a cinnamon roll, or a pop from the concession stand, you can make your way into the theater where friendly ushers help you to your seat.
Now wai-a-ait a minute! Sure, all of this information about the theater is important, but I'm sure you want to hear more about the performers and the show. The show opened with a live tribute to Faith Hill, who sang popular hits such as "The Way You Love Me" and "If My Heart Had Wings". Along with a talented crew of back-up dancers who performed alongside Hill's look-a-like, there were two large video screens adjacent to the stage that featured constant video streaming of Faith Hill's music videos, genuine images of her and husband Tim McGraw, and occasionally, song titles. The videos that accompanied each of the performers were amazing due to the fact that they highlighted similarities between the celebrities and their impersonators. Mannerisms, costumes, and vocals were all areas perfected by the tribute-performers. The Blues Brothers look-a-likes hopped around stage with immense energy, the Elvis tribute shook his pelvis, and the Jackson tribute did the moonwalk (and several variations of it) in dance sequences that mirrored the moves of the real artist himself. In addition, personalities and personal lives were also represented well. This was especially evident in Faith Hill and Tim McGraw's duets together, as they acted like a married couple.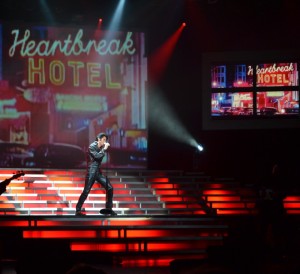 Each performance was definitely a thriller of its own. From Faith Hill's stellar vocals, to Tim McGraw's rich country-boy twang, to Jackson's unbelievable dance moves, to the Blue's Brothers sense of comedic timing, to Elvis Presley's crooning voice, the show quickly lived up to its 'legendary' name. Opportunities for audience participation were speckled throughout the show (I sang na-na-na-na into the mike during a Blue's Brothers song), and the performers invested themselves in gaining the audience's approval through the actions of the people they were impersonating. At intermission and after the show were opportunities for pictures and autographs with the cast. Although not on stage, the performers still maintained their personalities, with Elvis charming the swarms of females with kisses and compliments, and the Blues Brothers upholding a sense of partnership that can only be found between two sets of Ray Bans.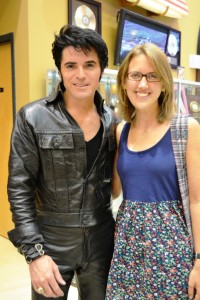 Leaving the show, you'll definitely be saying "I like it, I love it, I want some more of it". No problem! The Legends in Concert Show plays most months out of the year and offers multiple show times almost every day of the week. This means that you can get your fill of the highest caliber tribute artists and celebrity look-a-likes at almost any time during the year. As mentioned before, the roster shifts meaning that if you choose to see the show at a different time during a year, you'll be treated to a performance by an alternate cast. The show itself is wheelchair accessible, and appropriate for children and adults alike. When you leave you'll say 'thank you, thank you very much' to yourself for attending the show because of the immense amount of talent and dedication you witnessed over the course of two hours.