Top off your Top-of-the-Rock experience with this stellar cave tour.

You've played a round of golf, taken a selfie outside the Chapel of the Ozarks, been wowed by exhibits at the Ancient Ozarks Natural History Museum and had a great meal at Arnie's Barn.
There's just one thing left to make your Top of the Rock experience complete: The Lost Canyon Cave and Nature Trail.
Your tour begins at the Top of the Rock Welcome Center, where friendly guides give you a quick rundown of what you'll see on your trek (and a few tips for safely driving your four-person golf cart) before sending you on your way.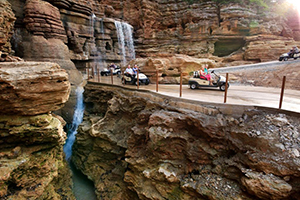 This 45-minute, two-plus mile tour winds through a beautiful stretch of the Top of the Rock property and features waterfalls, amazing rock formations and rolling hills of the Missouri Ozarks.
One of the most-popular features is, of course, the Lost Canyon Cave. Inside, you'll be wowed by this four-story formation and the beautiful waterfall it contains. Adding fun to the experience is the Bat Bar — yes, it's a bar inside the cave — where you can order a variety of beverages, including John L's Lemonade.
Continue your trek outside to see another impressive waterfall that seemingly runs from an area below the cave and makes for a beautiful photograph against the rocky backdrop over which it flows.
Take your time to enjoy all the sights and sounds of this your, and if you're in the driver's seat, have a little fun with your fellow passengers by taking it slow when you enter a sharp turn marked with a "Please Swing Wide" sign.
The sign is designed to help drivers navigate the turn, but it's your que to take advantage of the light spray that dampens the sidewalk (and depending on how ornery you feel, the other riders), courtesy of a multi-level waterfall on the right.
They'll have time to dry off, and perhaps forgive you, as the tour winds to a close and you take in more of the natural beauty that surrounds you.
A couple of items to note: You must be at least age 18 to drive the golf cart and tour times vary by season. Tickets are $25 for adults and $12.50 for kids ages 4-12; those 3 and younger ride for free. Learn more at TopOfTheRock.com.