Article
Where to Find Santa in Branson
Santa is very busy this time of year and can be difficult to find. We are here to help you know where in Branson to find Kris Kringle this Christmas!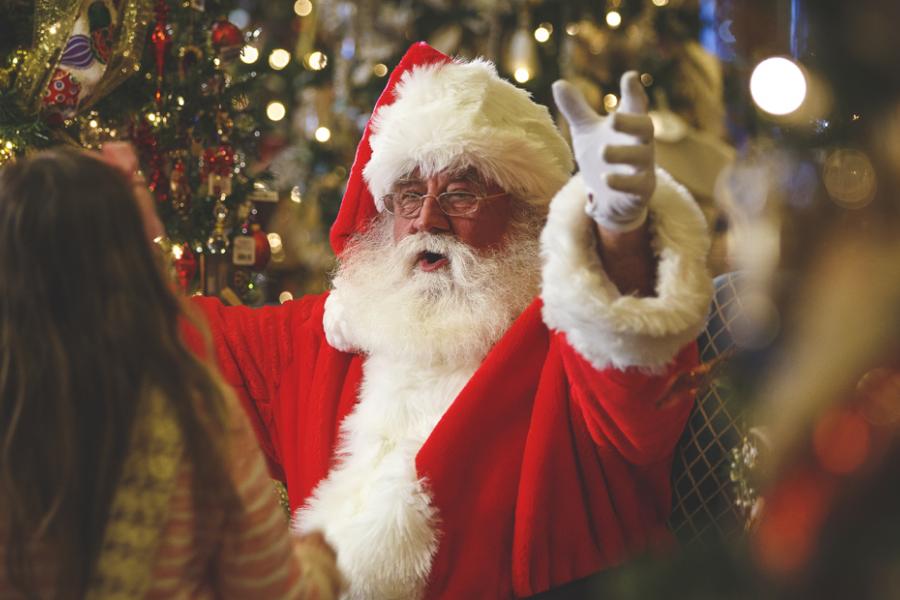 It's that time of year again, and the kids are anxious to share their wish lists with everyone's favorite jolly old elf.
Santa has come to Branson, and he's got plenty of helpers along with him. Stop by any of the following venues to visit Santa this season:
NORTH POLE ADVENTURE 
Returning to Shepherd of the Hills, come experience Christmas at The North Pole Adventure. With a great view of Branson, visitors can find Santa in the 200-ft North Pole Tower. "Ho Ho Ho 200 Feet Up We Go," is the Tallest Santa Claus Visit in the country! Get an up close look at the Busy Elves in Santa's workshop and  visit real-live reindeer at "Stardust Stables." You can also play in the "Little Elves Playground" that has a fun barn hay maze, tree house village, petting zoo, and more. Make a family tradition this Christmas Season at the, "North Pole Adventure," only at Shepherd of the Hills. From Nov. 6 through Dec. 30, this family walk-through experience takes visitors on a journey through thousands of twinkling lights and artisan crafts.
SILVER DOLLAR CITY
Silver Dollar City's annual An Old Time Christmas festival has been lauded by Good Morning America as a top spot to light up the holidays, and Santa Claus is one of the event's highlights. Come visit Santa in a whole new, safe way this Christmas. Come to Santa's Cottage window, Nov. 7 to Dec. 23, and tell him what you are hoping to see under the tree this year. Park admittance required.
PROMISED LAND ZOO'S LET THERE BE LIGHTS!
Join Santa at Let There Be Lights!, a two-mile LED drive-through display at Branson's Promised Land Zoo this Christmas. The display will feature a living nativity scene, Santa's real reindeer herd and an indoor Christmas shop. Pictures with Santa will be available on select nights. Enjoy the light display from dusk to 11 p.m. from Nov. 1 - Dec. 31.
POLAR EXPRESS
Santa will also appear at The Polar Express attraction at the Branson Scenic Railway Nov. 1 - Dec. 23, 2020. Passengers will be treated to hot cocoa and cookies. Check for schedule and ticket availability.
BASS PRO SHOPS WHITE RIVER OUTPOST
Santa will be at Bass Pro Shops Nov. 7 - Dec. 24, and his winter wonderland promises plenty of holiday fun for the whole family. Every family who visits Kris Kringle at Bass Pro will have to make a free reservation online at basspro.com and is required to wear a face covering. There will also be a "Magic Santa Shield" that is an acrylic barrier in place between Santa and the families at all times. Every child will receive a free photo, as well as a digital download that can be shared on social media. Other Christmas-themed activities include arts and crafts that the children can bring home to decorate. Schedule varies throughout the season.
BRANSON'S LIGHTS OF JOY
Santa will be at Branson's Lights of Joy Nov. 1, 2020 - Jan. 2, 2021. Come enjoy one of Branson's longest running drive-through festival of lights, enjoy a cup of hot chocolate and get a picture with Santa! Check Santa's schedlue here.
The Christmas season makes Branson a magical place to spend time with family and create memories. To see Christmas light displays in Branson, click here!
Places Mentioned
Find Your Next Branson Adventure