Article
Year-Round Fun in Branson
Whatever the weather, there are year-round opportunities to check out some of Branson's most notable museums and outdoor attractions! From history buffs to pop-culture aficionados, adventure enthusiasts to adrenaline junkies, Branson is a go-to destination for endless fun and exploration.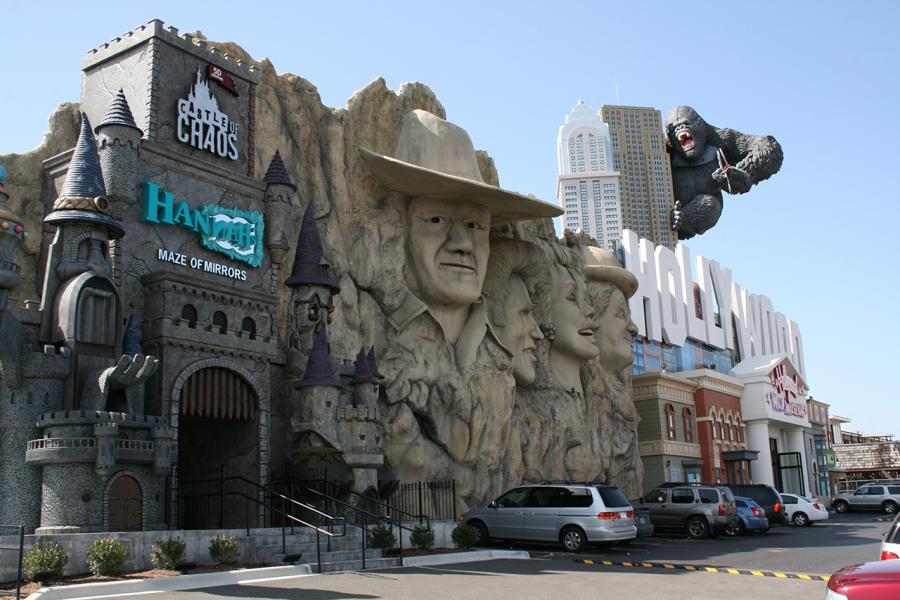 Here's a look at some of the museums and winter family attractions waiting for you on your next Branson vacation:
Aquarium at the Boardwalk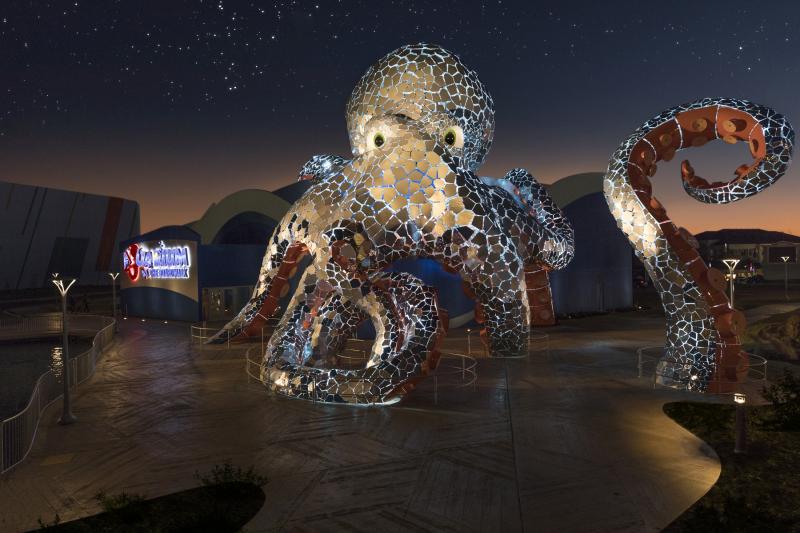 At Aquarium at the Boardwalk, guests will be captivated from up-close views of amazing sea creatures. You'll see colorful fish, stingrays, seahorses, jellyfish, octopi, eels, sharks and more! Some features that visitors can expect to enjoy are more than 250 different animal species, an original 5D submarine adventure, a 24-foot high Kelp Forest climbing structure for kids, a gorgeous 16-foot view of a coral reef, two mirrored art installations that give the sense of infinite ocean life, and more than 7,200 individual sea animals. Guests will also meet the Aquarium's characters Aquarius, the wise and helpful Giant Pacific Octopus and Finn, the adventurous Golden Puffer. Not only will these animals be the first they see on the Boardwalk, Aquarius the Octopus is represented in numerous ways throughout the experience, beginning with the 55-foot tall stainless steel sculpture wrapped around the front of the building. Since octopuses are masters of camouflage, Aquarius can also be found hiding in nine fun ways throughout the experience.​
Hollywood Wax Museum 
See some of your favorite movie, television and music stars – not to mention a collection of some tinsel town's favorite ghouls – at the Hollywood Wax Museum. Oh, and if you're not sure where to find this museum, just look up. You're bound to see the huge replica of King Kong scaling the Empire State Building.
Titanic Museum
Each guest entering the ship at the Titanic Museum will receive a boarding pass of an actual Titanic passenger or crew. Feel their spirit presence in the galleries where over 400 personal and private artifacts are on display. This collection is valued at over four and a half million dollars. Discover your passenger or crew's fate in the Titanic Memorial Room where 2,208 names line this historic wall.
Butterfly Palace and Rain Forest Adventure 
Enjoy your interaction with more than 1,000 live butterflies, along with birds and tropical plants, as you stroll through the butterfly aviary and 7,000-square-foot garden at the Butterfly Palace. The Banyan Tree Adventure, Emerald Forest Mirror Maze and Living Rainforest Science Center round out your visit to this interactive museum.
Ripley's Believe it or Not! Odditorium 
A unique attraction to say the least, the Odditorium includes hundreds of artifacts, ranging from shrunken heads to one-of-a-kind artworks, from the collection of Robert Ripley. It's hard to miss the Odditorium, located on Branson's famous Highway 76. The building appears to be cracked, and a huge replica of Transformer leader Optimus Prime stands guard outside.
Veterans Memorial Museum
Learn more about the men and women of the U.S. Armed Forces as you explore this patriotic museum. Thousands of artifacts and exhibits, including sculptures and artwork, are found inside, as are the names of more than 500,000 people killed in combat since World War II. Look for the P-51 Mustang fighter outside the museum.
Splash Country Indoor Waterpark at Grand Country
Guests at Grand Country Resort can enjoy a 3 story treehouse complete with water slides, a 1,000 gallon tipping bucket, toddler pool, lazy river, basket ball pool, hot tubs as well as a season outdoor park! Also located at the water park is the Mining Company Grill, which features burgers, hot dogs, french fries, funnel cakes and more! Come make a splash at Splash Country.
Branson Centennial Museum 
To visually see and learn Branson's iconic transformation into the city it is today, check out the Branson Centennial Museum. Seeing Branson's historic timeline and live music show timeline that displays past and present performers will make you love Branson even more! Admission is free to guests.  
World's Largest Toy Museum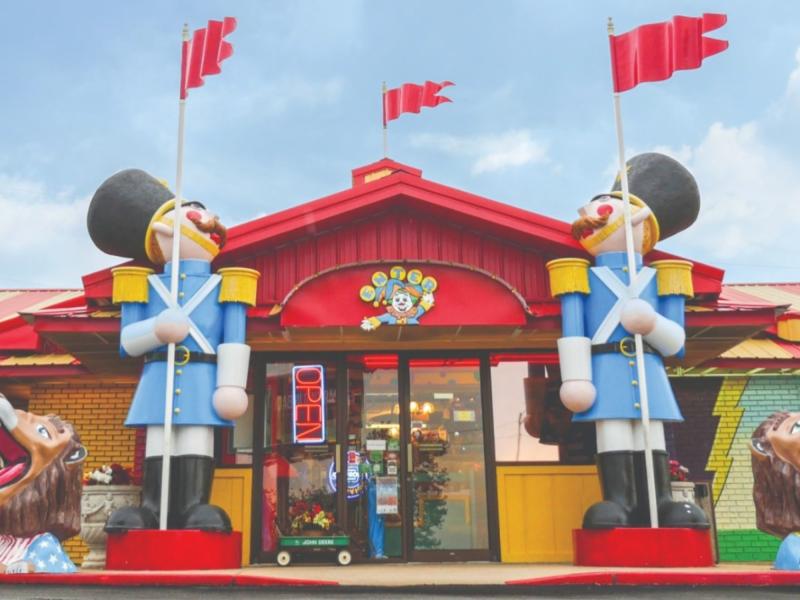 With 1 million toys on display inside this museum, it's clearly designed for the kids – and the kid in you. Whether you're interested in classic Barbie dolls or Western heroes such as Tom Mix, up through modern-day favorites such as the Incredible Hulk and Teenage Mutant Ninja Turtles, chances are, you'll find it at the World's Largest Toy Museum.
Branson Auto & Farm Museum 
One of the coolest things about this museum is you can take home the exhibits – if you can afford them, of course. From classic cars like 1950s Cadillac and Corvettes to farm implements from the 1940s and other memorabilia, you never know what you might find inside this 90,000-square-foot auto-lover's dream. Read more here!
Fritz's Adventure
Fritz's Adventure is a dynamic indoor family attraction that brings the excitement and challenges of outdoor adventure into a multi-dimensional indoor environment. Experience three stories and 80,000 square feet of hands-on climbing, tunneling, sliding, swinging, and zip-lining thrills, featuring daunting utility poles to climb, bridges suspended stories above, towering rock climbing walls and giant boulders, an impressive parkour area, a massive ropes course, urban brick buildings for scaling, a life-size water tower with multiple slides, tunnels and tubes to burrow in, and a air-worthy airplane to explore. Fritz's Adventure delivers the sense of adventure with a perceived element of risk, while in a strategically engineered and safe environment. It is a place where you can experience elements of the world around you, that anywhere else would be prohibited or discouraged. Parents, teenagers, grandparents, toddlers, and kids alike are encouraged to explore and adventure together.
Additionally, Fritz's Adventure features a restaurant with healthy menu choices overlooking the indoor adventure park from the second floor and party rooms for groups or special occasions. Fritz's Adventure opens its doors to the exciting challenges normally reserved for seasoned adventurers, adapted for every age and ability level. Experience a world of untamed indoor family adventure 365 days a year only at Fritz's Adventure!
Snowflex Tubing Park at Wolfe Mountain 
Experience Snowflex tubing in the Ozarks! Grab your family and friends and head to the slopes for an adventure to remember! The 400-ft Snowflex tubing hill allows up to eight tubes to run down the slope at the same time, and is perfect for a group of any size. Their magic carpet will carry you and your tube to the top of the hill so you can adventure as long as you like without getting worn out. You can bring your little ones too, because Snowflex tubing is for ages 3 and up!
The Branson Coaster at Branson Sawmill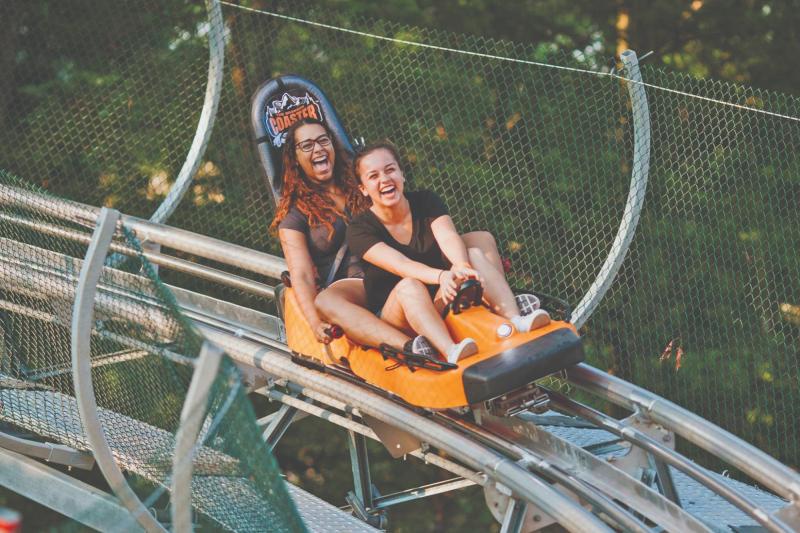 The Branson Coaster is North America's first double mountain coaster. The tracks twist and turn so close you'd think you were going to collide! As you reach the bottom of the track a chain driven system will catch your cart and begin to bring you back up. You will pause for a brief second before you cross over the first track and begin your free fall. Don't forget to smile as you glide past the camera! Just after making the final turn you will be lifted back towards the top.
Runaway Mountain Coaster
The Runaway Mountain Coaster was the first mountain coaster present in the Branson area. This unique family friendly thrill ride takes you on over 5,000 feet of track as gravity pulls you down hills, around corners and through 2 360° horizontal loops as you race to the bottom at speeds up to 30mph. Riders can choose to go at full speed for maximum thrills or use a personal braking system to travel at a more moderate pace and enjoy the Branson natural beauty and spectacular views as they descend down the mountain. The Runaway is just the first of many planned outdoor adventures at Branson Mountain Adventure Park.
Plan your visit today and remember to share your pics with us on Instagram and Twitter using #ExploreBranson.