An Old Time Christmas in Branson
If you want to make amazing holiday memories with your family this year, don't miss Silver Dollar City's Old Time Christmas Celebration in Branson!

Christmas memories are always some of the most cherished of all, and there's no better way to have a memorable holiday than by attending one of Good Morning America's Top 5 holiday destinations. It's beginning to look a lot like Christmas at Silver Dollar City, and at the Branson theme park's annual Old Time Christmas celebration, Nov. 3 - Dec. 30, guests celebrate the true meaning of Christmas in a magical setting complete with more than 6 million dazzling lights, 1,000 decorated Christmas trees, two Broadway-style holiday productions and even a Christmas Light Parade led by none other than Rudolph the Red-Nosed Reindeer and his friends.
Of course all that holiday joy is in addition to the theme park's 30-plus rides and attractions, including the thrilling wooden roller coaster, Outlaw Run, as well as more than two dozen unique shops set against the backdrop of an Ozarks' mining town of yesteryear, including the Jingle Bell Junction located in the Frisco Barn, where 80 themed trees, as well as a host of Christmas decorations and collectables, await holiday shoppers. 
Silver Dollar City's Old Time Christmas celebration is the perfect destination for a memorable and joyous family getaway this holiday season. Still not convinced? Here are at least seven reasons you simply can't miss out on the fun this year:
1. Rudolph's Holly Jolly Christmas Light Parade
Grand Marshal Rudolph the Red-Nosed Reindeer leads the evening parade of nine musical, lighted floats that winds through the streets of Silver Dollar City. The breathtaking floats are illuminated by 200,000 LED lights, exclusively designed for the park. Not only is the parade aglow with light, but it also features 33 colorfully-costumed characters.
2. A Dickens' Christmas Carol
The most elaborate production ever presented on the Silver Dollar City stage, the 60-minute Broadway-style presentation showcases a talented cast of 15 actors accompanied by a live band. The adaptation of the classic Dickens novel tells the story of redemption, hope and transformation as audiences watch Ebenezer Scrooge on his path to self-discovery.
3. It's a Wonderful Life
Another Hollywood holiday classic, the original musical adaptation of Frank Capra's 1946 film of the same name, comes to life at Silver Dollar City's Red Gold Heritage Hall during Old Time Christmas this year. The presentation will leave its mark on your memory thanks to its dazzling special effects and a talented cast of 14 actors and singers.
4. Living Nativity
Step back into ancient Bethlehem and get an up-close look at the struggles Mary and Joseph underwent on that silent and holy night more than two millennium ago. Silver Dollar City's Old Time Christmas wouldn't happen without the living nativity, and visitors aren't soon to forget the musical dramatization of the reason for the season. Lasting just 15 minutes, the program is presented several times a day during the festival.
5. Frontier Fa-la-la Follies
Head inside the Silver Dollar Saloon and experience the hilarious holiday adventures of the Saloon gang. Audiences literally bring down the house with laughter during every performance of the Wild West comedy. A Silver Dollar City favorite, the production not only features sing-a-longs of a host of familiar Christmas carols, but also invites audiences to take part in the farce.
6. Lights, lights and more lights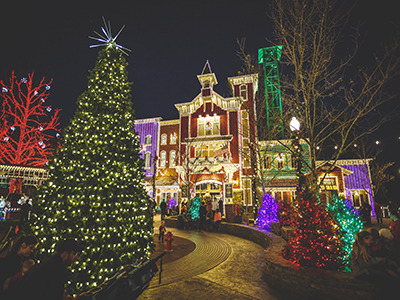 It's hard to fully describe the joy of seeing more than 6 million twinkling lights strung around trees, buildings and walkways throughout the park – it's definitely a see-it-to-believe-it experience. In fact, it's not uncommon for Old Time Christmas guests to spend hours just admiring the lights as they venture around the park. The five-story Christmas tree – decorated with 400 ornaments and more than 350,000 lights choreographed to music – is also a must-see for anyone who loves Christmastime. The tree-lighting ceremony happens at 5:30 p.m. each night on the Square, followed by the nightly parade.
New to the festival this year, Silver Dollar City presents Christmas in Midtown, adding 1.5 million lights to the park's illuminated display. Christmas in Midtown will feature various lit displays on tops and sides of stuctures and in the air as angels fly above the center of the theme park. There is a reason Silver Dollar City is recognized by the Travel Channel as "The Most Illuminated Park on Earth!" 
7. Tastes of the Season
Christmas is the time to feast on the roast beast of your choice, along with all the fixin's. During Old Time Christmas, Silver Dollar City's Reunion Hall serves a scrumptious prime-rib buffet, featuring hand-carved smoked prime rib, root beer-glazed ham, fried chicken, old-fashioned chicken and noodles and a mouthwatering array of sides.
Meanwhile, Molly's Mill's holiday buffet will be offering diners a traditional turkey dinner, featuring not only a hickory smoked turkey, but also fried chicken, chicken and noodles and glazed pit ham, along with all the favorite holiday sides and decadent desserts. Likewise, the Lucky Silver Mine will host its own holiday buffet featuring pulled pork with baked apples, smoked orange-glazed chicken, smoked beef brisket, ham and beans, beef stew, sweet potato casserole, corn bread and much more.
Of course holiday tastes consist of much more than Christmas dinner. Warm yourself up as you remember Christmases past while drinking a hot mug of wassail, cappuccino, hot chocolate or a variety of hearty soups, served in various shops and eateries throughout the park. Top your day off with some hot apple dumplings and cinnamon ice cream, the perfect confection to complete a magical family memory.
Santa makes a stop at Old Time Christmas for lunch on most days between Nov. 3 - Dec. 23, so be sure and bring the kiddos!
Are you going to Old time Christmas at Silver Dollar City this holiday season? What part of the celebration do you find most magical or memorable?