Ozark Mountain Christmas is Born
Branson has long been a town dedicated to celebrating Christmas. The city sings with great tidings of joy during the entire Christmas season, largely due to its inception in the mid 1900's.
In 1949 Steve Miller and Joe Todd worked feverishly to design and build a larger-than-life Nativity scene that would be illuminated on the bluff above Lake Taneycomo across from downtown Branson.
The inaugural lighting ceremony was on December 4, 1949, with 10,000 people packing the streets below (the population of Branson was only 1,100 at the time!). Over the next month, an additional 20,000 visitors had traveled to Branson to view the Adoration scene.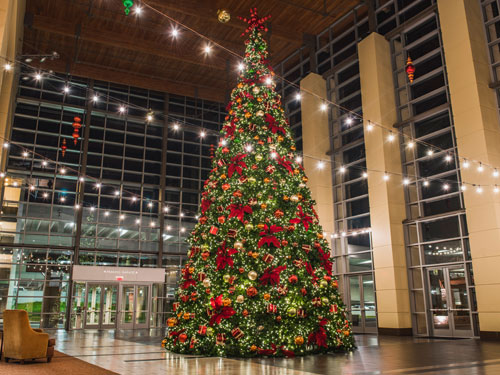 In 1953 the Chamber of Commerce announced that an Adoration parade featuring local marching bands and floats would accompany the Adoration scene, and this combined event continues today on the first Sunday of December. True to the founders' hopes, this event's focus is on the true reason for the reason, the birth of Jesus Christ.
In the late 1980s, community leaders worked to expand the Branson tourist season well beyond the summer months, and Christmastime seemed the logical place to start. In 1988 Ozark Mountain Christmas was born. Beginning November 1 of each year, many of the live music shows converted to Christmas versions of their productions, businesses strung lights and hung festive decorations and Silver Dollar City launched An Old Time Christmas.
By 1990 the Ozark Mountain Christmas initiative added the Festival of Lights, which included placing impact light displays around town and hanging hundreds of lit stars on the streetlamps along Highway 76 and other major roads through Branson. Over the next few years, drive-through light displays, such as the Trail of Lights at The Shepherd of the Hills and others in the area, added to the season's festivity.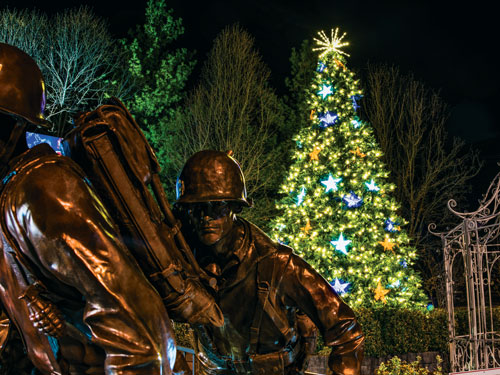 Today, Ozark Mountain Christmas is bigger and better than ever and has received multiple national designations as one of the top Christmas destinations in the country. Recently, Branson has been named "America's Christmas Tree City" because of the hundreds of uniquely decorated Christmas trees on display in over 80 locations throughout the city.
We hope that you'll be able to experience the magic of the Ozarks Mountain Christmas season during your upcoming visit to Branson!