List
5 Unique Restaurants in Branson
From breakfast to dinner, Branson's variety of dining options are guaranteed to satisfy any appetite. Craving more than just a meal? Find a unique dining experience served at any of these five restaurants in Branson.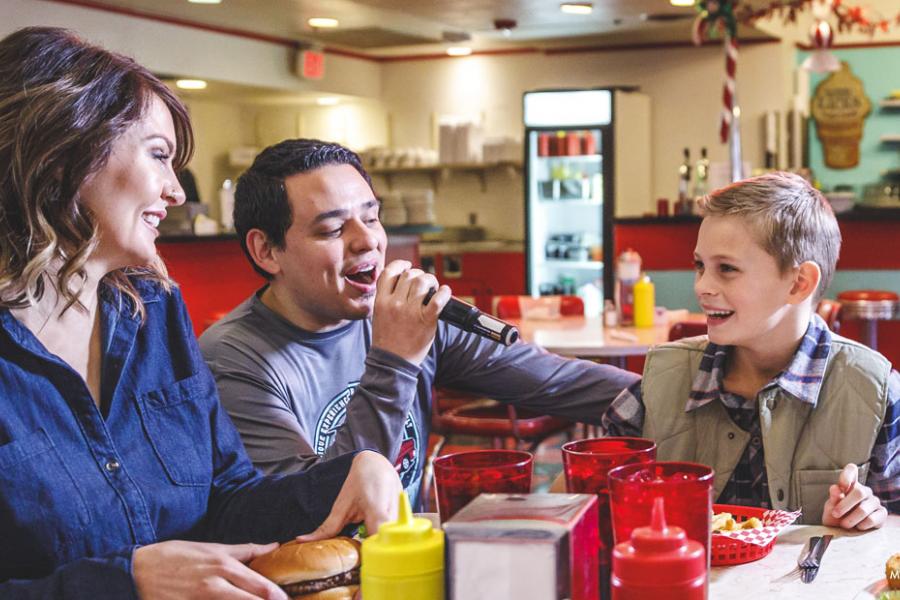 Arrive hungry and prepare to be wowed by these five Branson restaurants' incredible flavor and flare! 
1. BillyGail's Cafe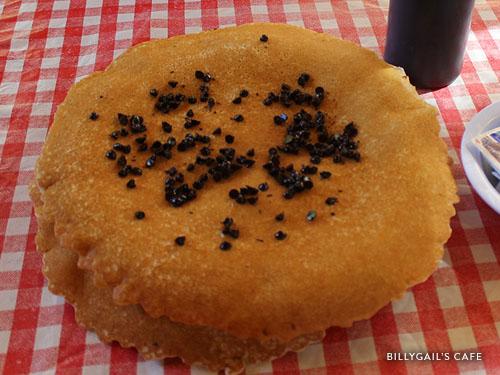 If you're looking for a dining experience that captures the heart and soul of the Ozarks, BillyGail's Cafe is the perfect destination for a hearty breakfast or lunch. The service station-turned-restaurant is filled with antiques and country cafe decor, creating a cozy and welcoming environment for guests. Hubcap-size pancakes that arrive to guests overlapping plates are a signature menu item and come in a variety of flavors, including chocolate chip, blueberry, pecan and more. Extra thick biscuits and gravy, a variety of omelettes and stuffed french toast are also popular breakfast dishes. For lunch, the cafe serves up juicy burgers, homemade soups and sandwiches. In addition to serving up generous portions, BillyGail's also operates a country store attached to the restaurant where visitors can find unique crafts and souvenirs to take home. 
2. Gettin' Basted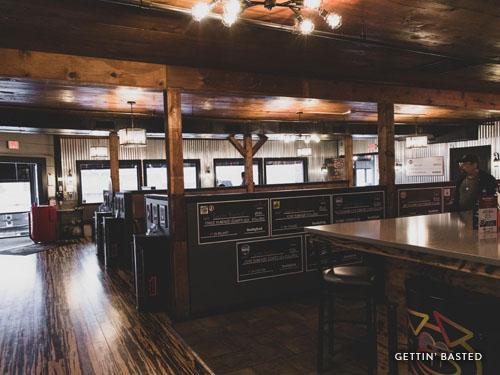 You may not realize that the Ozarks' barbeque rivals that of Kansas City and Memphis until sampling some in Branson. Gettin' Basted is one barbeque joint not to overlook. The restaurant has competed in over 50 grand and reserve championship competitions, including winning the 2017 Kansas City Barbeque Society's Team of the Year in Pork. Try favorite menu items such as Basted Nachos made with crispy fried wontons and pulled pork or the "Blackout" Sandwich made of one full pound of meat - brisket, pulled chicken, pork and sausage - all smothered in the restaurant's famous barbeque sauce. Other specialty plates such as the St. Louis Cut Spareribs and "Chicken & Waffle Waffles" accompanied by sides like baked mac & cheese, housemade chips, "onionpeno straws" and potato salad make this place really stand out. Check testing award-winning barbeque off your bucket list at this Branson eatery during your next trip!
3. The Keeter Center at College of the Ozarks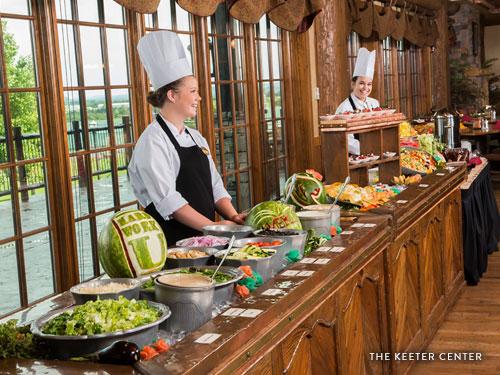 Sample the freshness of farm-to-table dining at The Keeter Center at College of the Ozarks. Grown and raised right on campus, the freshest garden herbs, meats, and produce are used to craft the delicious food served in the Keeter Center's Dobyn's Dining Room restaurant. The culinary staff consists of waiters and waitresses who are all students at the College of the Ozarks, also known as "Hard Work U," where students work on-campus to pay for their tuition. It's not uncommon for students to also play live instrumental music while guests wait to be served in the elegant and rustic themed dining room. Inside the Keeter Center, you'll also find a hotel, meeting space, a campus bakery and creamery, where pastries, cookies, a variety of specialty coffee, ice cream and more are made. The Keeter Center is open six days a week for lunch and dinner and on Sundays for its popular all-you-can-eat Sunday Brunch. Breakfast entrees, salads, carved meats, made-to-order waffles, eggs and a wide variety of desserts are just some of the options available during brunch. Reservations for all meal times are recommended. 
The Keeter Center is currently closed until further notice; however, they are offering curbside pickup on the entire Dobyn's Dining Room menu, specialty groceries, coffee shop drinks and bakery items, homemade ice cream, and advanced desserts and pastries. Curbside service is offered from 10:30 a.m. - 8:00 p.m. from Monday - Friday on the full Dobyn's Dining Room menu and 7:00 a.m. - 8:00 p.m. from Monday - Friday on everything else. For more information click here.
4. McFarlain's Family Restaurant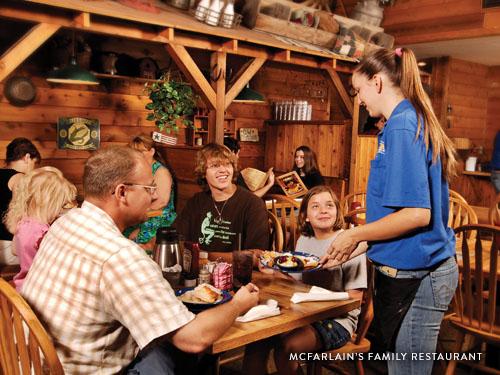 Located inside the IMAX Entertainment Complex, McFarlain's Family Restaurant is one tasty, Branson-exclusive dining experience. Inspired by the IMAX film "Ozarks Legacy & Legend," the restaurant features down-home cuisine. Start your meal with McFarlain's special-recipe cornbread served with honey butter, then try crispy country-fried chicken or steak, mashed potatoes, gravy, local fish or any daily specials. Finish your meal with a piece of homemade pie or cobbler. In the spring through early winter, a select breakfast menu including all-you-can-eat pancakes, skillet meals, biscuit sandwiches, giant cinnamon rolls and more are offered. If you pay close attention to the restauarnt's decor, you'll notice pieces of Branson's history scattered throughout with black and white pictures from the Branson Historical Society and scenery showing Branson's growth over time. 
5. Mel's Hard Luck Diner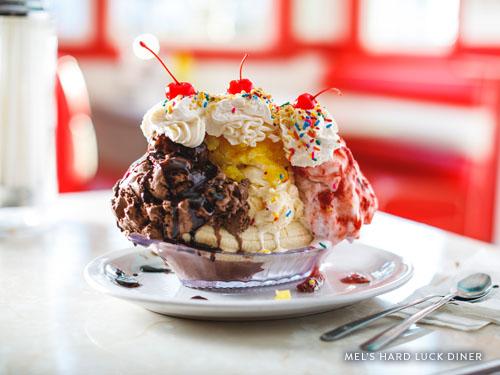 Catch lunch or dinner and a show at Mel's Hard Luck Diner! This diner is famous not only for its fun 1950s diner atmosphere, but also for the singing waiters and waitresses who serenade guests throughout the day. Deemed "the home of the original singing servers," Mel's Hard Luck Diner employs a talented crew made of professional singers, songwriters and musicians. Find all your favorite comfort diner foods like classic burgers, hot sandwiches, chili dogs and fries. A full service soda fountain is also a huge part of the diner's authentic flare and serves up old-fashioned sodas, shakes, ice cream sundaes, banana splits and more. Don't be surprised to find yourself dancing, toe-tapping or clapping while enjoying your food! Located in the Grand Village Shops, Mel's Hard Luck Diner specializes in creating a memorable experience for all ages. 
Feeling hungry yet? For more dining options in Branson, click here. 
Places Mentioned
Find Your Next Branson Adventure