List
Seven Branson Christmas Must-Dos
From November through the end of the year, Christmas is honored with true holiday magic in Branson. To make lasting holiday memories with family and friends, plan a trip to America's Christmas Tree City this season.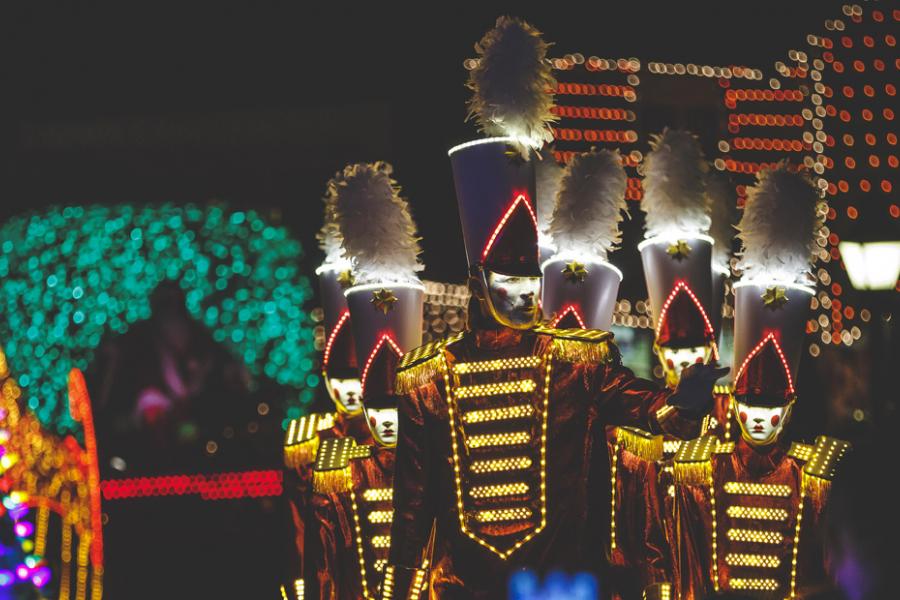 From renowned festivals and elaborate light displays to gourmet hot chocolate and pictures with Santa, Branson has plenty of holiday fun in store. While you're in town, add these seven Christmas must-dos to your itinerary for the ultimate holiday vacation.
1. Experience An Old Time Christmas at Silver Dollar City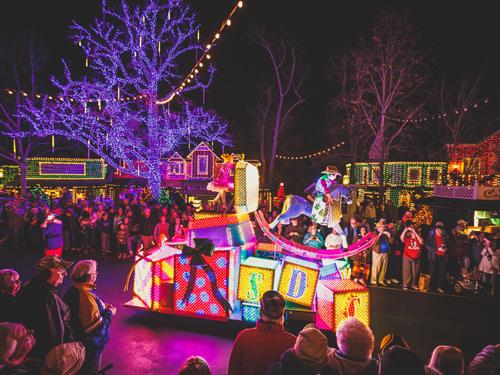 Known as one of the nation's most family-friendly Christmas festivals, An Old Time Christmas at Silver Dollar City is filled with favorite Christmas traditions and a few unexpected surprises!
Celebrate the season with the theme park's 6.5 million lights, 1.5 million of which are located in the Christmas in Midtown Light Spectacular. There is also an 8-story, state-of-the-art Christmas tree will debut as the centerpiece for Joy on Town Square. Reaching 80 feet into the night sky, an impressive combination of high-resolution lights, music, imagery and more will wow you this Christmas! 
Warm up with a hot chocolate while browsing specialty shops, where you can find unique souvenirs and gifts for everyone on your holiday shopping list. Each year during the festival, Rudolph the Red-Nosed Reindeer makes a nightly appearance in the Holly Jolly Christmas Light Parade, along with all his pals from the North Pole. There will also be two musical productions that offer even more holiday entertainment, with talented casts performing, "Frontier Fa-La-La Follies" and "Holiday Hearthside Harmonies". Also, make sure to keep a look out for the many smaller Christmas productions around the park.
2. Go on a Drive-Thru Christmas Light Tour
Branson is home to several drive-thru Christmas light displays that allow you to enjoy the lights without leaving the comfort of your vehicle. See Branson all aglow at Branson's Lights of Joy on a one-mile, drive-along path illuminated with displays of the "12 Days of Christmas," Noah and his ark, a Christmas tree forest and more. 
Branson's Promised Land Zoo's Let There Be Lights! features a 2-mile LED display and a live nativity petting zoo. After you complete the driving tour, head to The Candyland Courtyard, where you can grab some hot chocolate, watch Christmas movies and meet Santa's real reindeer team!
Drive through the winding trails at the historic Shepherd of the Hills Homestead to see the Trail of Lights, a glowing tradition for over 30 years in Branson that features a two-and-a-half mile trail filled with twinkling Christmas lights. Classic animated and themed displays will leave you feeling bright and merry this season. 
3. Get Festive with Branson's Christmas Shows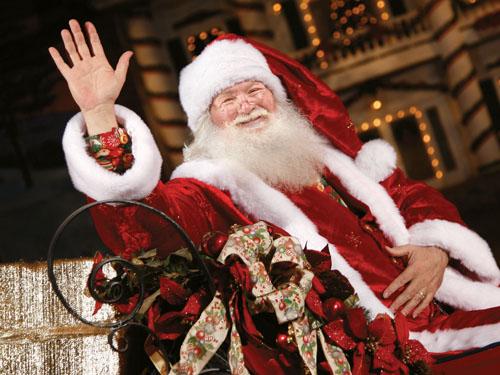 Get your toes tapping this Christmas with Branson's variety of entertainment! From November through December, Branson's live shows entertain with a large dose of Christmas spirit. Many productions showcase the cheer and goodwill of the Christmas season through music, story and dance. Performances such as Dolly Parton's Stampede, A Shepherd's Christmas Carol, Grand Country Music Hall, the Presleys' Christmas Jubilee, and several more put thousands of visitors in the Christmas spirit each year. 
4. Explore a Candy Lover's Dream 
You'll have more than just visions of sugarplums dancing in your head after visiting Branson at Christmastime! Each holiday season, the Chateau on the Lake, Resort, Spa & Convention Center displays an incredible gingerbread village, which is made on-site by the Chateau's chef and culinary team. The village stands more than three feet tall and includes structures such as a church, store fronts and grand houses. To give you an idea of just how massive this village is, ingredients include 330 pounds of powdered sugar, 120 pounds of egg whites and 600 pounds of cookies, pretzels, candy, Pop-Tarts and more. 
The holidays are meant to be celebrated with tasty treats all season long, and Branson has plenty of bakeries and confectioneries ready to sweeten your holiday. Area fudge shops are also popular stops during the Christmas season to purchase gifts and pick-me-ups. 
5. Complete Your Holiday Shopping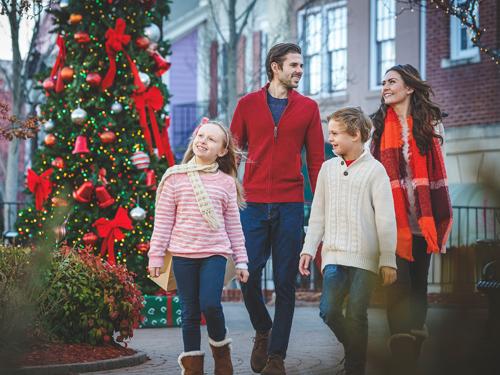 It wouldn't be the holiday season without a little Christmas shopping. Luckily, Branson's shopping options make checking your list twice easy. There are endless opportunities to choose the perfect gift in the Branson area. Visitors can find outlet centers, shops and galleries focused on arts and crafts, as well as boutiques and stores offering themed experiences for collectors, gift buyers and bargain-hunters alike. Find deals on favorite designer brands at Tanger Outlets, shop lakeside at the Branson Landing, or head to the Grand Village Shops for specialty items. 
6. Follow America's Christmas Tree City Tour
Recognized as America's Christmas Tree City, Branson adds to its holiday magic with thousands of decorated trees on display. Christmas trees decorated with unique materials, traditional elements, themes, colors and lights are set up at locations all over the city, including over 1,000 trees at Silver Dollar City. As new trees are scheduled to pop up around the city, they will be added to an online, interactive map. Branson's Christmas trees make a picture-perfect backdrop, so be sure to snap a few photos of your holiday moments and use #ExploreBranson to share your Christmas memories with us on social media. 
7. Ride Aboard The Polar Express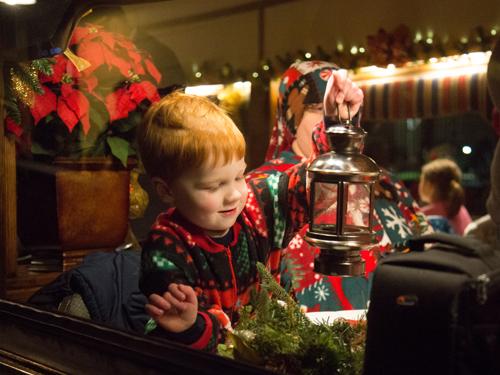 Based on the popular book, "The Polar Express" by Chris Van Allsburgess, the transformation of the Branson Scenic Railway to the beloved holiday train each Christmas is an experience that the whole family will treasure. After you board The Polar Express at the historic 1906 depot in Downtown Branson, you'll be greeted by characters out of the story itself, including the prominent train conductor, friendly hobo and Santa. Come ready for tasty cookies and hot chocolate, breathtaking scenery and a reading from Santa. Tickets sell quickly, so be sure to book in advance. Pajamas are encouraged!
From its holiday touches on attractions, events, entertainment and more, Branson is an exciting place to be during Christmas. Ready to spend the season making new holiday memories? Learn more about celebrating Christmas in Branson here. 
Places Mentioned
Find Your Next Branson Adventure