You never know what you're going to find at the Ancient Ozarks Natural History Museum at Top of the Rock — but you will be wowed by the experience.

The Ancient Ozarks Natural History Museum at Top of the Rock is a 35,000-square-foot treasure trove of American Indian artifacts and art, dioramas showcasing massive creatures who roamed the land before humans, and an impressive collection of Civil War relics.
Before you actually get into the museum, you're welcomed to the property by a massive wooly mammoth that stands just inside the entrance. It's an awe-inspiring greeting to be sure.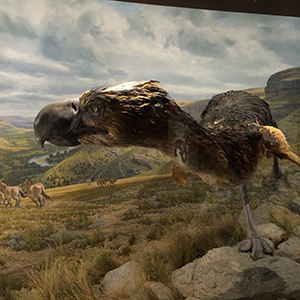 When you first enter the museum, you dive right into American Indian culture, courtesy of an amazing collection of arrowheads — cases and cases of them. Even if you're not a collector, you'll be impressed by the size and scope of all that's before you.
And then come the animals. And they don't disappoint.
The Terror Bird resembles an ostrich, only much scarier. Like, you wish it would put its head in the sand, scary. In real life, the Terror Bird (or Titanis walleri if you're so inclined) stood more than eight feet tall, tipped the scales at 300 pounds and used its heavy beak to take down prey. 
The Terror Bird's exhibition neighbors — The Hell Pig, Bear Dog and North American Jaguar — are equally as impressive.
One of the final focuses of the museum is the Civil War. Cannons, rifles, sidearms and sabers are on display, as are flags, uniforms and paintings of historic figures, including President Abraham Lincoln.
One of the most surprising items inside the museum is also one of the smallest. It's a small locket containing a strand of hair.
That hair belonged to Lincoln. The story behind the lock of hair is nearly as surprising as its appearance in the museum. But that's one tale you'll have to visit to read more about.
Check out the Ancient Ozarks Natural History Museum the next time you're at Top of the Rock — or make a special trip. It's a wow-worthy experience.