Article
Art of the Ozarks
Branson may be best known for its live music and entertainment, but it's also home to an abundance of museums and art galleries.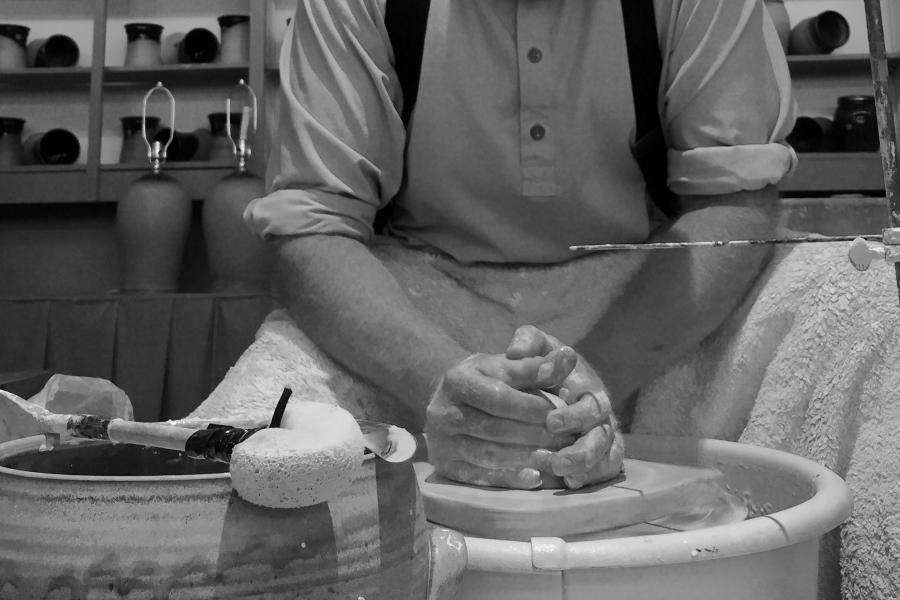 For as long as people have settled in the Ozarks, artists have found inspiration in its scenic hills, waterways and natural wonders. And while many visitors may be aware of the traditional Ozarks' crafts at their disposal, they can also enjoy a variety of fine art galleries exhibiting breathtaking works by local, regional, national and even internationally-acclaimed painters, sculptors, potters and photographers. From the Branson Mill Craft Village to the Gallery at the Lake, Branson is home to more art and artisans than most could ever imagine. 
Silver Dollar City Craftsmen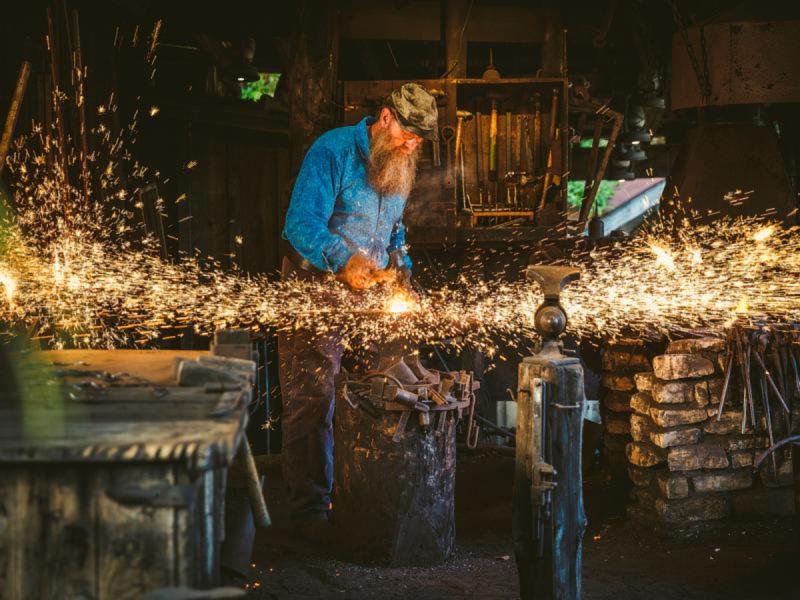 One of Branson's most popular attractions, Silver Dollar City, is well-known for its historically-themed rides and shows, but first-time visitors may be pleasantly surprised to experience a host of artisans skilled in an assortment of Ozarks' crafts. Taking their cue from pioneering families of the 1880s, Silver Dollar City craftsmen include talented quilters, glass blowers, silversmiths, bladesmiths, woodcarvers, potters and furniture makers. On your trip to Silver Dollar City, be sure and visit silversmith Don Bair, who creates fine jewelry right before your eyes, or bladesmith Ray Johnson, who has been making knives for more than 30 years using materials such as stone, bone, chains and steel. The theme park is also home to woodcarver Pam Gresham, who uses a short-bladed knife to chip away at materials such as basswood and linden wood in order to create fireplace mantels, shelves, cabinets, decorative keepsake boxes and even carousel horses. Other Silver Dollar City artisans include blacksmith Wayne Rice, glassblower Todd Nelson, potter Jeff Walker, glass cutter George Stiverson and many other master craftsmen. Not only can visitors watch the artists in action, but they can purchase their favorite creations.
Historic Theater Galleries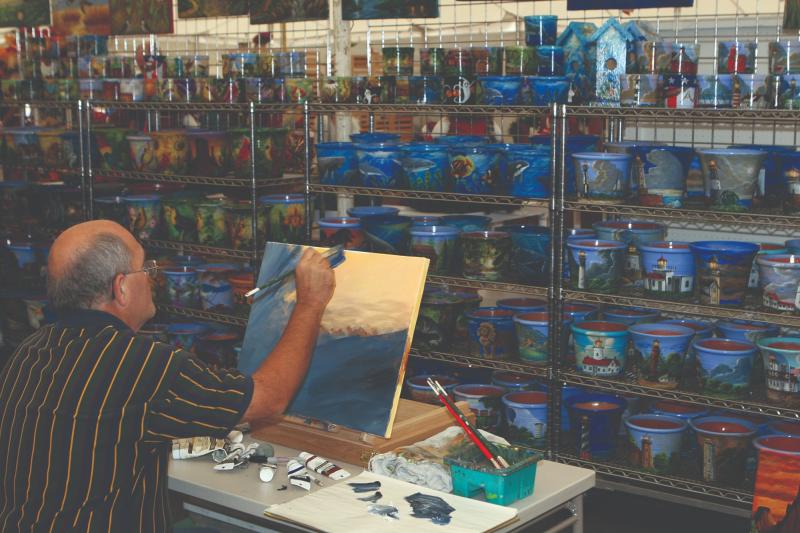 Since it opened in 1992, Andy Williams' Moon River Theatre was designed to reflect the beauty and environmental integrity of the surrounding Ozark Mountains. Set among 165 acres of landscaped foliage, rock formations and waterfalls, the 48,000-square foot structure has been featured in Architectural Digest, and its museum-like atmosphere displays a variety of artwork from the late Williams' personal collection, including sculptures by Henry Moore, Willem De Kooning and Jacques Lipschitz, while paintings as well as Navajo blankets adorn the walls.
Yakov Smirnoff may be a world-famous comedian, but few people know he is also a talented artist. And while Yakov no longer commits his full time to Branson shows, his artwork is still on display at the theater bearing his name. An art teacher in the Soviet Union before he moved to the United States to begin his comedic rise to fame, Yakov has created a variety of paintings available for sale at his theater, including a famous painting inspired by the events of Sept. 11, 2001 – an American flag design in the shape of a heart, hovering above New York City and the Statue of Liberty – displayed at Ground Zero in New York City for 18 months.
Branson's Historic Owen Theatre is a work of art in and of itself. Built in 1936 by James Mason Owen, whose comedic characters inspired "The Beverly Hillbillies," the theater was designed to reflect the charm of a cabin, and it welcomed guests such as Joe DiMaggio, Charlton Heston and John Wayne. Complete with a fireplace room and window insets hand-painted by Ozarks' artist Elsie Bates, the venue holds the title of "World's Most Unique Theatre." While the Historic Owen Theatre was originally a movie house, the venue originally known as "Hillbilly Theatre," has been restored with state-of-the-art lights and sound, 206 soft seats, a large screen and its own laser light show that accompanies some of Branson's most popular shows.
Rose O'Neill's Bonniebrook Gallery, Museum and Homestead
On the National Register of Historic Places, Bonniebrook not only displays the artwork of world-famous artist, illustrator and sculptor Rose O'Neill, but it's also a recreation of O'Neill's 14-room Ozarks mansion. After studying art in New York City, O'Neill fell in love with her family's new Ozarks homestead. Although she returned to New York in 1896, she sent money home to her family to finance the construction of Bonniebrook. She ultimately retired there in 1937 and stayed until her 1944 death.
Not only was O'Neill an artist and sculptor, but she created the Kewpie doll during a visit to Bonniebrook in 1909. Hundreds of antique Kewpie products are on display at the Bonniebrook museum, as well as O'Neill's sculptures and paintings.
Art of Elsie Bates Freund
A world-famous art jeweler, watercolorist and textile artist, Elsie Bates Freund's work can be seen everywhere from the Smithsonian Institute to Branson galleries. Born in Taney County in 1912, Bates studied at the Kansas City Art Institute before opening a gift shop in Branson, where she cast and painted plaster models of fish and made jewelry from walnut shells. After marrying mural artist H. Louis Freund, Bates opened the Freund Art School in Eureka Springs, just south of Branson in the Ozarks of Arkansas, and together the couple's influence helped to create the now famous Eureka Springs' art community.
Ultimately, Bates developed a unique jewelry-making process which combined clay, glass and silver, and her work, known as "Elsaramics," was displayed by New York City's America House craft outlet.  But her talents weren't limited to jewelry. Bates was also a member of the National Watercolor Society, although her paintings never attracted the attention received by her unique jewelry designs, which are displayed worldwide.
Art enthusiasts can enjoy Bates work at the Eureka Springs Historical Museum, as well as four huge murals still on display at Branson's Historic Owen Theatre.
Thomas Hart Benton Murals
The Ozarks' most famous artisan, Thomas Hart Benton is world famous for his paintings and murals. Born in Neosho in 1889, Benton worked as a cartoonist for a Joplin newspaper before enrolling at the Art Institute of Chicago and Paris' Academie Julian. After establishing himself as a muralist, Benton was commissioned to paint murals of Indiana life featured in the Chicago's 1933 Century of Progress Exhibition, now on display at Indiana University, before his famous murals inside the Missouri State Capitol in Jefferson City. Benton was even hired by 20th Century Fox to paint a promotional image for the film version of John Steinbeck's novel, "The Grapes of Wrath," which resulted in one of his most powerful works, The Departure of the Joads.
While the Thomas Hart Benton Home and Studio state historic site is located in Kansas City, Benton's work – including Departure of the Joads – is on display at the College of the Ozarks, located just outside of Branson, in the school's Ralph Foster Museum. In fact, during his later years Benton often spoke to art classes at College of the Ozarks and even served as artist-in-residence at the college's first Festival of the Arts Celebration in 1964.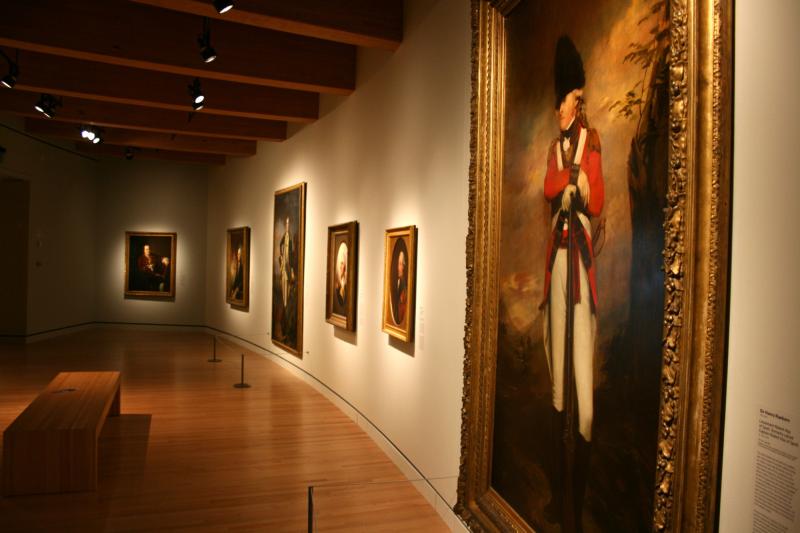 If you want to see more great works of art during your Branson visit, consider a day trip to Crystal Bridges Art Museum (Pictured above).
Places Mentioned
Find Your Next Branson Adventure