Article
Best Places to See Fall Foliage in Branson
The Ozarks offer some of America's most beautiful scenery, particularly in autumn when fall foliage is at its peak. Maples, oaks, ashes and hickories in the area generally reach vibrant colors around mid-October, making it the perfect time for leaf peeping in Branson.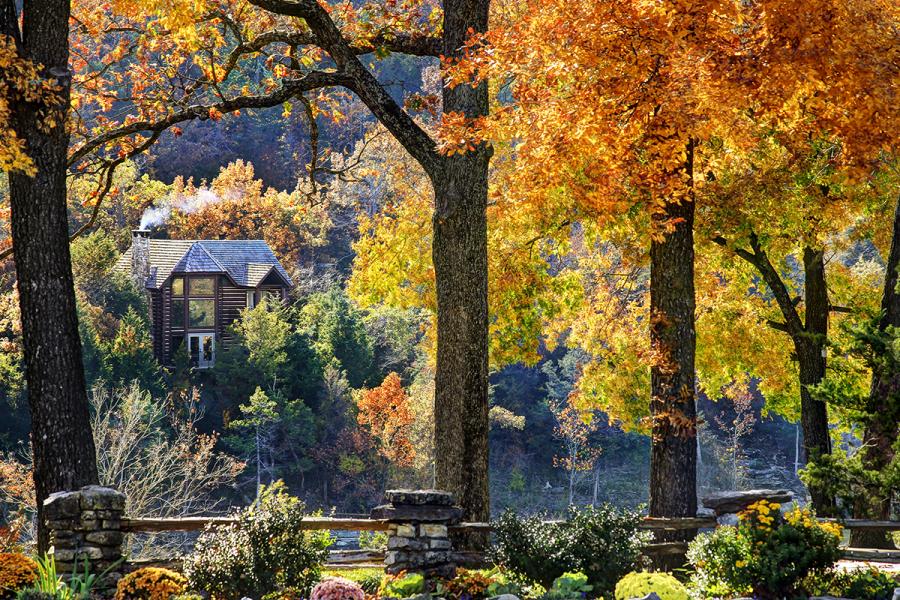 Ready to see breathtaking views of fall foliage this year? Check out some of our favorite spots around Branson for leaf peepers:
Highway 165 Scenic Overlook
Just a few miles from Branson's famous Entertainment District, this 22-mile loop offers many scenic perspectives and can be traveled by car in about 40 minutes. Throughout the twists and turns of Highways 165 and 265, travelers can enjoy expansive views from the ridge tops, including a spectacular view of Table Rock Lake, Table Rock Dam, and the Chateau on the Lake Resort, Spa & Convention Center. This drive is a great way to enjoy fall colors and take advantage of numerous photo ops. To complete the full loop, take U.S. Highway 65 south from Branson, and turn west on Highway 265, which turns north into Highway 165 at Table Rock Lake. 
Ruth And Paul Henning Scenic Overlook
Located just west of the intersection of W 76 Country Boulevard and the Shepherd of the Hills Expressway north of Branson, the 1,534-acre Ruth and Paul Henning Conservation Area is an excellent location for spending quality time with nature. The area features nature trails for hiking and bird watching, as well as a lookout tower. In fact, many of the natural wonders immortalized in "Shepherd of the Hills," Harold Bell Wright's historic novel, can be found within the area now operated by the Missouri Department of Conservation. While a walk through the area provides an opportunity to enjoy bright foliage, an extra impressive view can be seen at by car at the area's scenic overlook.
Top Of The Rock
With natural trails, golf courses, a history museum, fine dining and more, Top of the Rock Ozarks Heritage Preserve is a must-see, especially when fall foliage is out in full. This picture-perfect location gives visitors several vantage points to see miles of rolling hills packed with bustling, colorful trees. Get the full experience from the Chapel of the Ozarks' large windows, which overlook a large cliff and expose unbelievable views of Table Rock Lake. 
Branson Scenic Railway
Experience another gorgeous foliage outing on a 40-mile, round-trip excursion through the Ozarks' foothills and tunnels. One of Branson's most classic attractions, the Branson Scenic Railway began as 239 miles of track constructed for the White River Railway between 1902 and 1905 at a then-cost of more than $12 million. Today, passengers travel the Branson Scenic Railway aboard a collection of passenger cars that traverse from Historic Downtown Branson through the foothills of the Ozarks. Book your tickets in advance for one of the most unique and memorable ways to catch a glimpse of the surrounding leaves! 
Branson Ferris Wheel
With a point of view that stretches for miles, the Branson Ferris Wheel at The Track Family Fun Parks offers some of the best sights of Branson's Entertainment District. Catch the vibrancy of oranges, yellows and reds against a photo-worthy backdrop from 150 feet in the air! Consider a ride in the late afternoon to experience breathtaking sunsets.
Mountain Coasters
During a mountain coaster ride, visitors will literally find themselves in the middle of Branson's fall foliage. Rides including the Runaway Mountain Coaster and Branson Coaster begin toward the top of a pinnacle and descend into fun as riders race to the bottom. With tracks that run through a maze of trees, riders can see all the bold colors of fall up close.
Ziplines
Ziplining through Branson's autumn foliage opens visitors to a whole new method of leaf peeping and exploring the outdoors! With no experience needed, anyone can go ziplining at one of Branson's zipline attractions. The mixture of cool air and fall leaves will leave you with plenty of fun memories. 
Other Scenic Leaf Peeping Spots
While the above areas are some of the most popular ways to experience fall scenery in the Ozarks, other favorite fall scenic locations include:
With Branson's multiple options for discovering fall views, it's no wonder the area is considered one of the top places for leaf peeping in the Midwest! Ready to start planning your trip to Branson this fall? Find more autumn must-have experiences to add to your itinerary here. 
Places Mentioned
Find Your Next Branson Adventure