Article
Follow America's Christmas Tree City Trail
If you haven't visited Branson during the holidays, you're in for an amazing surprise. When you come to America's Christmas Tree City, everyone is family.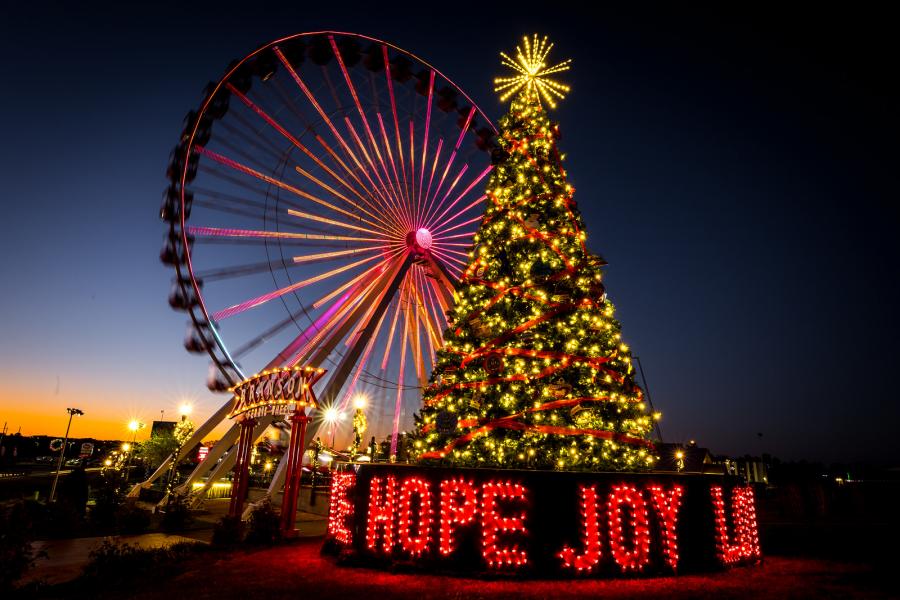 During the holidays, over 700 colorful, unique, and creative trees in all shapes, sizes, and can be found throughout Branson this 2022 season (not counting the more than 1,000 trees at Silver Dollar City!). This list below highlights trees that are at least 20-feet tall, completely unique, or a part of a multi-tree display. From incredible live shows, shopping, family attractions, to unique dining options available during the season, Branson is the ultimate winter holiday getaway.
Follow the list below to experience America's Christmas Tree City!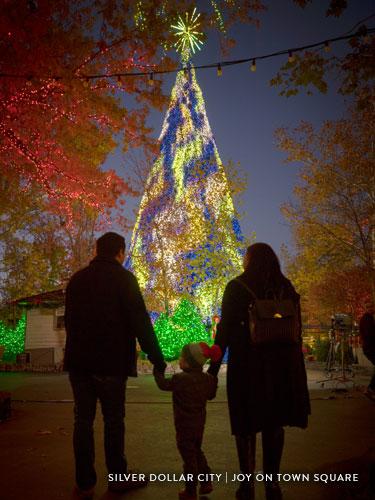 Location: Outside
Type: 80′ with high-res LED lights and imagery
This 8-story tree is the star of the City's new animated color, music and light show that includes the surrounding buildings, trees and landscape. The whole immersive experience includes more than one million LED lights and high-tech effects like nothing else on the planet. This is one of more than 1,000+ decorated trees you'll see at Silver Dollar City's "An Old Time Christmas" festival.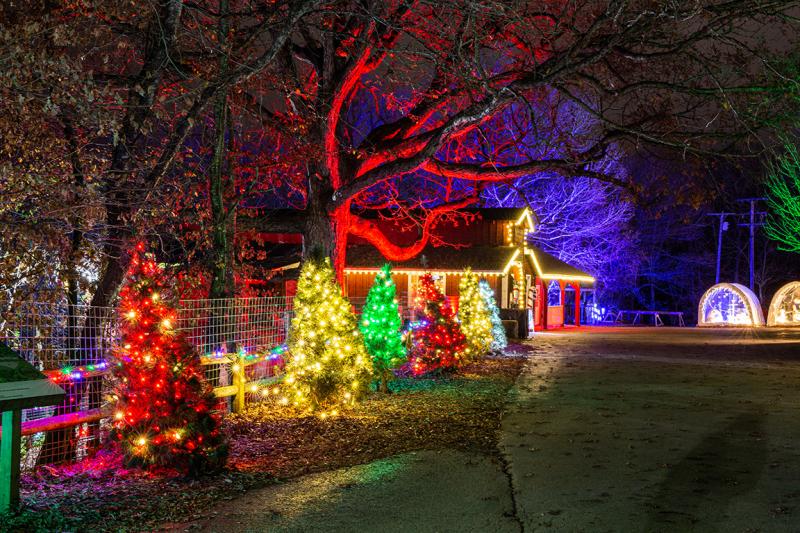 Location: Outside
Experience both a walk-thru and drive-thru winter wonderland where a live 50' Norway Spruce is adorned in light and 100 fresh cut evergreens create a beautiful setting below Inspiration Tower.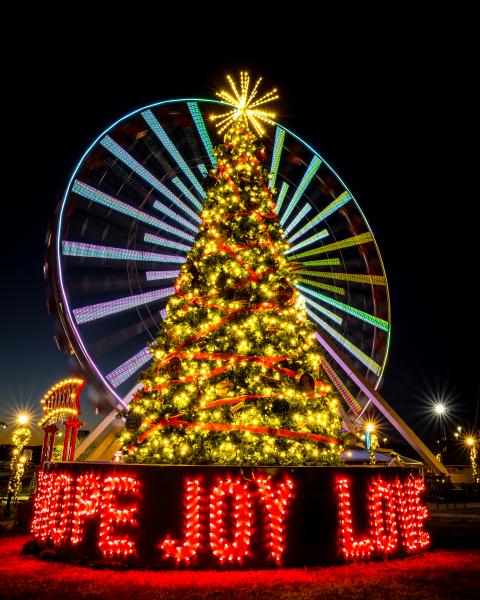 Location: Outside
Branson's third annual community Christmas tree entitled "We ALL SHINE ON." This year's tree will have over 200 LED stars in different shapes, sizes and colors to represent and celebrate the variety of creativity and talent that comes together to make Branson, Missouri an amazing holiday destination during the Ozark Mountain Christmas season. The 2022 Community Christmas Tree is displayed on West 76 Country Boulevard between the Branson Ferris Wheel and the Holidays on Ice Skating Rink again this year.
Location: Outside
Tracks 3: 2505 West 76 Country Boulevard, Branson, MO 65616
Tracks 4 3345 West 76 Country Boulevard, Branson, MO 65616
Tracks 5: 3525 West 76 Country Boulevard, Branson, MO 65616
Three huge, live trees will be lit for the holidays at three different Track Family Fun Park locations in the heart of Branson's Entertainment District. Look for the festive bright lights tightly wrapped around their trunks and draped throughout their soaring branches. Natural beauty, even better!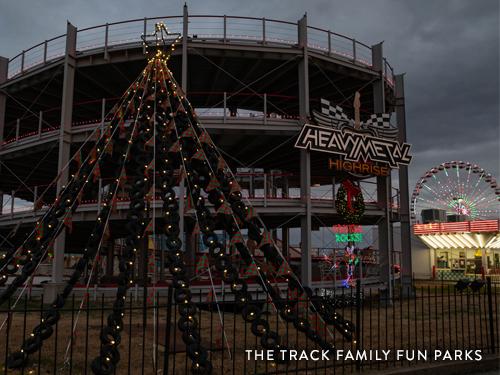 Location: Outside​
More than 500 go-kart tires have been upcycled into this amazing 25' Christmas tree like none other in the world! The ingenuity, fun-loving spirit and can-do attitude of one of Branson's most beloved, family-owned attractions is displayed in TREE-mendous fashion for the holidays.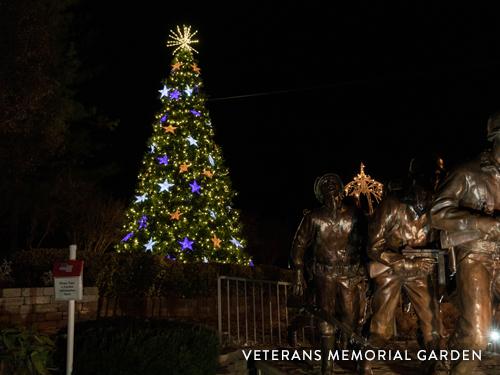 Location: Outside
A beloved point of pride for the whole community, this 26' evergreen is decorated in gold, silver and blue stars to honor military families. Gold Star families have had a soldier killed in action. Silver Star families have had a loved one wounded in action and Blue Stars are awarded to relatives with active-duty service members. We salute all who serve and their loved ones. Thank you for keeping our great country free and safe.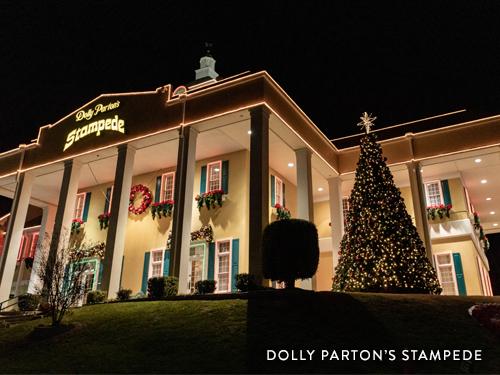 Location: Outside
A 28' evergreen stands regally at the entrance, but it's just one of 15 trees on property! There is an amazing tree presented during the show as well. A 32' X 50' ribbon tree is formed by Stampede performers inside the arena.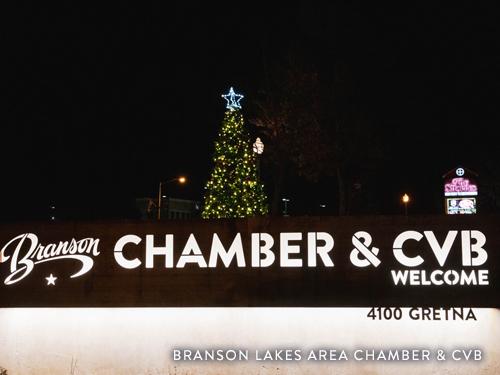 Location: Outside​
Look for a new six foot star atop this 20' traditional evergreen right in front of our community's new Chamber of Commerce building and Branson Meadows Mall.
Promised Land Zoo: Let There Be Lights Drive-Thru Display
2751 Shepherd of the Hills Expressway, Branson, MO 65616
Location: Outside
A wonderful holiday drive-through including a 25' Christmas Tree made of lights!
Location: Inside
This 24' tree has been upgraded in 2019 with new songs about faith, family and country synchronized with thousands of LED lights. Décor includes IMAX blue and hundreds of crystals representing the crystal clear sound and picture presented in their state-of-the- art theater.
Location: Outside
A slender 25' evergreen is adorned with the bank's signature dogwood blossoms and abundant lights for the season in front of the main offices for this longtime leader and supporter of the community.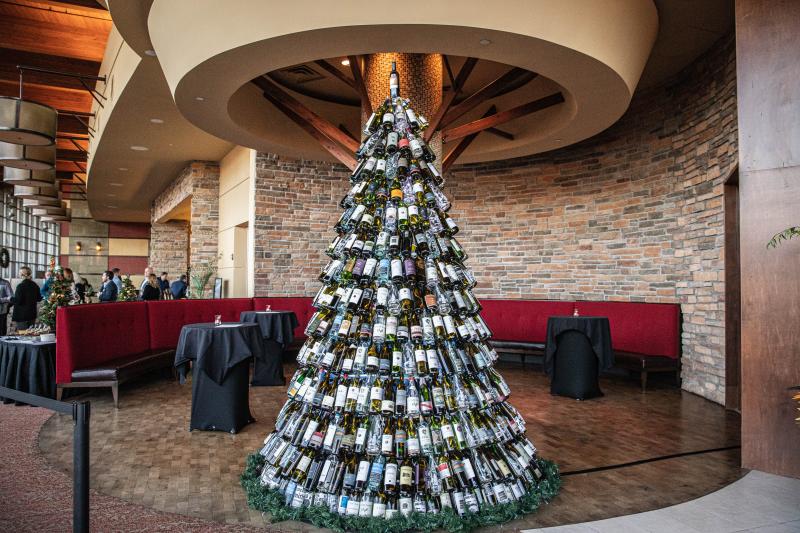 Location: Inside
Three vintage wine bottle trees up to 10' tall, handmade by the in-house engineering team as a tribute to the comprehensive wine list at Level 2 Steakhouse and the company's recycling efforts.
Location: Inside
It's worth the wait to see this towering 40' traditional evergreen inside the center's atrium lobby. The tree is on display after Thanksgiving.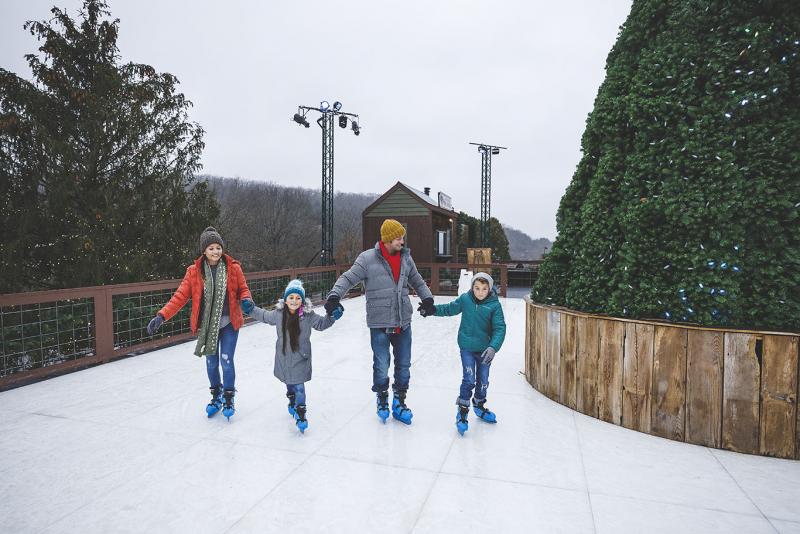 Location: Outside & Inside
A stunning 25' tall, 12' wide tree with 2,000+ lights set-to-music is the centerpiece of a synthetic ice-skating rink on the Lodge's Christmas-themed trail of more than 1 million lights. Beautiful from a distance with hot cocoa and s'mores or up-close, gliding nearby on ice skates.
City of Branson: Roundabout Tree Collection
Branson Landing Blvd Roundabout
Location: Outside
At the base of their majestic flag poles the City has installed a festive Christmas tree show. Sixteen, three dimensional trees from 4 – 8 feet tall provide a synchronized 7,000+ light display in red, white and blue for Veterans Week, and then in more colors for the holiday season through December.
Location: Outside
The 50' rope light tree plus eight more live and artificial evergreen and RGB light trees are a fitting arrival to Branson's Historic District and lakefront shopping and attractions. These trees brighten spirits on the medical campus and for all who enjoy their splendor from the nearby highways.
Location: Outside & Inside
This iconic store is full of holiday décor and endless variety, but don't miss their TWO beautiful light trees: on the way to the store attached to their billboard on the Main Street hill heading into Downtown Branson, and dancing on top of their building on the corner of Business 65 and Main.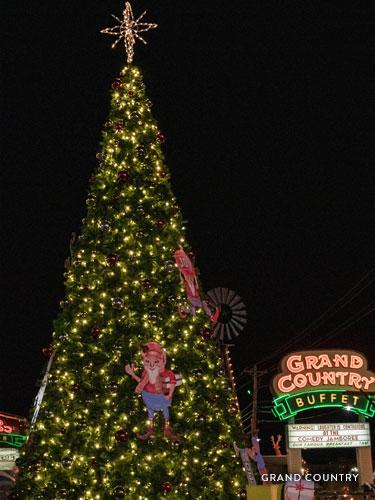 Location: Outside​
A holiday icon in the heart of Branson, this 26' traditional evergreen is also a great photo opportunity with the sled and giant packages at its base. Nearby see the life-size, painted cut-outs of Santa and elves created by the late Andy Miller, famous for Silver Dollar City theming and a great friend to Grand Country.
Location: Inside
The largest Christmas shop in the Midwest features trees of all styles and colors. Specialty trees including Christopher Radko, angels, Santa, dogs, cats, 50's, firemen, nurses, teachers and more!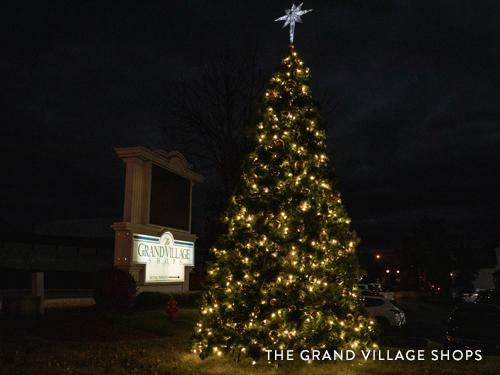 Location: Outside​
Two traditional beauties, one 14' and one 17', add holiday elegance with gold ornaments and dazzling lights in front of the property and on the south end inside this Charleston-style village.
Location: Outside & Inside
This 20-tree display includes artificial and fresh cut trees decorated in nautical-style and brightly lit for the season in the charming White River Landing area and aboard the Belle.
Location: Outside
Lighting up much of Branson as well as the front of their downtown office, the utility's tree has festive, outdoor décor in tune with the Ozarks and energy efficient LED lighting throughout.
Location: Outside
20' Live growing tree with 5,000 red, white and blue lights dedicated to Branson area first responders. It's a magical, dazzling overload of holiday sparkle that you'll definitely want to see.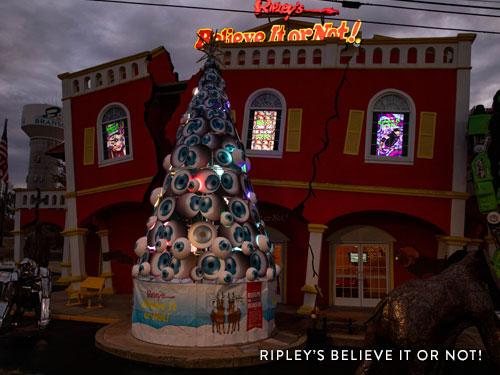 Location: Outside​
26' eyeball tree is blue for a reason. Rudolph the Red-Nosed Reindeer, like all reindeer, have eyes that turn from brown to blue in the winter. Believe it or not!
Location: Inside
A wonderful collection of Branson history, this museum is a gem from the past with a traditional Christmas tree that blends old and new. All the tree's décor is made by a class of children from Branson schools–the perfect celebration of the past and future of an Ozark Mountain Christmas.
Legends in Concert Dick Clark's American Bandstand Theater 
1600 West 76 Country Boulevard, Branson, MO 65616
Location: Inside
It would be a blue Christmas without the 12' "All Elvis" Christmas tree in this theater lobby and another nearby in tribute to the infamous Blues Brothers.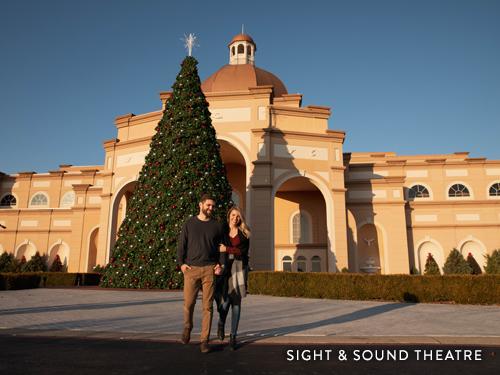 Location: Outside​
Lights are shining, almonds are roasting and wonder fills the air. This 52' traditional evergreen featuring 4,300 LED lights and 1,260 ornaments is a spectacular welcome to this beautiful theatre and the "Miracle of Christmas" show inside. Experience the true meaning of this season as the Christmas story unfolds right before your eyes.
Bee Creek Road and Oak Bluff Road
Access from Highway 65 at the Bee Creek and Branson Hills Interchange
Location: Outside
Three, 38' naturally growing pine trees are lit in red, white and blue – a nod to Christmas and Branson's patriotic spirit.
Location: Outside
A 35' naturally growing pine tree in the front entrance circle drive is lit in bright red and white for the Pirates, the school mascot! This tree was a group effort by WRVEC, Silver Dollar City, Loyd's Electric, Wickman's Garden Village and Branson Schools. 
Location: Outside
Enjoy three 14' traditional evergreen trees decorated in red, gold and 3,640 lights, plus an 8' wreath on the patio at Shopper Services that is the perfect holiday photo spot.
Location: Outside
A totally unique, 22' light tree made from outlining the sanctuary roofline and base.
Location: Outside
22' tree features oversized décor and LED lights at the entrance rock.
Location: Outside​
Talented Ozarks craftsmen have salvaged a metal tree frame from the former Grand Palace theater and several old and damaged light pole display fixtures from the City of Branson and turned them into a beautiful new tree of stars to light-up the live music show capital of America. Many thanks to the Ripley's design and fabrication team, the City of Branson and the crew at the Titanic for this exciting new addition to Christmas in Ozark Mountain Country!
Location: Outside and Inside
In addition to the beautiful holiday décor, multiple Christmas trees and other festive fun inside and out, the Titanic bow has a giant "Merry Christmas" face mask this year. Stop by for a photo. It's probably a world's record! 
Location: OutsideLocation: Outside
Don't miss the giant nutcrackers standing guard outside this Entertainment District icon. Then explore inside where 15 themed Christmas trees featuring angels, elves, musical instruments and more fill their lobby with the spirit of the season. Stop in to lift your spirits or inspire your own tree decorating. 
White Water
3505 West 76 Country Boulevard, Branson, MO 65616
Location: Outside
Summer fun is on hold until next May, but you can still enjoy the pretty collection of ten, fresh cut and artificial trees lit with multicolored LEDs on the front lawn of the nation's top 10 outdoor waterparks featuring 13-acres and over two million gallons of family fun.
Top Ops
2320 West 76 Country Boulevard, Branson, MO 65616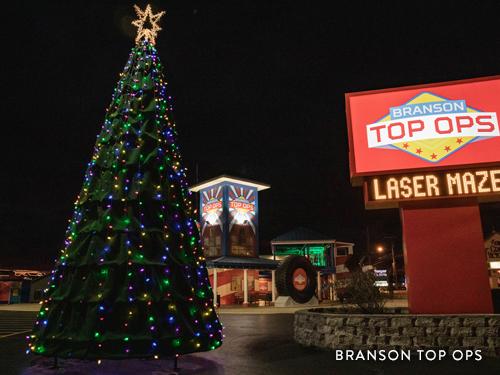 Location: Outside​
This tree stands 25' and was conceived, engineered, designed and built by the employees at this location. Each year it has a different look and theme. Come see what they have planned for 2022!
Location: Outside
A most ingenious idea, this 25' tree is made from twisted, stainless steel coaster track. Every year Runaway celebrate how the Fall Creek flood showed its amazing power, but they persevered.
Location: Outside
See the Christmas tree forest of 28 light trees from 8'–28' tall and many more dazzling sights as you drive-through this bright and colorful display of holiday favorites, old and new!
Great Southern Bank
1510 State Highway 248, Branson, MO 65616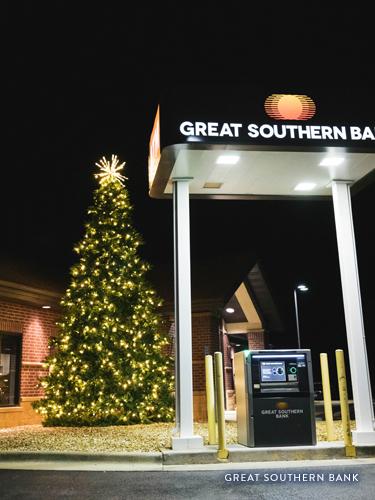 Location: Outside​
A 3-foot star-tops the 20' giant Everest tree that is a warm and wonderful welcome to the bank and the holiday season. Simple and classic, 1,200 soft white lights brighten and bring cheer to all.
Location: Outside
The 23' live Blue Spruce decorated with 240' of colored LED lights proudly declares that "Jesus is the reason for the season" as it wishes a Merry Christmas to all who pass on the road nearby.
Christian Action Ministries: "Festival of Trees" at Branson Landing
Branson Landing, Suite 309, 100 Branson Landing Boulevard, Branson, MO 65616
Location: Inside
More than 50 trees on display and for sale with proceeds helping the area's less fortunate.
Location: Outside
An impressive 20' traditional evergreen with 1,224 soft white LED lights to cheer patients, staff, and visitors alike.
Location: Outside
One 25' evergreen adorns their two-story interior atrium and another 14' traditional tree is decorated in red and white poinsettias (the colors of the Italian flag) outside the restaurant.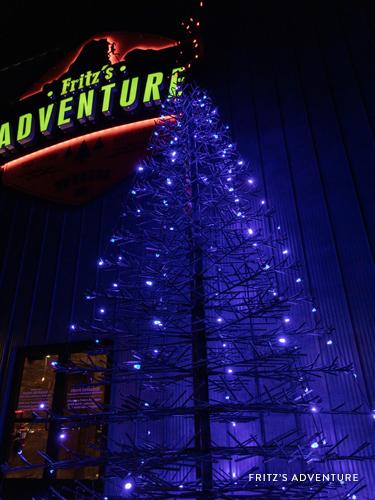 Location: Outside & Inside​
It's a Christmas tree adventure for the holiday season at this amazing family attraction. See their 18' tree of welded metal outdoors. Inside, there's a Christmas tree lot with adventure-themed décor that's great for family photo.
Branson Creek
Branson Creek Boulevard and Highway 65, Branson, MO 65616
Location: Outside
30' naturally growing live evergreen is aglow at the entrance, reflecting on the giant metallic golfer in his backswing that welcomes residents and visitors each day.
Location: Outside
This majestic 30' living evergreen tree was planted here five years ago in honor veterans and active duty military that can't be home for Christmas. Provided by Missouri tree farm owners, whose son is in the service, it is adorned every season with 3,000 feet of dazzling lights.
Rent Branson: Blessings Message Tree
85 Tall Pines Drive, Blue Eye MO 65611
Location: Inside
Two trees over 12' tall each are there to help us remember our blessings this holiday season. Write down your blessing, prayer or wish and put it into a clear ornament to hang on the tree. Then take home a blue ornament for "making memories and starting traditions!"
Old School Park: Tree Up Lighting
1515 West 76 Country Boulevard,  Branson, MO 65616
Location: Outside
Some of the largest and most beautiful trees in town are now lit in festive holiday colors with 12 super powered LED spotlights. See them from the road or stop and take a stroll amongst their brilliance. The photos are spectacular starting at dusk.
Location: Outside
Bright and colorful LED lights soaring 30' into the air create an amazing and animated new Christmas tree for guests at the Palace this year. This marks their third landmark tree (see more below) making this location a must see for the holidays. 
Location: Outside
Historic Downtown Branson's prettiest little park is now home to a giant, 30' Christmas tree decked out in thousands of white LED lights. It's especially fun to visit on Festive Fridays in the Plaza, weekly at 5:30 PM. 
Location: Outside
This new addition to America's Christmas Tree City is 26' of pure evergreen majesty. The giant, traditional Christmas tree is beautiful by day and a spectacle at night.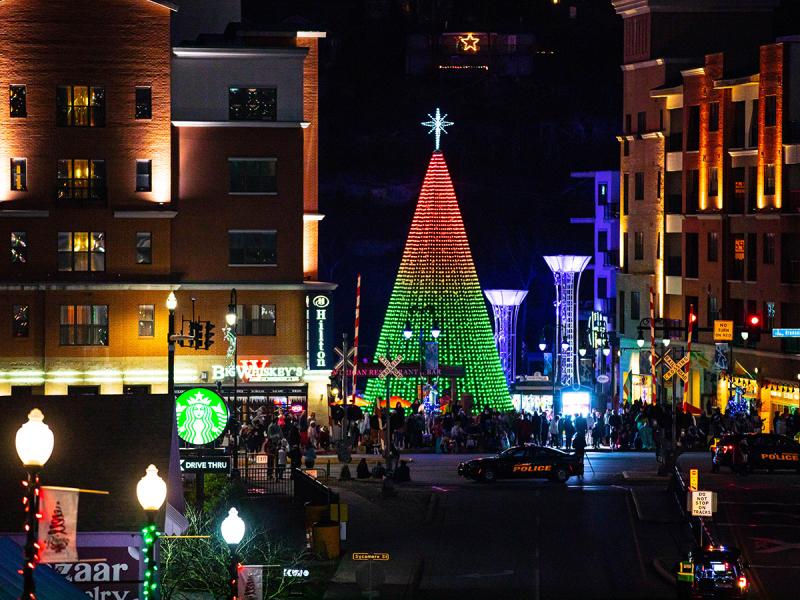 Location: Outside
The Landing's second giant tree is a real stunner with animated lights set to music and bright LEDs that dance with holiday cheer. Catch the show daily thru January. 
Location: Outside
A magnificent 50' traditional evergreen with thousands of LED lights stands at the north entrance to the shopping complex, near Paula Deen's Family Kitchen and Belk department store. 
Location: Outside
As you approach Branson from the north, look to your left for a colorful display of welcoming holiday lights of cheer. 
Location: Outside
The busy intersection of Highway 248 and Gretna is much more festive this year with the addition of a 14' traditional evergreen in bright blue and gold décor spreading goodwill and holiday cheer. 
Location: Outside
An amazing winter wonderland, this luxury hotel features seven, elegantly decorated trees throughout the atrium lobby and meeting spaces, plus their annual gingerbread display, a life-sized nativity and so much more! 
Location: Outside
See the amazing, multi-colored glow from this live growing tree with more than 2,000 LED lights wrapped on every branch. 
Location: Inside
Stop by for a great meal and to see their unusual Christmas tree made of animal antlers. Not sure what Rudolph would say about this one! 
Location: Outside
See the multi-colored glow from this 12' live tree with more than 2,000 LED lights wrapped on every bough. 
McDonald's
1209 Branson Hills Parkway, Branson, MO 65616
Location: Outside
This 20' evergreen covered in golden arches and happy meal grins will make you smile too.
McDonald's
1361 MO-248, Branson, MO 65616
Location: Outside
Glowing golden arches top this 20' RGB dancing light tree. Light up your holidays the McDonald's way.
Location: Outside
A dozen trees from 10' – 12' tall celebrate "cave Christmases past" and features more than 3,000 lights.