Families may flock to Branson for all-ages fun at various parks, tracks, arcades and golf courses, but The Track Family Fun Parks offers it all in one convenient location. With its high-rise and classic go-kart tracks, laser tag and maze,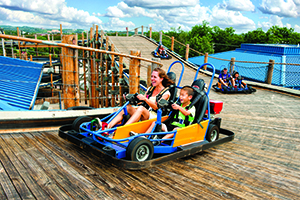 bumper boats and cars, kiddie rides, mini golf, batting cages and arcades, The Track is the quickest ticket to hours of entertainment for the whole family. And with four Branson locations, tantalizing fun is literally just around the corner.
Always a popular attraction, go-karts make kids feel grown up and grown-ups feel like kids. And The Track Family Fun Parks offer an incredible 14 different go-kart tracks that are sure to please all ages. Adventurers can take their turns at three high-rise go-kart tracks that feature elevated twists and turns like none experienced before. From the two wooden tracks, Wild Woody and the Lumberjack, to the new four-story steel and concrete track Heavy Metal High Rise, drivers of any age can achieve a whole new level of spiraling fun. Afraid of heights? No worries, The Track also features classic, rookie and kiddie go-kart tracks, as well as a road-course track where drivers can experience tighter and higher-banked curves than a traditional concrete track.
Rides at The Track aren't limited to the four-wheeled variety. Each Branson location features a variety of other attractions, including bumper rides, kiddie rides and even a Skycoaster. The whole family can feel the thrill and vent their frustrations with bumper cars and boats, while small children are sure to have a blast riding spinning cups, a Ferris wheel, a train and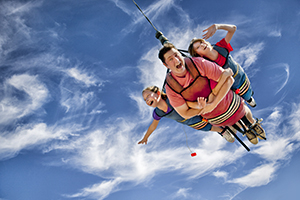 even a mini-coaster. The Skycoaster, located at Track 4, is a 100-foot-tall super swing that combines elements of skydiving and hang-gliding. Harnessed adventurers are pulled 100 feet into the air and experience an incredible view before yanking a ripcord and soaring at 70 miles-per-hour.
Even those who prefer to keep their feet planted firmly on the ground can find adventure at The Track. From batting cages to laser tag, each course provides plenty of entertaining options. Competitive visitors will have a blast taking aim at one another in Laser Tag, or even navigating the Laser Maze Challenge. The whole family can get its game on with more than 250 games positioned in three arcades, and that doesn't include mini-golf. Each mini-golf course at The Track offers a new adventure, and the Route 76 Glow Golf – new in 2015 – is a black-light indoor glow golf course featuring many of Branson's most popular sights.
There's no admission to enter any of The Track's four locations, and all attractions and arcade games (with the exception of the Skycoaster) take "credits" to ride or play. Credits cost $1 each, although a variety of "value deals" are available to purchase and include varying numbers of free credits. Plus, families who choose to buy the Go-Card receive not only free credits, but the opportunity to purchase additional credits at half price and discounts at other popular Branson locations. Each attraction at any of The Track's locations requires varying numbers of credits to enjoy, and the Skycoaster can be experienced for $28 for one rider, $42 for two riders and $60 for three riders.
Want to stay near all the action? You can find places to stay near Highway 76, Branson's Entertainment District, and get excited for your trip to Branson.