You might be surprised to learn that Branson is home to a wide range of wildlife. Just a few miles north of Branson, you'll find The National Tiger Sanctuary, a non-profit rescue shelter for several domestic and exotic animals. While the sanctuary primarily houses tigers, visitors will likely see other big cats such as lions, leopards and mountain lions on any given day.
Founders Keith Kindade and Judy McGee established the sanctuary in 2000 to help animals suffering from mistreatment, illness and poor living conditions. In addition to providing a happy and healthy environment for its furry tenants, the sanctuary also works with the Missouri Department of Conservation and local community to restore the exotic creatures' health and release them back into proper living conditions.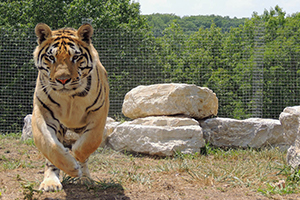 One of the sanctuary's top values is education. Visitors are welcome to participate in different types of public tours occurring at 10 a.m., 12 p.m., 2 p.m. and 4 p.m. Wednesday through Sunday. Take a guided awareness tour, and hear how each animal is cared for daily. If you want to see some major sets of chops in action, check out the feeding tour. On this tour, you will be guided through the sanctuary and see many of the animals while they eat an afternoon snack! If you're looking for a longer adventure, you can enjoy an all-day VIP tour with one of the sanctuary directors and get an exclusive, behind-the-scenes look at the facility. If you would rather not walk throughout the sanctuary, there is also a riding tour that is offered.The sanctuary also has unique opportunities to support the organization, including memberships and volunteer and donation options. You can even adopt a cat and help provide for its needs year-long!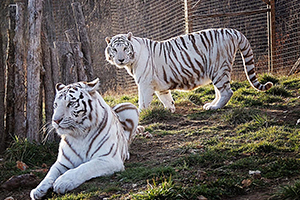 After you finish your tour, don't forget to stop by the sanctuary's gift shop. You'll find a multitude of tiger-themed stuffed animals, t-shirts, posters, mugs and more to take home for a souvenir from your day in the wild. Even better, all proceeds go toward the tigers' care cost at the sanctuary.
The National Tiger Sanctuary offers amazing sights of some of the most majestic creatures in the world right in Branson's backyard. For more information, visit the sanctuary online, or call (417) 587-3633.