Article
Six Events to Attend During Veterans Homecoming Week in Branson
Experience Branson's love of country and unmatched hospitality towards veterans during the city's annual Veterans Homecoming Week. You will see why Branson is recognized as one of the most patriotic cities in the country.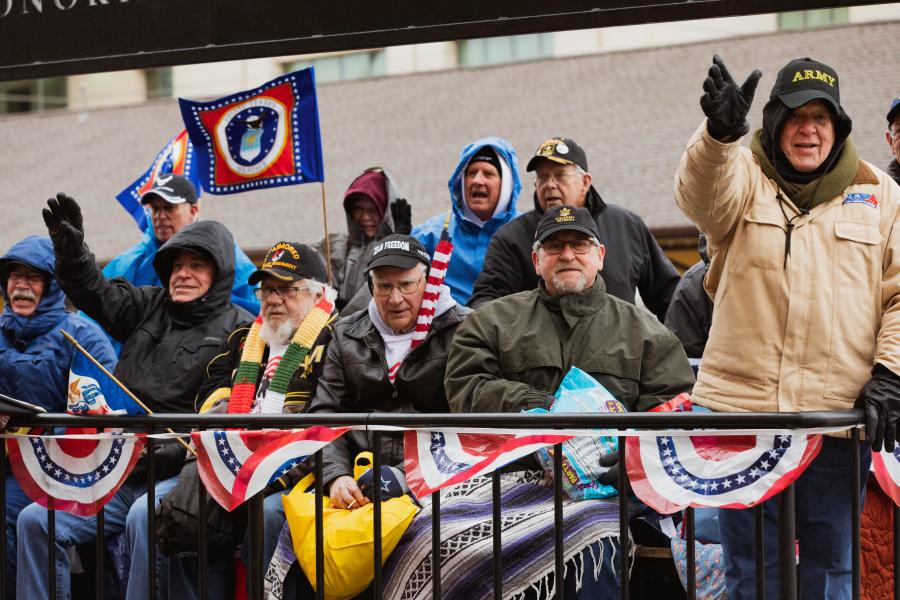 Whether you're a veteran, active-duty military member or proud citizen, Branson welcomes all to attend Veterans Homecoming Week November 5-11 every year. Live shows, special activities and even an entire parade are scheduled to honor the brave men and women of the U.S. Armed Forces during this highly anticipated celebration. While there are endless reasons to be in Branson for Veterans Homecoming Week, here's a look at six activities we're especially looking forward to observing during this year's event:
1. Vets for Vets Celebration
3750 W 76 Country Blvd
This free show at The Branson Star Theatre kicks off the week with a special performance featuring legendary comedian and entertainer Yakov on Thursday, November 5. This year's show will also feature a special opening act by Nashville Roadhouse Live. Seats are given on a first come, first serve basis until the show begins at 1 p.m. 
2. Vietnam Veterans Memorial Wall Display  
1984 State Highway 165
The traveling replica of the Vietnam Veterans Memorial will be open at Branson's Welk Resort throughout the week. The wall lists more than 58,000 service members who died in Vietnam. 
3. Veterans Village 
1000 Pat Nash Drive
Veterans Village is open in the Ballparks of America complex. Come enjoy the camaraderie with other veterans at the Village's Expo Hall, Fellowship Hall and a Mess Hall with free lunch to veterans. Informal jam sessions are part of the Fellowship Hall, so bring your instrument if you would like to take part. Hosted by the Branson Veterans Task Force,  417-337-8387
4. Homefront Heroes/Spouses Luncheon at Branson Event Center​
4740 Gretna Rd
Holding down the Homefront while loved ones served our country has taken a toll on military families. For those serving, knowing someone was waiting for them and holding down things at home was a comfort. Pre-registration required. Please RSVP to 870-421-3511
5. 24th Annual Military Gala and Banquet 
415 N. State Highway 265
Live music, dancing, great food, an amazing fireworks show and more are all a part of the 24th Annual Military Gala and Banquet at the Chateau on the Lake, Resort, Spa & Convention Center on November 8. The gala will also include a special birthday cake cutting in honor of the 245th birthday of the United States Marine Corps. Tickets are $55 and must be reserved in advance. To purchase, call 417-336-4232. 
6. Veterans Day Parade 
Everybody loves a parade! Join the fun of the annual Veterans Day Parade in Downtown Branson. See live bands, local veterans' chapters, performers and many more walk the historic downtown area. The parade is organized by the Vietnam Veterans of America Chapter 913 and always marks a fantastic grand finale to Veterans Homecoming Week. 
This fall, add one of Branson's most exciting and patriotic weeks of the year to your must-do list. For all Veterans Homecoming Week events, visit here.