Itinerary
3 Days of Exploring Branson on a Budget
A vacation to Branson doesn't have to break the bank! Learn how you can spend 3 days in Branson on a budget!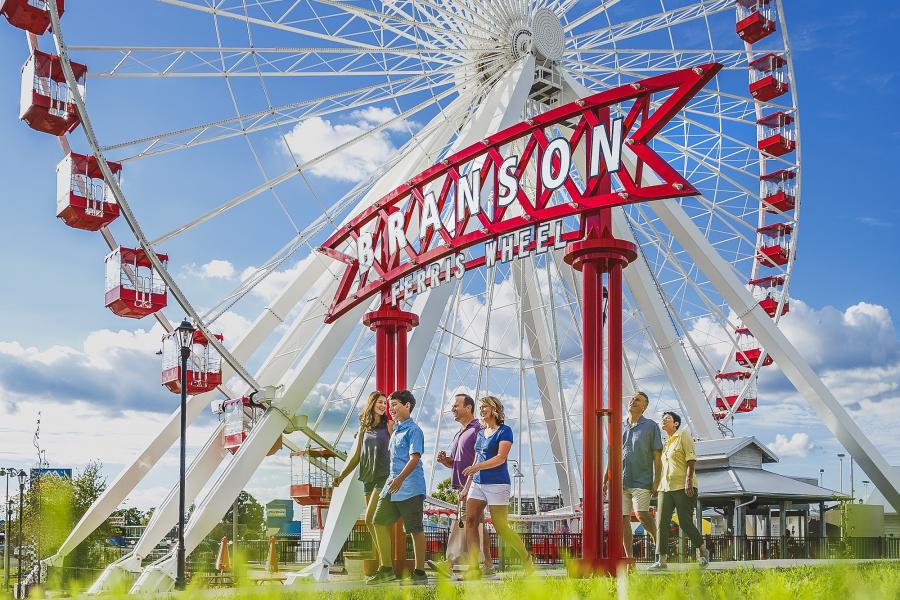 We know what you're thinking...between the live shows, unique dining experiences, and hundreds of attractions, how won't you leave Branson penniless? Rest assured, prices here are nothing like those in Vegas. While you can certainly find luxurious outings and spectacular shows to splurge on, there are still many budget-friendly activities and dinner options that make for a wonderful trip to Branson. While you don't have to hit every option below (maybe you prefer McDonald's for one of your meals or perhaps you discover another attraction you'd rather try), this itinerary is a great guide to exploring all aspects of Branson!
Day One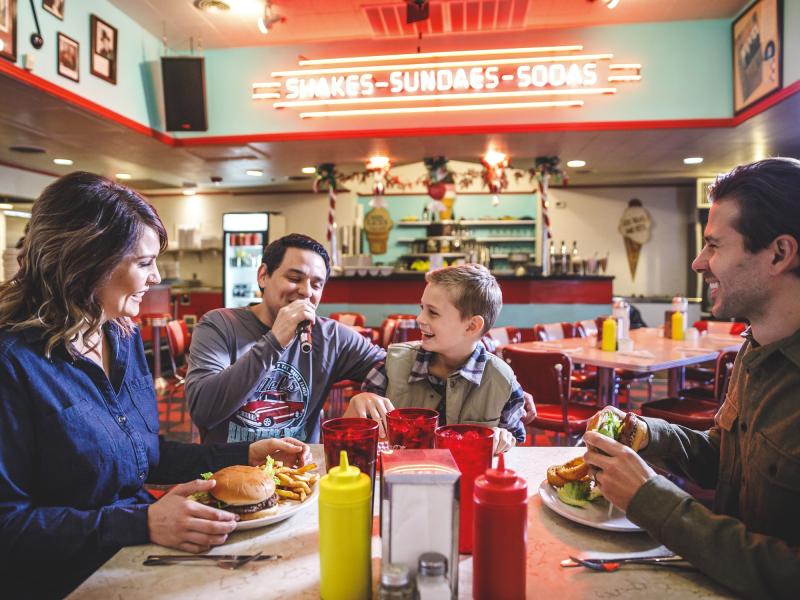 Breakfast at Billy Gail's
One of the best places to start your day in Branson is Billy Gail's. Known for their scrumptious steering wheel-sized pancakes, this popular breakfast spot is the place to go if you want to share a plate or two with the family, cutting the price in half while still satisfying your morning appetite. There are three locations in town, so be sure to check out which one is closest to your stay!
Butterfly Palace & Rainforest Adventure
Start your day with butterflies at Butterfly Palace & Rainforest Adventure! Feed them with complimentary nectar flowers and watch them gracefully land on you as you walk past over 1,000 exotic butterflies. Elsewhere at the palace, you'll find a reptile exhibit, Banyan Tree Maze, Mirror Maze, and many educational opportunities. Wristbands are valid for three days so long as it remains on your wrist. Meaning, with a one time payment, you can go back any time they're open during your three-day Branson stay! 
Branson Ferris Wheel
One of the most iconic structures in Branson, get a spectacular view atop the 150ft. tall Branson Ferris Wheel. If you get a chance, take a drive by the Ferris wheel at night for a captivating light show.
Mel's Hard Luck Diner
Mel's Hard Luck Diner is a 50s-themed eatery with singing staff. Are the dinner shows in Branson a little out of your budget? This is a perfect place to be serenaded while you dine (and the menu is very reasonably priced considering the talented entertainment). In fact, it's said that the portions here are very generous, so you may even consider sharing a plate and saving money!
Catch a Show
Most shows in Branson are between $30 and $50 a person, some being more if there is food involved or some graciously less. Some shows in between that price range include The Petersens, Escape Reality Branson Magic Dinner Show, Grand Shanghai Circus - Amazing Acrobats, Illusionist Rick Thomas - Mansion of Dreams, and more! 
Cakes-n-Creams 50's Diner
If your show didn't come with a meal, drive on over to Cakes-n-Creams 50's Diner, one of Branson's beloved eateries! It's said that portions here are big enough to share or to surely fill you up, so relax and enjoy the authentic, retro atmosphere!
Day Two
Vintage Paris and the Branson Scenic Overlook
Black coffee is alright for some, but you're on a vacation...treat yourself! Vintage Paris is about a 15 mile drive out of Branson and a must-see "hidden gem" loved by locals. No matter the weather or time of day, this quirky and unique café will envelope you in its cozy atmosphere that you could easily spend an hour in. Walk just across the street to the Branson Scenic Overlook where you can admire the Table Rock Dam, Chateau on the Lake and, if you look hard enough, you may just see the Branson Ferris Wheel far off in the distance. A beautiful place for photos ops!
Dewey Short Visitor Center
On the way back into town, stop by the Dewey Short Visitor Center! Inside you'll find educational exhibits (some of them interactive) about the local area, a peaceful, paved walking trail, and areas for you to take a swim in! If you're looking for a longer trail, the Table Rock Lakeshore Trail spans over two miles starting from the Dewey Short Visitor Center to State Park Marina. Other places to check out next door are the Upper Dam Overlook of the Table Rock Dam, The Chateau on the Lake Resort, and Moonshine Beach, a sandy swimming hole!
Hook & Ladder Pizza Co.
Once you've worked up an appetite, head to Hollister, Missouri for lunch. Everyday comes with a new and affordable deal on their pizzas and appetizers, so you're sure to find an affordable meal at Hook & Ladder Pizza Co.!
Downtown Hollister
Take a stroll down Hollister's Historic Downing Street, also known as The English Village, and admire the Tudor Revival style of the 12 buildings that line the sidewalk. Don't leave without taking a step into the stone-entrusted, vintage lobby at the Ye Olde English Inn.
Lakeside Forest Wilderness Area
Head back to Branson and work off all that pizza at the Lakeside Forest Wilderness Area right off Branson's Entertainment District. This nature park has short and easy trails to the Owens Homestead as well as more challenging paths that include waterfalls, caves, and a 315-step stone staircase.
Pickin Porch Grill
Pickin Porch Grill is a "folksy joint" located at Branson Craft Mall, a 16,000-sq.-ft. indoor mall with arts & crafts, food stalls, a fudge shop, and Branson Coffee Co. where you can buy hand-roasted coffee beans! If you're craving a good charbroiled burger, taco, sandwich, or plate with your choice of pulled pork, chicken tenders, or catfish, stop by Picking Porch Grill and keep up to date with their events and entertainment here!
Mini Golf
Telling you that mini golf is a fun, affordable pastime is easy, what's hard is telling you which one to go to. Branson offers over 15 different themed golf courses, some of which include Shooting for the Stars Mini-Golf, Lost Treasure Golf, anf Pirate's Cove Adventure Golf. Simply look around and compare prices to find what works best for you. World of Wizards Mini Golf & Arcade, Coral Reed Mini Golf, and Grand Country's Indoor Mini Golf are just a few options if you need to avoid unfavorable weather. Take a deeper look into some of Branson's mini gold courses here.
Day Three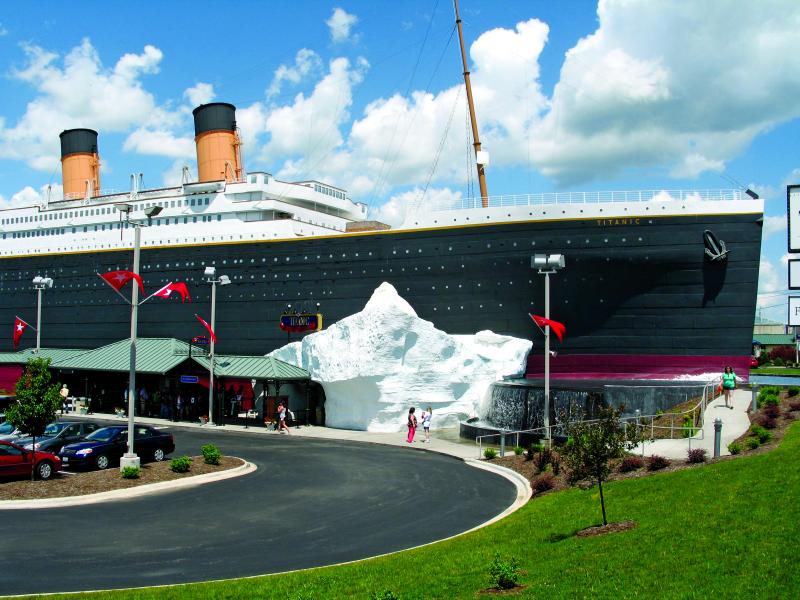 Farmhouse Restaurant
Also said to have large portions for sharing, Farmhouse Restaurant is located in the Branson Historic Downtown area. To give you an idea of what they serve on the regular, their signature dishes include blackberry cobbler, chicken fried chicken, and whole catfish. But come for a hearty breakfast and a nice cup of joe to start your morning—or at any time of the day!
Historic Downtown Branson 
From Farmhouse, take a stroll up and down and around Historic Downtown Branson for sweet treats, coffee, antique shops, souvenir shops, boutiques, and more! Commercial Street, a road just off the main road of Historic Downtown Branson, is lined with a variety of unique shops, eateries, and activities! You'll find gift shops, pawn shops, candy stores, and places that are simply interesting to walk through. Be sure to stop by Boba Joes for ice cream, a refreshing cup of boba tea, and other delicious treats before you leave!
Branson Landing 
By foot or by car, walk a couple blocks down from Downtown Branson to Branson Landing, one of Branson's most well-known shopping centers (aside from Tanger Outlet, which is another place to check out during your stay!). You'll be amazed at what the Landing has to offer. You'll find Andy B's, which serves food and hosts fun family activities like bowling and escape rooms, Smith Creek Moonshine for some moonshine tastings, Bass Pro Shops, where you could walk around for half an hour or more, and several distinctive restaurants, clothing stores, hobby stores, and activities! Entertainers also love to come to the Landing, so keep an eye open for painters, costume-wearers, and balloon-makers. The Branson Landing Water & Fire Show is also a must-see while you're there. On the hour, starting from noon to 10pm, Mon. - Sat. and ending at 9pm on Sundays, the fountains come to life in a synchronizing show of music, water, and fire! Check out the Fountain song schedule here.
Pizza by the Slice
We know you're going to be hungry after all that walking, so stop by Pizza by the Slice on the north end of the Landing! You and your party can eat pizza at a very affordable price in a very chill environment. Next door, you'll find Parlor Donuts to meet your coffee and donut needs and Tropical Smoothie if you're needing a non-caffeinated pick-me-up. 
Titanic Museum
The Titanic Museum Attraction is one of two very unique Titanic-themed museums in the U.S., with the other being located in Pidgeon Forge, Tennessee. There are several interactive exhibits and learning opportunities aboard this ship, so click here to read more about them! Order your tickets online for a discount or check out their Family Pass, a discounted rate for 2 adults and up to 4 children!
Little Hacienda (Branson Location)
End your night with an affordable meal on the fancier side. Between the white, sleek interior and the delicious food, treat yourself to a nice night out at Little Hacienda before you leave Branson!
Lastly, don't forget to check out Branson's Events page to find more budget-friendly activities to do during your stay or our Deals page for specials on attractions and shows. Another great way to save money while in Branson is to book your tickets ahead of time or to get your tickets through a travel agency or e-commerce marketplace like Groupon. You'd be surprised at how cheap the tickets can get, so make sure to give that a thought when planning your trip to Branson!