Top Must-See Branson Murals
These unique works of art found all over town are worth a stop. When we say Branson has something for everyone, we mean art lovers too. The city offers stunning artwork and historic spots to explore. Here's a few of our favorites!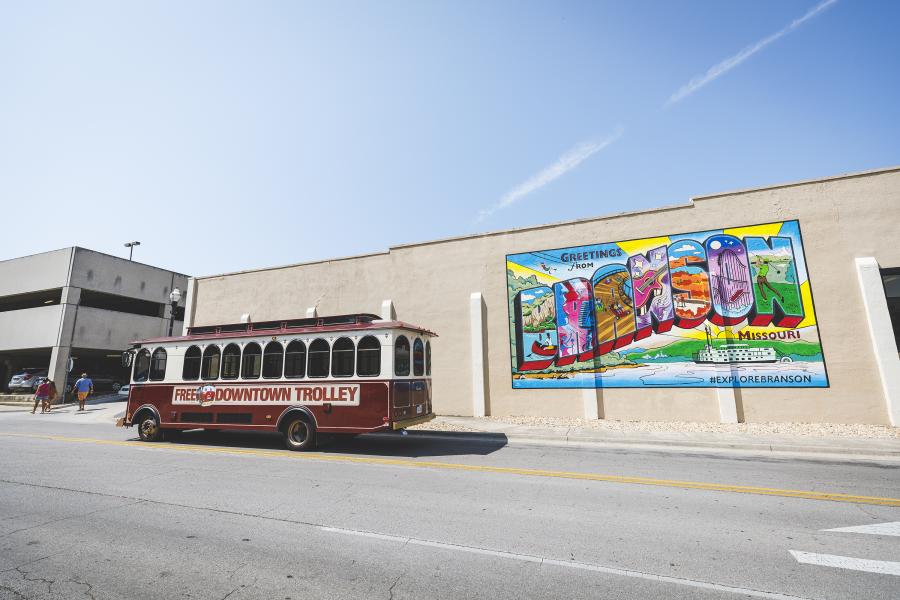 Complete your trip to Branson with a selfie in front of these unique spots. Find out where to see them below!
The ExploreBranson Postcard Mural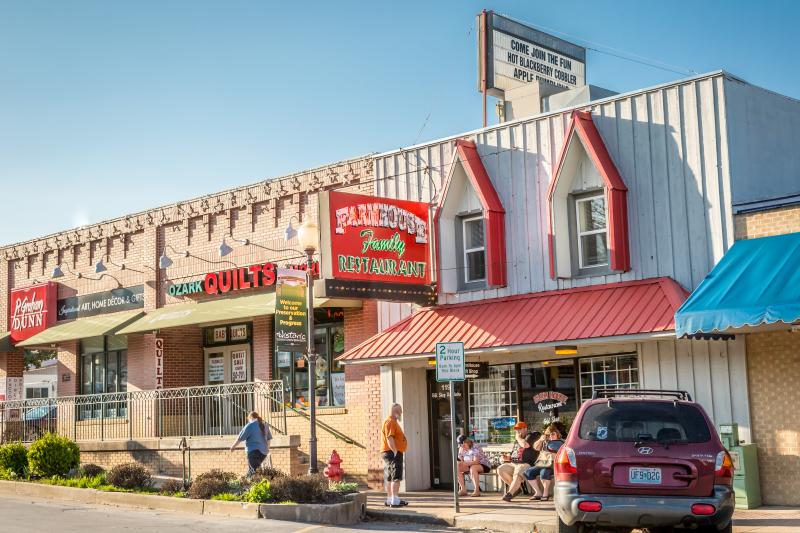 Historic Downtown Branson has perhaps the most recognizable selfie spot in town and is also Branson's newest mural. It was designed to look like a vintage "Greetings from Branson" postcard and is worth a visit to snap a picture with your group! The mural was commissioned by the Branson Chamber of Commerce and CVB. The mural was completed in October 2016 designed by artist John Bell and painted by Raine Clotfelter, known as "America's Muralist." Clotfelter is a retired U.S. Navy draftsman and historian who has painted more than 100 murals across the nation, including many around Branson. 
Where to find it:

Historic Downtown Branson at the corner of Main and Sycamore Streets. It is on the side of Cadwell's Downtown Flea Market facing the Hilton Branson Convention Center.
ExploreBranson captured the entire construction of the mural - watch it come to life here!
Aquarium at the Boardwalk Mural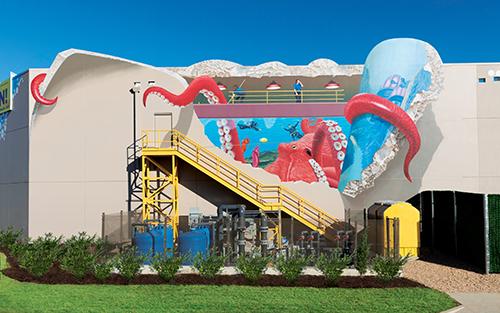 There's nothing underwhelming about Branson's Aquarium at the Boardwalk, even on the back of the building! World-renowned Trompe L'oeil mural artist John Pugh created the three-dimensional illusion of Aquarius behind glass. This art piece will have you taking a closer look in surprise of the realistic details. 
Where to find it:

2700 76 Country Blvd on the northwest corner of the aquarium
The Star Spangled Banner Bicentennial Mural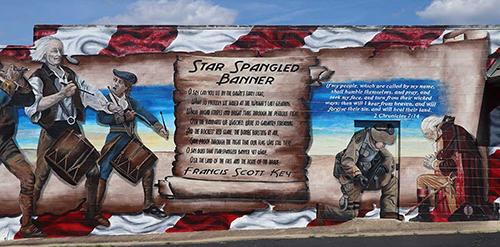 In Branson, we believe in paying tribute to our American soldiers. This mural does so with artwork celebrating the bicentennial of the Star Spangled Banner in 2014. Also painted by Raine Clotfelter, the mural depicts the famous flag over Fort McHenry during the War of 1812. The foreground features a giant eagle, a revolutionary-era drum and fife corps and the song originally penned by Francis Scott Key. The image at the right side of the mural is General George Washington at prayer with a modern-day American soldier. 
Where to find it:

On the west side of the Liberty Utilities building at 215 W. Main Street in Downtown Branson. 
Tip: ride Sparky the Free Downtown Trolley to see this along with other Downtown murals!
The Downtown Branson 1913 Mural
Ever wondered what Branson was like a century ago? Well, this mural shows you! It's the perfect place for a century-old photograph look. This 1913 Mural depicts Commercial and Pacific Streets as they appeared around the time of Branson's incorporation as a city in 1912. It was painted in 2007 by local artist John Short. The artwork was commissioned by the Downtown Branson Mainstreet Association and supported by several donors.
Where to find it:

Found on a long alleyway wall on the north-facing side of the Aromatique Outlet Store on Commercial Street in Downtown Branson.
Nature Scene Mural on Business 65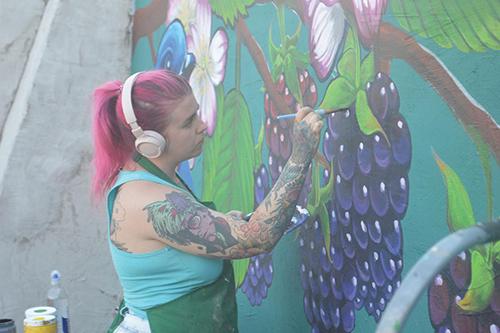 During the 2020 pandemic shutdown, there was little activity in downtown Branson - but not for Christine Riutzel. This local muralist was hard at work painting a large, colorful nature scene on a concrete wall in a small parking lot. The scene made for a colorful view for Business 65 Drivers. Christine added a little bit of sunshine during tough times. 
Where to find it:

Anyone driving on Business 65 can see it on the west side of the road, just north of the intersection at Pacific Street.
Skate World Mural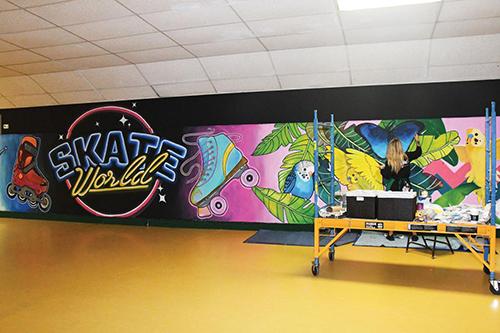 SkateWorld impresses visitors with this 300-foot mural that wraps around the rink and features visions of astronaut corgis, space cats, hockey players roller-blading, unicorns, parakeets and more. Local Branson artist Christine Riutzel has a special love for the roller rink and wanted to create artwork that captured the spirit of the place. The theme is fun and timeless elements that all generations can enjoy and connect with. 
Where to find it:

SkateWorld, 1715 State Hwy 76
Missouri Map Mural at Branson Landing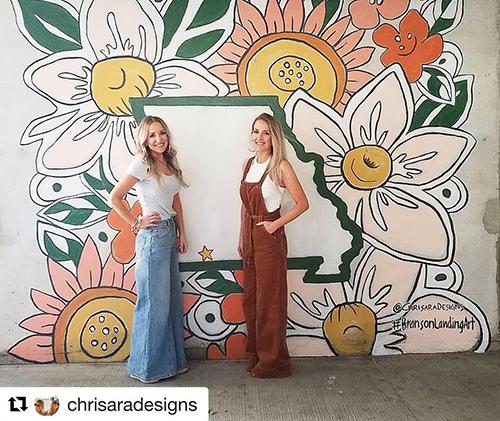 The Branson Landing brings fun side to their parking garages with murals on all four levels! These two sisters, Christa Schmitz and Sara Schmitz Olson of Chrisara Designs, had visions of colorful flowers, fish and sunny days for the walls to brighten up this heavily trafficked location. The one pictured is about the state of Missouri and the star represents Branson on the map. 
Where to find it:

Branson Landing Parking Garage, 100 Branson Landing Blvd
During your visit, be sure to stop and admire these unique works of art that add some extra shine to Branson. Looking for more local treasures? Check out 15 unique things about Branson
Places Mentioned
Find Your Next Branson Adventure