Article
Family Activities in Branson
Experiences the whole family can enjoy together.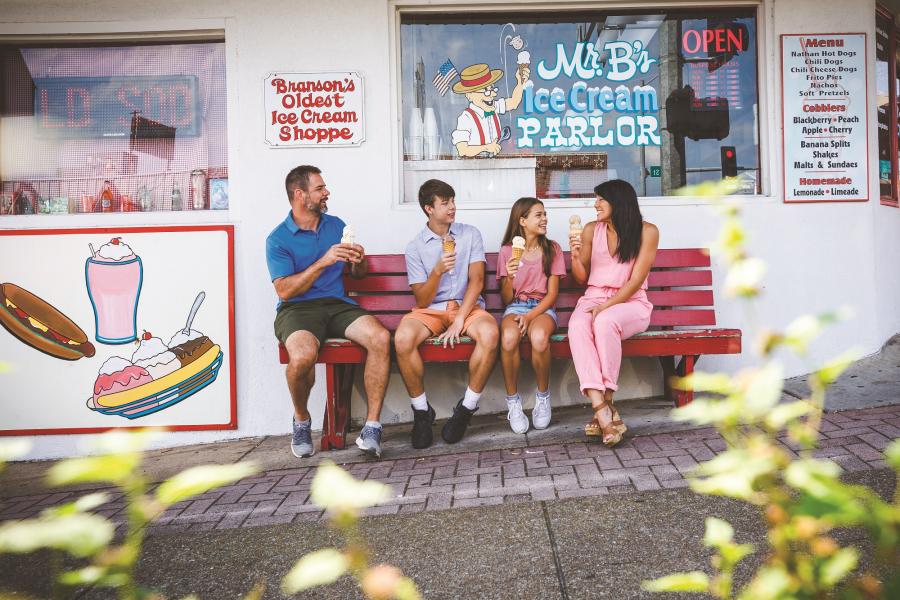 There's plenty of family entertainment in Branson—so much that you may need to extend your vacation to fit it all into the itinerary! Keep reading to discover the top kid-friendly attractions and things to do in Branson with your family.
Sail away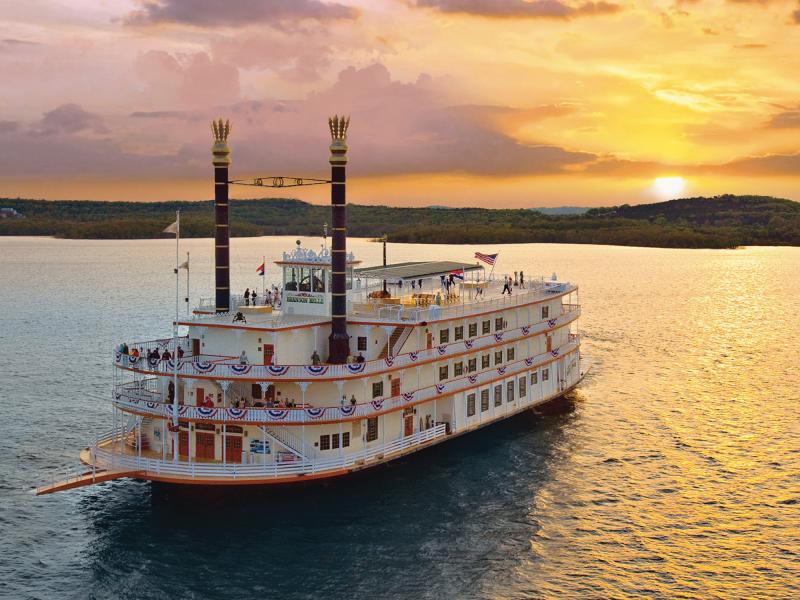 Showboat Branson Belle, America's most entertaining lake adventure, features three-course meals and amazing live shows. An experience like no other in the region, cruises aboard this authentic paddle wheeler include scenic tours on pristine Table Rock Lake with multi-level viewing decks. In the showroom and 700-seat dining room, the ship's cast delivers on the promise of "most entertaining" with a variety show including singing, dancing and a live band. Music genres include Broadway, rock and today's country in addition to award-winning comedy. Enjoy a meal, a cruise and a show—all in one experience!
Branson Jet Boats is the first of its kind in the area. The tour departs from Branson Landing and combines thrilling maneuvers with local history, stories and natural beauty along Lake Taneycomo.
You can set sail and relax onboard the Spirit of America catamaran on Table Rock Lake for an open-air experience the whole family can enjoy.
Water adventure in Branson also includes gliding over the sparkling waters of Table Rock Lake and Lake Taneycomo with Kayak Branson, across from Table Rock State Park and at Branson Landing.
Dine Like a Celebrity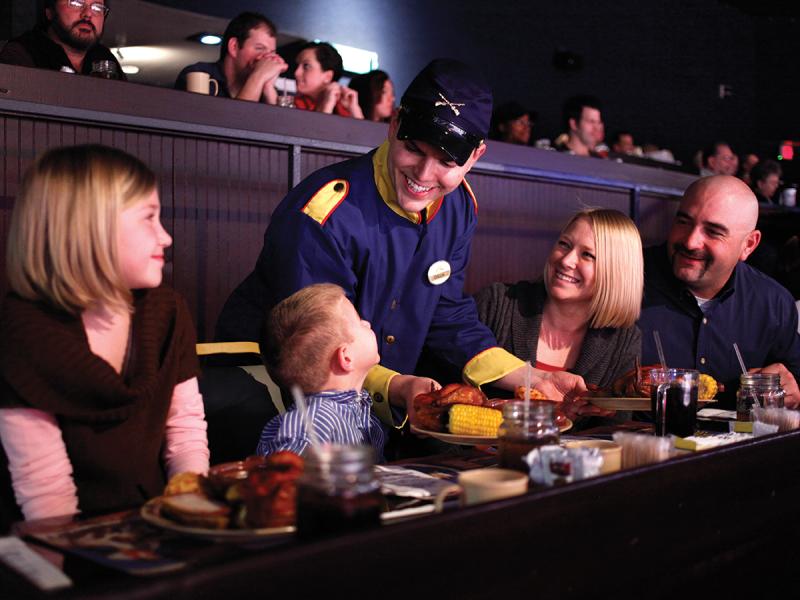 The world's most visited dinner attraction, Dolly Parton's Stampede in Branson presents its largest, most high-spirited adventure ever. Featuring a rousing overture highlighted by 32 magnificent horses and a cast of top-notch riders, the Stampede will thrill you with daring feats of trick riding and competition. Experience the Stampede of the Buffalo, hilarious racing pigs, fan-favorite competitions and a patriotic finale. All of this pageantry is proudly served with a fabulous four-course feast.
Celebrity restaurants have come to the Branson Landing. Paula Deen's Family Kitchen boasts a one-of-a-kind, family-style dining experience featuring the Deen family's own recipes, while Guy Fieri opened Guy's Branson Kitchen + Bar featuring over-the-top delicious burgers, sandwiches and drinks you'll have to taste to believe. 
Jimmy Buffet's LandShark Bar & Grill lights up the night with a taste of the tropics, live entertainment and a 2000-square-foot fountain-side patio.
Splash Around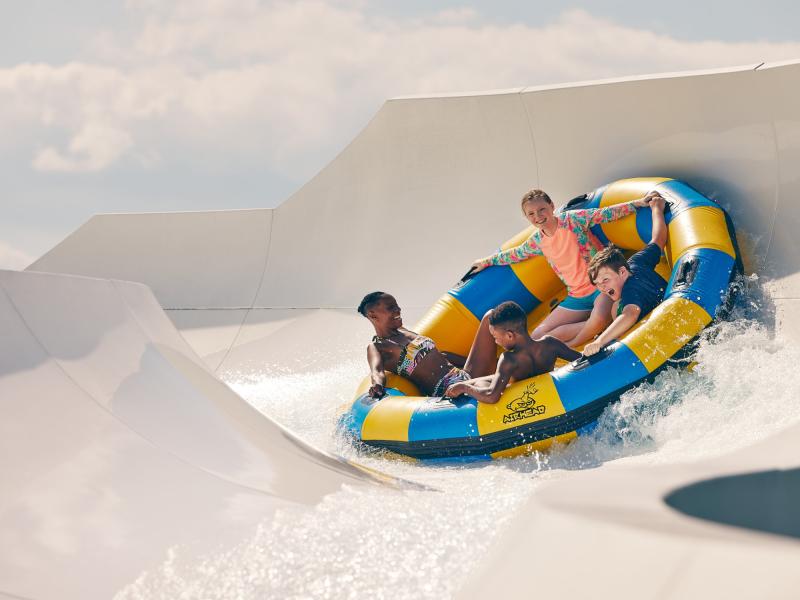 At White Water, dive into 13 acres of water rides and slides filled with more than two million gallons of fun. With rides ranging from mild to wild, White Water is a tropical adventure right in America's heartland. Palm trees and lush foliage greet you as you wander the park's paths, leading you to adventures including 10-story slides, drop-down towers, raging waters, a relaxing river float and a wave pool. More than a dozen themed attractions offer something for most every age, including immersive play areas for the little ones. Upgrade to an outfitted cabana that lets you watch TV, enjoy the shade and have your own special family meeting place. Don't miss starry summer nights during Night Water, where riding and sliding goes from day into night.
Welk Resort Branson offers families an indoor/outdoor water attraction called the Splash-A-Torium. Open year-round, it features an outrageous 100-foot indoor water slide, indoor/outdoor pool and splash zone where staying dry is next to impossible.
Amuse Yourself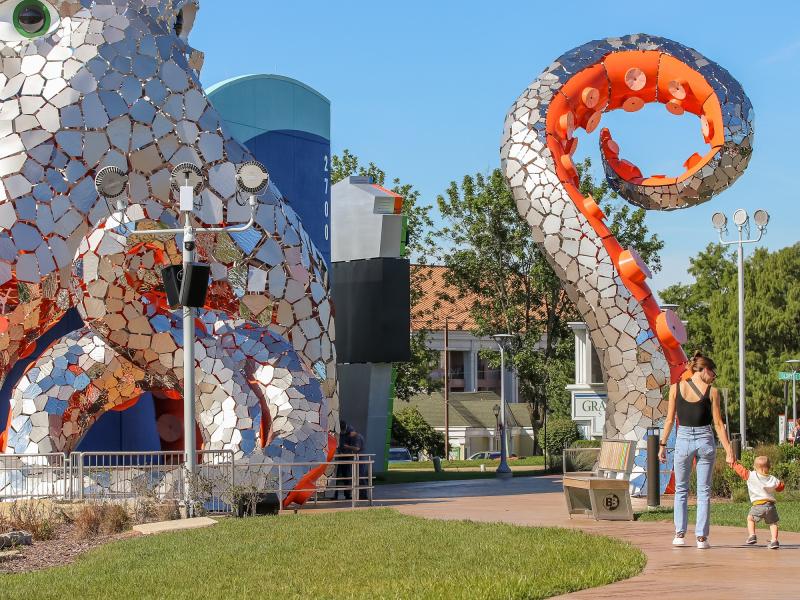 At the brand new Aquarium at the Boardwalk, guests will thrill from up-close views of amazing sea creatures ranging from colorful fish, seahorses, and jellyfish, to octopi, eels, and sharks! With more than 250 different animal species, an original 5D submarine adventure to the bottom of the sea and more, this is a must stop for families in Branson.
Bigfoot Fun Park is the centerpiece of the $10 million attraction with a 200-foot free-fall tower. Two of the rides are for serious thrill seekers, while those looking for a more low-key experience will enjoy the state-of-the-art arcade. Embark on an 8Di Action Cinema Ride which allows players to jump on a model off-road mini bike, grab a laser gun, and become fully immersed in the game!
Get ready for a new kind of thrill at The Track Family Fun Parks. The Skyscraper has a base tower that stands 80 feet tall, and the windmill-style propeller arms extend to 160 feet tall at their maximum height, with speeds up to 60 mph. Enjoy go-karts, bumper cars, arcades and the Branson Ferris Wheel.
WonderWorks, the upside-down adventure, is a science-focused indoor amusement park for the mind. Explore four floors of non-stop "edutainment" for all ages, with more than 100 hands-on interactive exhibits.
Zip It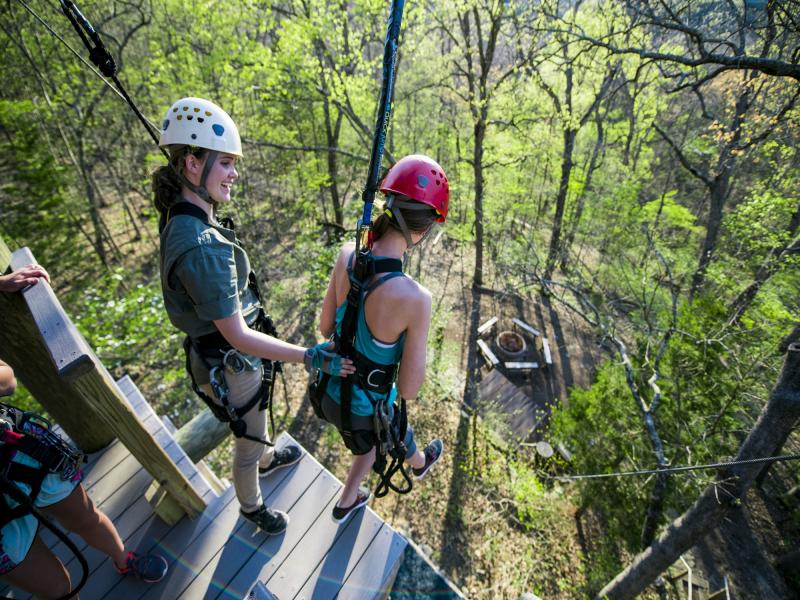 Branson Zipline at Wolfe Mountain offers authentic eco-adventures in the Ozark Mountains. Thrilling options include a variety of guided canopy tours with treks across numerous zip lines, over sky bridges and atop high platforms.
The largest synthetic snow-tubing hill in the US is at the Branson Zipline at Wolfe Mountain. This unique year-round attraction uses Snowflex®, a high-performance snow sports surface. Phase one of Snowflex® tubing will allow up to eight tubes to run down the slope.
The Shepherd of the Hills Vigilante Extreme ZipRider is an exciting thrill ride launching from the open-air deck of the 230-foot Inspiration Tower, whisking guests on an adrenaline-pumping downhill ride over the 160-acre homestead.
Adventure Ziplines of Branson is just minutes from most of the area's hotels, shows and attractions. Your heart will leap as you zip through the air with a beautiful view that usually is only seen by soaring birds and other treetop dwellers.
Parakeet Pete's Waterfront Zipline at Branson Landing allows guests to sit side by side and zip across Lake Taneycomo with a great panoramic view.
Seek Thrills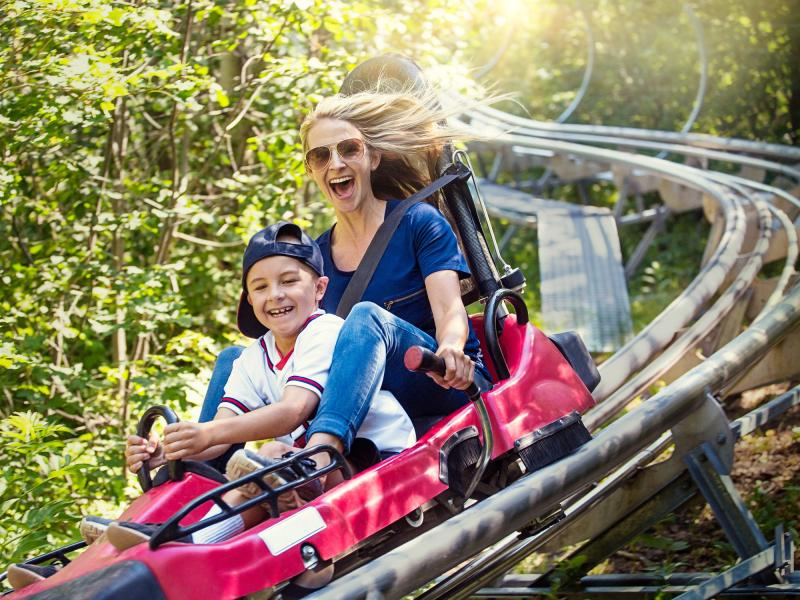 Fritz's Adventure is a dynamic family attraction that brings the excitement and challenges of outdoor adventure into a multi-dimensional indoor environment. Experience three stories and 80,000 square feet where you can interact with the world like never before. It's a controlled environment for guests young and old, plus ziplines, ropes courses and more, Fritz's Adventure will top any family's list of favorites.
The Escape Branson® is a fun live escape game, designed for small groups of two to six people. You get 60 minutes to solve a variety of themed puzzles and mysteries in a room. The goal is simple yet challenging: get out in time!
Runaway Mountain Coaster at Branson Mountain Adventure Park is a family-friendly thrill ride spanning 5,000 feet of track. Gravity pulls you down hills, around corners and through two 360-degree horizontal loops as you race to the bottom at speeds up to 30 mph. Opt to travel at a more moderate pace using the built-in braking system and enjoy the natural beauty and views.
The Branson Coaster begins with a quick descent. The tracks twist and turn so sharply that you'll think you're going to collide with other carts. As you reach the bottom, a chain-driven system will catch your cart and begin to bring you back up to the top.
Parakeet Pete's Steampunk Balloon offers the thrill of a balloon ride that is sure to delight everyone in your family with a 360-degree view of Lake Taneycomo and Branson as it rises above Branson Landing.
You can see it all with Chopper Charter helicopter rides and tours departing from the downtown Taney County Airport, M. Graham Clark Field and Branson Helicopter Tours.
Sit Back & Enjoy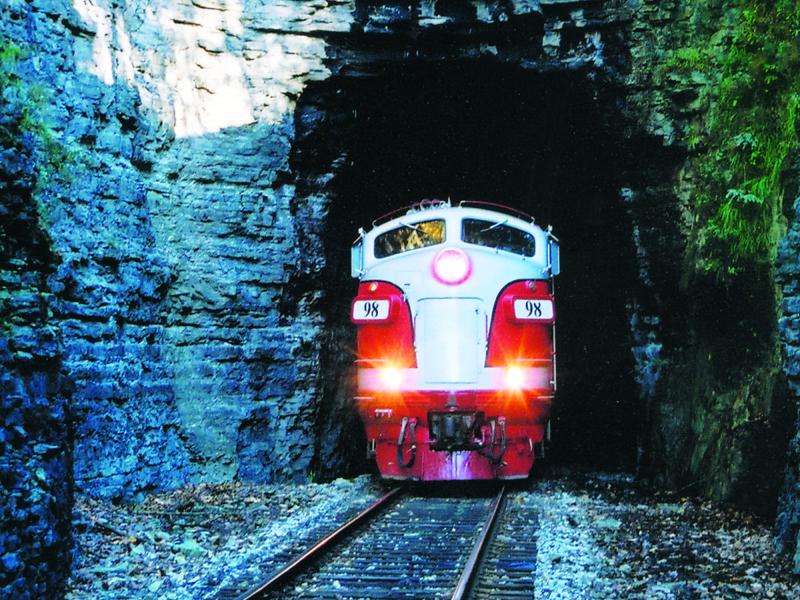 Shepherd of the Hills Historic Homestead tells the story of the Ozark Mountain people from Harold Bell Wright's classic tale, The Shepherd of the Hills. At the Historic Homestead, guests enjoy an off-road ATV adventure, crafts displays, live music, dining, cowboy music shows and a 230-foot Inspiration Tower with breathtaking views of the Ozarks.
Branson Scenic Railway takes passengers on a narrated trip from historic downtown Branson through the rugged Ozarks into Arkansas or north to Galena, Missouri.
Branson's IMAX® Entertainment Complex presents original IMAX® and first-run movies in a stadium-style theater. The complex also includes McFarlain's Family Restaurant, a food court, a live music theatre, shops and three 35-mm movie screens.
Bass Pro Shops Shooting Academy is a world-class training facility, ideal for families, group outings and private events, with 920 acres of activities set against the stunning backdrop of the Ozarks.
Find All-in-One Fun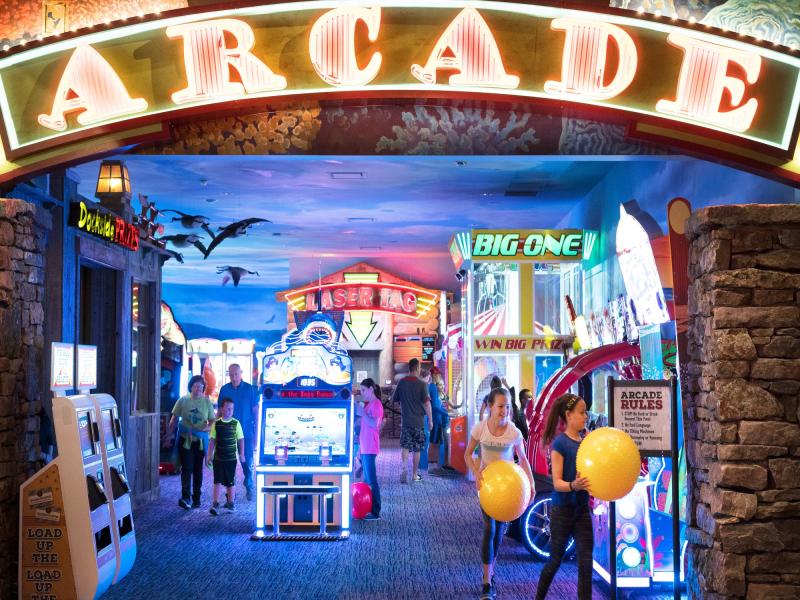 Big Cedar Lodge's Fun Mountain has a 4,000-square-foot arcade and an augmented climbing wall that creates interactive games. You can bowl on 16 full lanes with an underwater-like experience. The full-swing golf simulator is the closest thing to being out on the course. Little ones can enjoy the kids' climbing area and Sky Tykes ropes course with a giant suspended pirate ship. Check out the Flip Zone and turn your world upside down on this radically different bumper car ride that rotates 360 degrees. In the Spin Zone, send your friends into a tailspin with bumper cars that rotate 360 degrees horizontally. Wilderness lovers will be transported to Fort Big Cedar, a laser tag arena that hosts up to 24 players at a time. Uncle Buck's Grill offers a full-service menu of tasty treats like burgers, salads, sandwiches, pizza and fountain treats.
Also at Big Cedar Lodge, check out the NASCAR-themed Thunder Alley Go-Carts, designed by 2017 NASCAR champion Martin Truex Jr. and crew chief Cole Pearn. Thunder Alley delivers high-speed fun with powerful "turbo boosts" to blast past the competition.
Grand Country Resort is home to Splash Country, a 40,000-square-foot indoor and outdoor water park, as well as Grand Country Music Hall, Grand Country Buffet, indoor mini golf, go-karts, gift shops and the world's largest banjo.
Andy B's Bowl Social is a unique mix of boutique bowling, attractions and dining at Branson Landing. Indulge in modern American cuisine, local craft brews, wine and cocktails, plus lots of social games to bring everyone together.