Take the stress out of trip planning by using our first-time visitors' guide to Branson, Mo. below.
First time vacationing to Branson? We've compiled the top 10 travel tips you need to know like how to get here, when to come, where to stay and where to play.
---
Table of Contents
---
Quick Branson Facts
Tourists have made their way to Branson, Missouri for over a century. As part of the Ozarks region, Branson offers captivating scenic beauty, southern hospitality and wholesome entertainment to all ages. The city prides itself on three main forms of entertainment: live shows, family fun and the great outdoors. 
We have a few names we're proud of including The Live Music Show Capital of the World and America's Christmas Tree City. We're also part of the Ozarks region, surrounded by the Ozark Mountains and home to An Ozark Mountain Christmas.
To learn more about the history of Branson tourism, visit here. 
1. How to Get to Branson​
Branson is located on the southern border of the state of Missouri, which nearly hugs northwest Arkansas. Because one-third of the nation can easily reach Branson in less than one day's drive, we have long been known as a top road trip vacation destination. With scenic, monumental, exciting and historical stops along the way, your drive to Branson will fly by.  
Speaking of flying, let's talk about air time. Although road tripping may be the classic way to travel to Branson, it is certainly not the only way! The Ozarks area has two national airports within 50 miles of the city. Branson Airport (BKG) offers select flights from across the country year-round, with full ground transportation services available from the terminal. Additionally, the Springfield-Branson National Airport (SGF) just up the road in Springfield, Missouri, services a variety of airlines like Allegiant Air, American Airlines, Delta and United, and brings easy access to visitors from across the country.  
2. ​Weather Norms and What to Pack
Wondering when is the best time to visit Branson? With enjoyable springs, soak-in-the-sun summers, ideal falls and mild winters, it's truly all about preference. 
Our outdoor scene comes alive in March, April and May. In the spring, you can expect mild mornings and gorgeous afternoons, so light layers are the choice apparel. Rain jackets are a great idea as storms are normal, but never last long. If you enjoy the outdoors, don't forget to pack your hiking boots or bring your bicycle along for the ride.
The summer months of June, July and August are packed with endless rays of sunshine. Branson's average summer temperature highs are in the upper 80s and lower 90s, accompanied with a fair amount of humidity. Swimsuits, shorts, tank tops and sandals will likely be your daily attire. Don't forget the sunscreen!
Between the views and the weather, fall in Branson is almost unbeatable. In September and October you will experience the ideal median between summer and winter temperatures, which calls for light jackets, cute hats, comfy pants and a cozy blanket nearby. 
November and December is when Branson transforms into a Christmas wonderland. Although the temperatures will drop, winter storms are not common and are rarely referenced. The city is bustling with winter jackets, warm hats, scarves, comfy boots and Christmas cheer during this season. 
Our two coldest months are January and February, which both offer temperature highs in the mid 40s. These two months are typically the slowest months for travel to Branson, as the city is resting from a busy holiday season and preparing for spring right around the corner. 
Learn more about Branson weather trends here. 
3. The Culture in Branson
Branson's culture is a mix of good 'ol southern hospitality and midwestern manners. Here, no one knows a stranger, everyone says "please" and "thank you," all are always welcome in, and it's easy to make yourself at home. 
Branson takes all the best parts of a large city - entertainment, shopping and restaurants - and makes them accessible, safe, wholesome and enjoyable for the whole family. We also add an unforgettable nature aspect to every experience in the city. 
The community in Branson takes pride in honoring military Veterans and active duty servicemen. Although military members are treated with the utmost respect year-round, every November, we present Veterans Homecoming Week in their honor. In Branson, we understand and remember true sacrifice. 
4. Where to Stay in Branson ​
It's easy to pick a place to stay once you know the type of lodging you desire. Just like other cities, Branson has a large variety of hotels from which to choose like the Hilton Branson Convention Center Hotel in the heart of Historic Downtown Branson and the Grand Plaza Hotel off of the famous W 76 Country Blvd. Unlike most cities, however, in Branson, you don't have to leave the city to find top-rated campgrounds and RV parks like Branson View Campground or Branson KOA.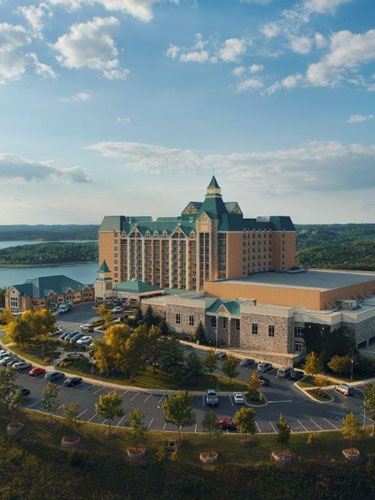 We also have all-inclusive, world-class resorts surrounding the city and on the banks of gorgeous Table Rock Lake like Chateau on the Lake and Big Cedar Lodge. Make yourself at home in one of Branson's quaint bed and breakfasts like The Branson house, or choose a comfy condo from Pointe Royale and more for an extended vacation. 
With almost everything in Branson no more than 30 minutes away from each other, wherever you choose to stay is a prime location! If you do want to find lodging by a specific location in the Branson area, check here. Looking for pet-friendly lodging? Check here. 
5. Best Bites in Branson​
The foodies are flocking to Branson's ever emerging restaurant scene. We've got your taste buds covered with a great mix of favorite chains and Branson exclusives. As an added bonus, many big groups and large families travel to Branson so there are multiple quality buffets throughout the city! 
No trip to Branson is complete without visiting a breakfast cafe like Billy Gail's Cafe with pancakes as big as hubcaps, an award-winning barbecue house like Danna's BBQ & Burger Shop or a classic American diner like Mel's Hard Luck Diner, which features singing servers and all the fixins.'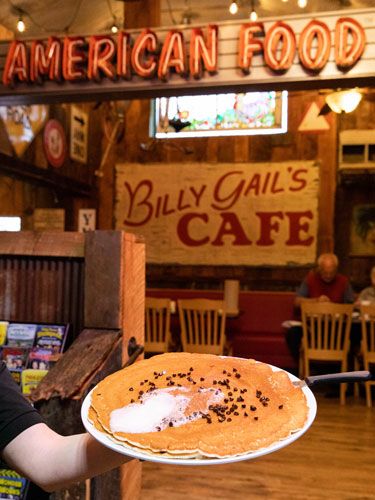 Branson Landing and The Grand Village Shops, two favorite outdoor shopping centers in Branson, offer a wide variety of yummy, unique and walkable eats amongst their stores. 
Your sweet tooth is no match for Branson's dessert lineup! Indulge in mouthwatering homemade ice cream at places like Sammy Lane's Sweets n' Treats or take a trip on the Branson fudge trail. 
When it's time for a drink, grab a glass at a local winery or distillery. Take some home with you to never forget the classic taste of the Ozarks. For the coffee lovers, don't miss original brews and classic cups served in an eclectic atmosphere at places like Vintage Paris Coffee Shop or Kaffee Haus.   
Enjoy a multi-course dinner during a world-class live show production, both by land and by lake, daily at Dolly Parton's Stampede and Silver Dollar City's Showboat Branson Belle. 
6. Top Live Shows in Branson​
As soon as you roll into town, you'll know why we're the Live Music Show Capital of not only the nation, but the world! Branson has over 150 productions from which to choose, all catering to a large host of audiences. 
If you love classic country music, we encourage visiting Presleys' Country Jubilee, one of Branson's first live shows. What started as a small family production over 50 years ago has grown to become a famous national cable program. 
Enjoy #1 hits throwbacks performed by impressive impersonators at Legends in Concert. Catch stars like Elvis, The Blues Brothers, Aretha Franklin and more. 
For a show full of incredible talent and thrilling variety, The Haygoods is the place to be! Their thrilling light displays, wide array of instruments and stunning special effects will keep your eyes wide and toes tapping. 
Need a little more laughter in your life? Enjoy family-friendly comedy at Grand Country's Comedy Jamboree. You may even have a chance to be the star of the show!
Our performing family groups, like the 50+ family members of the Hughes Music Show, and the unforgettable sounds of The Petersens display impressive talent to all.
Sight & Sound Theatres brings Bible stories to life with trained animals, talented performers and breath-taking sets.
We promise, this is only scratching the surface of our booming live show scene. Find more top shows here. 
7. Branson's Best Family Fun Activities ​
Whether you're into interactive museums, thrilling attractions or chill memories, Branson is the best place for a family to be.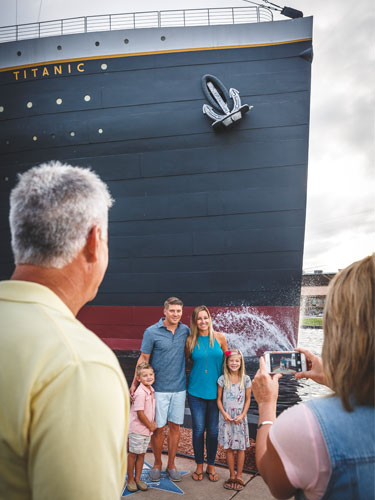 Get ready to learn historically significant facts in an engaging way at a Branson museum. At Branson's Titanic Museum Attraction, you will take on the persona of a real passenger aboard the Titanic's fateful day, and by the end of your experience, you will find out if you were one of the few survivors. 
Head to Branson for unbeatable family thrills. For example, at the Track Family Fun Parks you can choose from multi-level go-kart tracks or reaching new heights on the Branson Ferris Wheel. The most thrilling activity at the Track Family fun Parks is the The Skyscraper, a two-sided propelling arm that extends 170 feet in the air and flips through the sky at speeds of up to 60 miles per hour. 
Around every turn is a fun, chill Branson attraction. Mini golf is a favorite among travelers, as many themed courses can be found throughout the city. You're invited to test your skill at Bigfoot Adventure Mini Golf course seven days a week.. 
For the families who love it all, there is no better way to spend the day in Branson than Silver Dollar City Attractions. This 1880's style theme park features jaw-dropping rollercoasters, easy-going train rides, kid-focused play areas and splash-tastic water rides. Even if you spend several days at Silver Dollar City, there will always be more to discover. 
Check out our full lineup of family fun activities here. 
8. Can't Miss Outdoor Adventures in Branson
Branson's outdoor scene is booming! Whether you love a relaxing walk or a daring zipline adventure, we've got you covered. 
Take a walk or ride on a wide variety of scenic Branson hiking and biking trails that snake through the Ozark Mountains. Need to know what to pack and how to prepare for your hike? Check here. 
We have a plethora of top of the line zipline adventures. You will feel like you're flying with the endless adventures at Wolfe Mountain. 
Branson is home to some of the most stunning public golf courses in the nation. Play a round on courses designed by some of the greatest golfers of all time like Tiger Woods, Tom Fazio, Jack Nicklaus, Gary Player and more. 
Branson is also home to the new Bass Pro Shops Shooting Academy, a playground for the outdoor enthusiast. No matter your skill level or age, you're invited to take your shot in sport shooting. 
We can't forget about or three pristine lakes! Table Rock Lake, Lake Taneycomo and Bull Shoals Lake are some of the most desirable lakes for boaters, fishermen and kayakers. No matter the season, visiting a Branson lake is always a great idea.
9. Discounts and Deals in Branson ​
Many individual companies in the area offer discounts to visitors throughout the year, so we encourage you to follow social media channels and bookmark websites of the businesses you wish to visit! You can also check out our Deals page for some great discounts on some of the area's top shows, hotels, restaurants, shops and attractions. 
If you enjoy free activities, see our long list of the top free things to do in Branson here.  
10. Must-See Sights in Branson ​
Did you really go to Branson if you didn't see…? Here's the top five must-see, photo-worthy sights found only in Branson.
You're off to a great start with planning your first trip to Branson. For even more vacation planning ideas, check out our FREE Vacation Guide!