A Guide to Best Deals, Discounts, Events, Exhibits and More! Branson offers men and women who serve our country a warm welcome 365 days a year.
Thousands of veterans and active military personnel visit every year and we do our best to show our gratitude. Branson honors their service with special deals and discounts on all aspects of their trip, standing tributes before the shows, memorials and exhibits, military reunions and renowned national events like Veterans Week in November. Military veterans, active-duty men and women, and military families are held in very high esteem. Here's a guide to all things they can enjoy in Branson.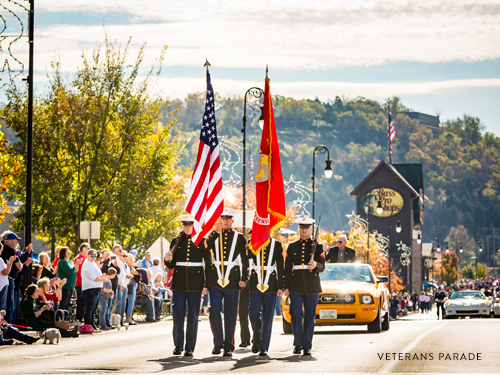 This seven-day event is held every year, November 5-11, as both a tribute and celebration of veterans. Festivities include America's biggest Veterans Day tribute, a Veteran's Day Parade (now over 80 years), themed shows, memorial ceremonies and more.
Best Discounts and Deals for Active Military and Veterans
Many of the top attractions, restaurants, hotels and stores in Branson offer great deals for veterans and military personnel, so it's always worth asking wherever you go on your vacation. To help with planning, here are some of the most popular ones. Please note: Discounts subject to change throughout the seasons.
Dining
Enjoy discounts of 10-15% at a number of Branson's restaurants including Famous Dave's BBQ, Golden Coral, Chili's, Olive Garden and Shoney's. On Veterans Day, many locations also offer free meals to honor our men and women who have served. 
Attractions
Whether you're looking to snap hilarious keepsake photographs at the Hollywood Wax Museum, be wowed at Ripley's Believe It or Not, discover artifacts at the Titanic Museum, many of Branson's top attractions offer $2-$3 discounts on tickets for active and retired military and their families. One of the most popular deals is offered at the must-see Silver Dollar City and White Water amusement parks where you can receive a two-day ticket for the price of a one-day ticket, or $5 off a one-day ticket. Dependent military children age 4-11 receive complimentary two-day tickets when they are accompanied by a parent purchasing a two-day military ticket. 
Shows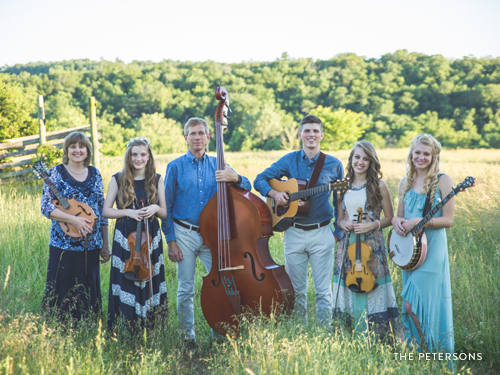 Many shows include a touching salute to veterans, and most offer discounts of 10-20%. The Petersens, located at the Little Opry Theatre, offer half-off to veterans. Some other shows with popular discounts include Branson's Famous Baldknobbers, Dolly Parton's Stampede, SIX and the All Hands On Deck! Show.
Shopping
Veterans and active military personnel will enjoy a discount at many of the top name factory stores at the Tanger Outlet including Ann Taylor, Colombia, Eddie Bauer, Dressbarn, Gap, Nike, Old Navy, Ralph Lauren and Under Armour. The outlet mall also offers active Military personnel and their families a free coupon book. Or head over to Bass Pro Shops between the 15th and 22nd of each month when you can receive 10% off select items.
Hotels & Lodging
A variety of hotels honor veterans and military personnel with 10-20% off (depending on the season). Enjoy a discounted stay at the luxurious Chateau on the Lake or the family-friendly Grand Country Resort. The new, state-of-the-art Hilton Branson Convention Center features a military and veteran discount, as well as a prime location. It's walking distance to Branson Landing and downtown. Other popular favorites include Quality Inn Branson Strip, Marriott's Willow Ridge Lodge and the Barrington Hotel & Suites. Many of the popular name hotels that offer military discounts nationally have locations in Branson including Best Western, Clarion Hotel, Comfort Inn, Quality Inn and Wyndham.
Transportation
All top name car rental facilities, in and around Branson, offer great discounts for veterans and military personnel. At Avis, you can receive a discount of up to 25%, Alamo and National offer up to 20%, and Enterprise, founded by a WWII veteran, features an entire Veterans Advantage Discount program. 
Military Reunions in Branson
As the year-round home for America's veterans, Branson is a popular destination for military reunions. Lodging and meeting venues around town specialize in military reunions and offer planners assistance with arranging the perfect event.
The Branson/Lakes Area Convention & Visitors Bureau
Contact the Branson CVB for help with planning your next military reunion. Rather than contact dozens of hotels, their complimentary service will help connect you with a venue that is a good fit for meeting your reunion needs. 
Dolly Parton's Stampede
The Missing Man Table & Honors Ceremony recognizes all branches of service, acknowledges the missing and their absence from the night's celebration. Dolly Parton's Stampede will dedicate the Military Memorial Ceremony free of charge for reunion groups of 15 or more with paid advance reservations to their popular dinner attraction.
Military and Veterans Exhibits
Missouri Vietnam Veterans Memorial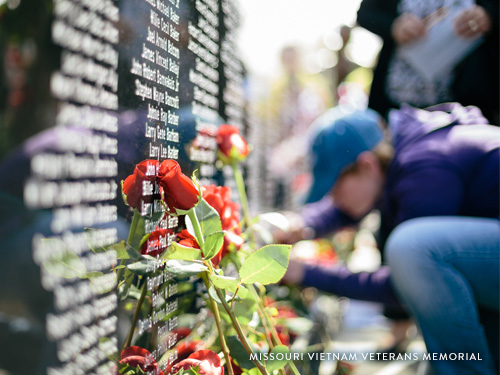 Located at the entrance of College of the Ozarks, the Missouri Vietnam Veterans Memorial bears the name of more than 1,400 Missourians who served and died in the Vietnam War.
Veterans Memorial Museum
Located on Highway 76, this museum is hard to miss—just look for the P-51 Mustang fighter. The Veterans Memorial Museum is a moving tribute to those who served in the U.S. Armed Forces across all branches of service. Exhibits include sculptures, murals and thousands of pieces of military memorabilia. There are also displays throughout the museum with names of the soldiers killed in action since World War II.
Veterans Patch Wall
At Grand Country Inn, discover an exhibit with hundreds of patches from various military branches, units and divisions.