Managed by ASM Global, the Branson Convention Center is a world-class meetings and events facility in one of our country's most dynamic and entertaining destinations – Branson, Missouri.
Resting at the heart of the $420 million Branson Landing development is a meeting planner, exhibitor and attendee's dream. The Branson Convention Center is a high-tech architectural gem offering an exceptional 220,000 square feet of usable space, including one exhibit hall totaling 47,125 square feet attached to a 22,703 square foot ballroom. Meeting space also includes 14 flexible breakout rooms all within proximity to the ballroom and exhibit hall. Take advantage today and get the flexibility you need with every possibility for your next conference, banquet, wedding or special event.
"Where Experience Makes a Difference"
The Branson Convention Center offers a wide range of services, including:
Complete Onsite CateringFull Service In House DecoratorFull Service Onsite A/V CompanyHigh-speed InternetEvent Management
Our customers return to the Branson Convention Center again and again for many reasons. Our central location in the Midwest, great services offered and amazing catering are all important to planners, but, its truly our superior customer service that puts the Branson Convention Center in a league of our own. Click here to watch video testimonies from real customers.
About ASM Global
ASM Global is the world's leading producer of entertainment experiences. It is the global leader in venue and event strategy and management – delivering locally tailored solutions and cutting-edge technologies to achieve maximum results for venue owners. The company's elite venue network spans five continents, with a portfolio of more than 325 of the world's most prestigious arenas, stadiums, convention and exhibition centers, and performing arts venues.
For more information, please visit https://www.asmglobal.com/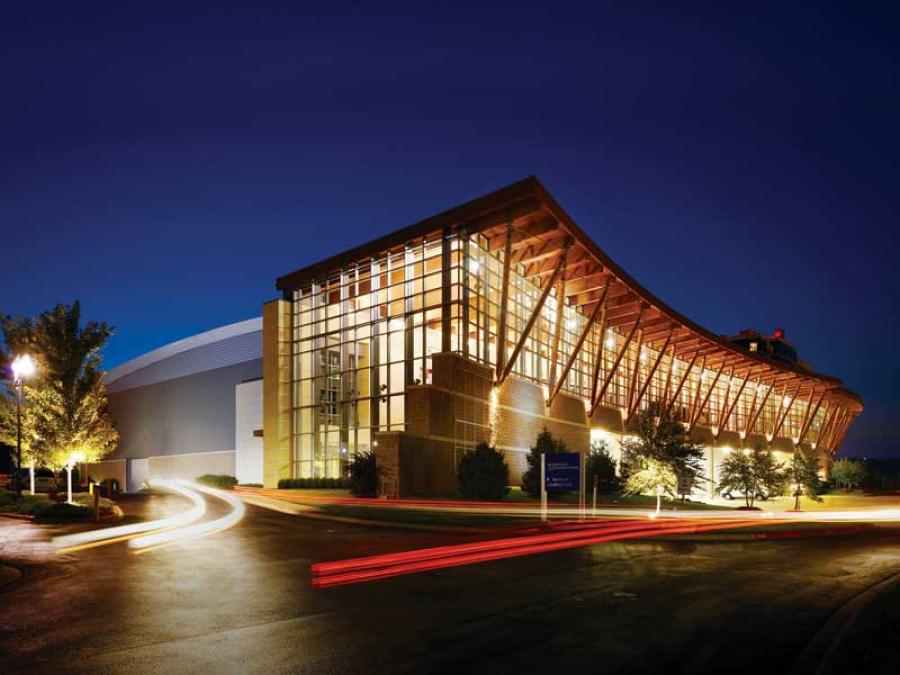 Business Hours
Details
Area
Historic Downtown Branson & Branson Landing
---
Meeting Space Details
Square Footage, Largest Room:

47125
---
Services
A/V Equipment

Entertainment

Food Service/Catering

Full Bar

Stage Area
Meeting Facilities
| Room | Sq. Ft. | Theater | Classroom | Banquet | Reception | Conference |
| --- | --- | --- | --- | --- | --- | --- |
| Exhibit Hall | 47,172 | 4500 | 1832 | 3300 | 5000 | |
| Exhibit Hall Division A | 27,435 | 2700 | 1190 | 1980 | 3000 | |
| Exhibit Hall Division B | 18,596 | 1800 | 732 | 1320 | 2000 | |
| Annex | 1,141 | | | | | |
| Taneycomo Ballroom | 22,703 | 2475 | 920 | 1144 | 2500 | |
| Taneycomo Ballroom Section A | 14,336 | 1500 | 570 | 760 | 1575 | |
| Taneycomo Ballroom Section B | 8,367 | 975 | 334 | 384 | 925 | |
| Fall Creek | 1,523 | 140 | 48 | 80 | 120 | 28 |
| Short Creek | 5,530 | 120 | 56 | 288 | 120 | 64 |
| Short Creek 1 | 1,407 | 120 | 56 | 64 | 120 | 20 |
| Short Creek 2 | 1,393 | 120 | 56 | 64 | 120 | 20 |
| Short Creek 3 | 1,393 | 120 | 56 | 64 | 120 | 20 |
| Short Creek 4 | 1,393 | 120 | 56 | 64 | 120 | 20 |
| Cooper Creek | 4,151 | 420 | 170 | 224 | 352 | 20 |
| Cooper Creek 1 | 1,338 | 120 | 56 | 64 | 112 | 20 |
| Cooper Creek 2 | 1,393 | 120 | 56 | 64 | 120 | 20 |
| Cooper Creek 3 | 1,420 | 120 | 56 | 48 | 104 | 20 |
| Compton Ferry | 1,234 | 98 | 56 | 48 | 104 | 20 |
| Roark Creek | 1,377 | 100 | 48 | 64 | 147 | 24 |
| Bee Creek | 1,472 | 80 | 32 | 64 | 147 | 16 |
| Boston Ferry | 924 | 72 | 24 | 40 | 92 | 12 |
| Hensley Ferry 1 | 468 | | | | | 14 |
| Hensley Ferry 2 | 378 | | | | | 12 |
| Silver Creek | 220 | | | | | 8 |