The Branson Convention Center, managed by SMG, is the crown jewel of the $490 million Branson Landing development project.
Located within view of the beautiful Lake Taneycomo, the stunning Branson Convention Center's unique design makes it an ideal location for a diverse range of events and gatherings – from national and regional trade shows and conventions, to religious symposiums, corporate meetings, public expos, and large-scale entertain- ment events. With the capacity to accommodate up to 4,500 attendees at a time, the Branson Convention Center is an exciting and powerful addition to an area that already attracts millions of visitors a year.
This modern, state-of-the-art venue stands two stories high and offers guests 220,000 square feet of flexible space. The first level consists of a 47,000-square-foot exhibit hall that can be divided into two sections, connected to a 23,000-square-foot ballroom.
The Branson Convention Center is located within walking distance of Historic Downtown Branson and Branson Landing, a new, multi- million dollar shopping and entertainment district that includes 450,000 square feet of retail shops, restaurants, marinas, condominiums, and a boardwalk. The Convention Center is also within easy driving distance of Branson's many champi- onship golf courses, lakes, museums, theme parks and 50 live entertainment theaters.
The Branson Convention Center is connected to the Hilton Branson Convention Center Hotel with 293 guest rooms and across the street from the 236-room Hilton Promenade at Branson Landing.
AT A GLANCE
Located at Branson Landing,which provides access to attendees for shopping, entertainment, top-tier restaurants and "Bellagio-inspired" fountains
Non-union facility
Access to unlimited regional entertainment and talent, including musicians, comedians, celebrities and speakers
220,000-square-feet of high-tech meeting space
Two exhibit halls totaling 47,000 sq.-ft.
23,000 sq.-ft. ballroom
Accommodations for small groups, confer- ences or break-outs
High-speed Internet and wireless throughout
Video conferencing
Sound-proof rooms
Show office
Our executive chef and kitchen staff are dedicated to excellence ensuring that all your needs are met with comprehensive catering services, including: event design, menu prepara- tion, presentation, décor and clean up
Wide, sunlit corridors offer advantageous natural light throughout the facility
250 free outdoor parking spaces available, 400 spaces in connected parking garage with rates of $8 for self-parking and $12 for valet parking
Two freight doors and eight loading docks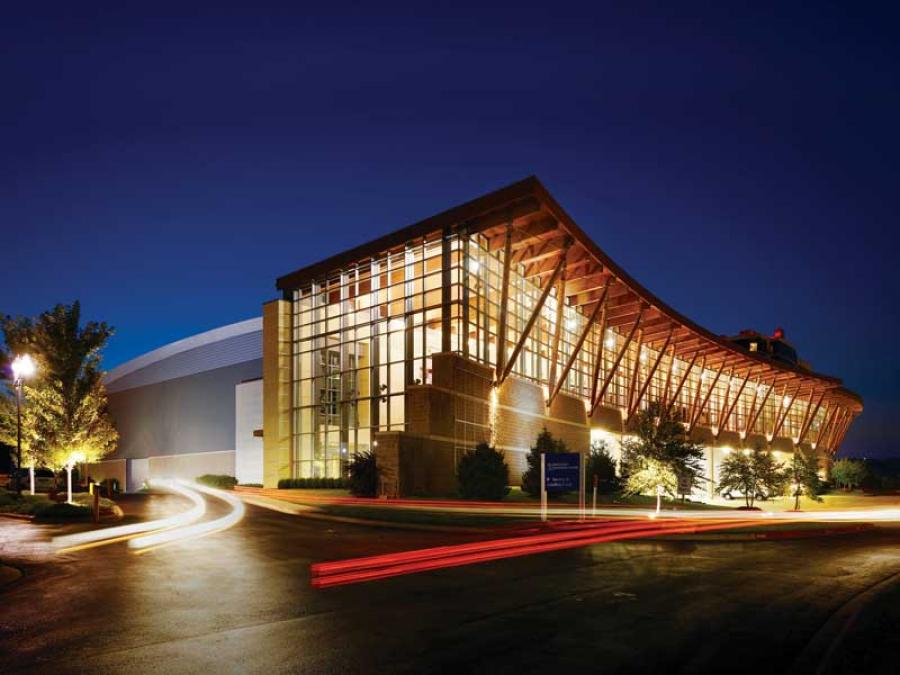 Meeting Facilities
| Room | Sq. Ft. | Theater | Classroom | Banquet | Reception | Conference |
| --- | --- | --- | --- | --- | --- | --- |
| Exhibit Hall | 47,172 | 4500 | 1832 | 3300 | 5000 | |
| Exhibit Hall Division A | 27,435 | 2700 | 1190 | 1980 | 3000 | |
| Exhibit Hall Division B | 18,596 | 1800 | 732 | 1320 | 2000 | |
| Annex | 1,141 | | | | | |
| Taneycomo Ballroom | 22,703 | 2475 | 920 | 1144 | 2500 | |
| Taneycomo Ballroom Section A | 14,336 | 1500 | 570 | 760 | 1575 | |
| Taneycomo Ballroom Section B | 8,367 | 975 | 334 | 384 | 925 | |
| Fall Creek | 1,523 | 140 | 48 | 80 | 120 | 28 |
| Short Creek | 5,530 | 120 | 56 | 288 | 120 | 64 |
| Short Creek 1 | 1,407 | 120 | 56 | 64 | 120 | 20 |
| Short Creek 2 | 1,393 | 120 | 56 | 64 | 120 | 20 |
| Short Creek 3 | 1,393 | 120 | 56 | 64 | 120 | 20 |
| Short Creek 4 | 1,393 | 120 | 56 | 64 | 120 | 20 |
| Cooper Creek | 4,151 | 420 | 170 | 224 | 352 | 20 |
| Cooper Creek 1 | 1,338 | 120 | 56 | 64 | 112 | 20 |
| Cooper Creek 2 | 1,393 | 120 | 56 | 64 | 120 | 20 |
| Cooper Creek 3 | 1,420 | 120 | 56 | 48 | 104 | 20 |
| Compton Ferry | 1,234 | 98 | 56 | 48 | 104 | 20 |
| Roark Creek | 1,377 | 100 | 48 | 64 | 147 | 24 |
| Bee Creek | 1,472 | 80 | 32 | 64 | 147 | 16 |
| Boston Ferry | 924 | 72 | 24 | 40 | 92 | 12 |
| Hensley Ferry 1 | 468 | | | | | 14 |
| Hensley Ferry 2 | 378 | | | | | 12 |
| Silver Creek | 220 | | | | | 8 |