What better place to celebrate Father's Day, than Branson?
What better place to celebrate Father's Day, than Branson? Branson offers a wide range of unique places and activities for the family to show Dad some love, no matter what his interests are. On the other hand, maybe you'd like to get dad a nice gift that he'd enjoy—we've got you covered there, too. But what's the secret to making Father's Day a success? Do something that Dad enjoys!
No matter what he likes, here are some gift ideas and other suggestions of things to do with Dad over the holiday weekend:
For the Country Club Dad:
Check out our list of world-class golf courses in Branson and set a tee time! http://explorebranson.com/golf/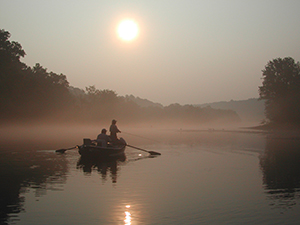 The Angler Dad:
Branson is surrounded by three pristine lakes with world-class fishing… perfect if Dad loves to fish, boat or go to the lake! http://explorebranson.com/lakes/
The Grill-Master Dad:
For any dad who loves to grill, we have some great news: Branson is home to some delicious BBQ joints.
Find the perfect restaurant for Father's Day here: http://explorebranson.com/dining 
For the Dapper Dad: Think about buying dad a new button-down, a polo, tie or even a watch from one of Branson's fine stores!
The Gear-head Dad: Spend the day taking a look at vintage cars and tractors at one of our area car or tractor museums.
There are so many classics to be seen!
The Daring Dad: Try out the twists and turns of a roller coaster, fly through the air on one of Branson's zip lines, or be  catapulted through the air on the Sky Coaster or Ejection Seat! You can even burn rubber on one of our local go-kart tracks!
The History Buff Dad: Why not take dad to a local museum to learn some  little-known facts and more about history?
Branson is home to many types of museums, scattered throughout the area.
The Book-Worm Dad: Maybe Dad would like to receive a new book for Father's day—one that he's been wanting to read for a  while, or a new favorite best-seller!
These are just a few helpful suggestions to get you started, and most of these things can be found here at www.explorebranson.com – You'll find them all under the "Things to Do" tab.
But there is one last thing you can give Dad—one you can't find in a store—and that is, of course, your love and your time. This Father's Day (and all the other days too) remember to give him your appreciation. That's the surest way to make your dad feel like The Special Dad.
Happy Father's Day!